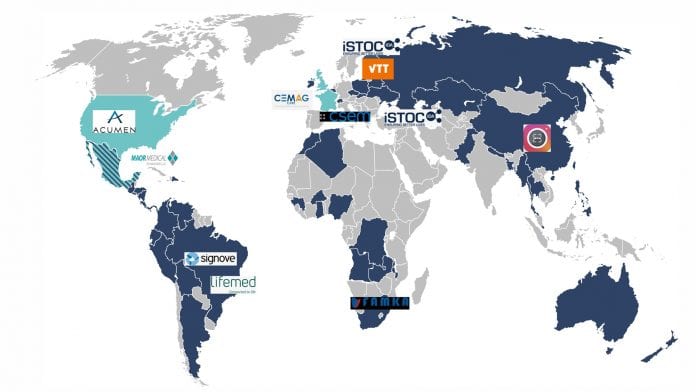 Diagnostics and analysis specialist firm iSTOC offers innovative testing protocols for all major infectious diseases.
ISTOC's Immediate Diagnostic and Analysis Platform digitalises and analyses lateral flow tests (LFTs), including all major infectious diseases as well as blood typing, female and reproductive health, drug abuse and more. iSTOC provides a holistic solution for the entire value chain, including quality control and assurance, sourcing, logistics, and track and trace for every individual test. All test data is stored securely in a cloud database together with related data about the testing process, patients and test takers, guaranteeing primary data integrity for continuous quality assurance and research. Joachim Delventhal, iSTOC's Chief Responsibility Officer, explains iSTOC's work, partnerships and vision for the future.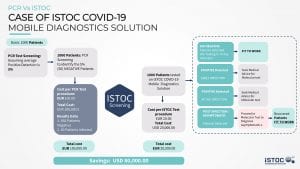 How did iSTOC start? What motivates you?
iSTOC was founded by a group of former Nokia engineers and business developers who became pioneers of mobile diagnostics. From the very beginning iSTOC's motto of 'Ensuring better lives' directed our focus towards point of care (PoC) diagnostics and better health services in developing countries. When I first joined the company in 2013, we organised a pilot project in Kenya which helped shape our core product, the Immediate Diagnostics and Analytics platform (IDA).
All our diagnostics are performed using smartphone cameras – even simple devices are enough. This makes it possible to deliver on three important criteria for diagnostics: high quality, accessibility even in the most remote locations, and affordable, even in countries with lower income and high out of pocket costs.
What is it that your technology does?
The concept is very simple. There are three steps: One, you take a simple test. Two, you scan the test result with the iSTOC mobile application. Three, you access and communicate the result in real time through a secure cloud server.
We mostly use LFTs or rapid tests, because they are flexible, affordable and easy to use. Once a user has taken a rapid test, our IDA Health application makes it possible to digitise and analyse the result by simply holding a smartphone over the test. The result is immediately stored and made available through a secure cloud server, meaning that a physician or specialist has direct remote access to the information and can provide feedback to the point of care. Another crucial benefit is that all diagnostics data in a hospital, corporation or even a whole country becomes available for decision makers in the form of automatic reports and an interactive map in real time. Users of our platform can be corporations trying to facilitate safe return to work, governments performing mass screenings of infectious diseases, remote clinics and large hospitals. The solution is flexible enough to be applied in many contexts.
What have you achieved so far?
We have facilitated millions of tests in over 25 countries; and we expect to be present in at least twice as many countries by the end of 2020. The projects that we have enabled with IDA technology include mass screening of infectious diseases, diagnostics programmes in hospitals and even in prisons. We provide crucial health information to health authorities and large corporations; and despite COVID-19 and the challenges it brings about, we have not lost sight of our ambition to bring high quality diagnostics to remote populations.
We have also developed a fertility application that allows users to receive data from our pregnancy and ovulation smart tests, making it easier for couples to conceive naturally. Our solution can provide indication of hormone levels using tests that only deliver a binary positive/negative result for the human eye. We also have a solution for home care that helps social workers to focus more on those they visit rather than spending time on administrative formalities.
Has the COVID-19 pandemic had a substantial impact on the work of iSTOC?
COVID-19 has had a huge impact on iSTOC. There has been a general shift in the perception of telemedicine and a realisation of the importance of better diagnostics at point of care. We are working virtually around the clock together with our partners to help countries and organisations to navigate the challenges of COVID-19 and find a safe way back to normality. Much more than before our activities have included Western countries, such as France and the USA.
At the same time, one of our staple products, the rapid test or lateral flow test, has been through a rollercoaster of public and expert opinions. Many were quick to praise it as a faster and more economical alternative to PCR testing. Unfortunately, a combination of some immature tests, accelerated regulatory procedures and a lack of understanding of how to use rapid tests created a lot of opposition to the use of the LFTs.
There has been a lot of controversy about the veracity of LFTs. What is your position on this?
LFTs are the backbone of point of care diagnostics and have been around for some 20 years, with more than 700 million tests performed annually. The controversy is due to a widespread misunderstanding of the relationship between PCR tests and LFTs for COVID-19 antibodies. There have been attempts to replace PCR tests with LFTs, which have naturally failed; and authorities were quick to blame LFTs as being faulty products, when in fact they have just been used wrongly. LFTs do not show early acute infections, but they can detect infections beyond the first 14 days of the infection after which PCR does not work anymore. LFTs are also extremely useful in preselecting which patients should be tested with PCR in the first place, allowing for massive savings. Moreover, in combination with the IDA platform, LFTs provide real time information about individual and collective immunity and disease trends.
The second aspect that I would like to address is quality assurance. Of course, we need to make sure that LFTs for COVID-19 and any other diagnosis are of the right quality. At iSTOC we have tracked and analysed millions of tests over the past decade. During this time we have developed a three-tier due diligence system for quality assurance, addressing the selection of test manufacturers, independent verification of tests, and continuous due diligence at point of care. The last link in that chain is unique to iSTOC, because we are actually able to capture and analyse every single test result in the field, which even manufacturers and health authorities have not been able to do. iSTOC provides full visibility even of the last mile with full transparency and in real time.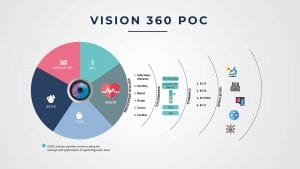 So would you argue that those doubting the accuracy of LFTs are wrong?
In a way, yes. I agree that COVID-19 antibody tests came into the market very fast, but at the same time, there has been a steep development curve. I believe that we have reached a state of maturity of these tests. Generally speaking, there are three major challenges with rapid tests: first, there is a multitude of manufacturers and not all of them deliver the same high quality standards. To address this iSTOC follows strict international standards both for manufacturers, like GMP and ISO, and for the tests themselves, such as CE certification, approvals by stringent regulatory authorities and WHO prequalification. However, even when the relevant certifications and approvals are in place, we still use independent quality laboratories to confirm the quality of tests: this allows us to customise our IDA solution to be perfectly calibrated for each type of test.
The second challenge is simply human error in reading and performing the tests. This includes entering a wrong diagnosis in a given system or using a wrong amount of buffer fluid for the test reaction. Our solution automatically reads and analyses the test results and stores the results for later confirmation. The IDA also recognises when a test was performed in the wrong way and will prompt the user to retake the test, effectively eradicating human error. The third and final problem is related to the fact that the lines on a rapid test can sometimes be faint and it might be hard for the human eye to differentiate a positive test from a negative one. Again, our machine vision and AI backed reading technology is more accurate than the human eye, and the test-specific calibration of the IDA solution prohibits those false diagnoses that might result from inconsistent test lines.
Who are you working with?
We work with a network of partners including academic institutions in Finland, Switzerland and outside of Europe. Our solution allows us to collect important quality-related and epidemiological data and we want to make sure that our solutions follow the latest in science and product development; being in close dialogue with research institutions allows to do that. We work with commercial partners for product development and representation in various countries; and of course we collaborate with health authorities and governments.
What differentiates iSTOC from other companies in the field of mobile health and diagnostics?
As a company we want to grow and have a healthy business – but our target remains to bring equal access to affordable and high quality diagnostics independently of location and economic conditions. First and foremost, growth to us means equal access. Innovation means coming up with better solutions and more efficient health service delivery. We seek disruption, in that we want to fight for lower profit margins in the diagnostics industry and maximise value for patients rather than profits for a select few.
What is the vision for iSTOC going forward?
We have formulated what we call Vision PoC 360. The core of our vision is to use our visual diagnostics technology to provide a growing range of point of care diagnostics. This includes LFTs, but also connecting other PoC devices to the cloud and further developing the capabilities of smart phone cameras to allow us to perform diagnoses without the need for any further hardware. We are working towards the capability to provide the entire value chain of point of care test devices, all the way from research and development, through manufacturing, to distribution and contact with the end user. We are even looking beyond health diagnostics to provide better solutions in areas such as food safety and water quality.
Certified quality assurance and data security
iSTOC IDA is FDA (D 21 83 58) and CE certified (FI-CA01-2016-1286) and compliant with both GDPR and HiPAA. All health data is stored within our customers' national borders. iSTOC complies with WHO guidelines for infectious disease control programmes.
iSTOC IDA strengthens infectious disease programmes
iSTOC IDA improves and simplifies infectious disease programmes with optimised processing and analysis for all existing LFTs. We offer LFTs for over 65 diagnoses and can integrate any additional tests within hours to address any diagnostic requirement. This allows health programmes to test for multiple diagnoses like at the same time, for example opportunistic infections together with HIV.
A decade of experience and millions of tests around the world
iSTOC delivers a solution at the highest standard, with tests certified by ANIVISA, CE, ROW, US FDA and WHO, while remaining affordable even in emerging market contexts. Quality, availability, and affordability drive our approach to working with infectious diseases. Once tests are delivered and in use at PoC, we are in the unique position to continue quality control and can report to both users and manufacturers if there are any inconsistencies in the performance of the tests.
iSTOC has facilitated the screening and management for hundreds of thousands of infectious disease patients, in co-operation with research institutions, health care providers and blood banks.
Case example: Pakistan
The government of Pakistan uses the iSTOC IDA platform to manage the infectious disease burden in the country. In a single screening they tested 120,000 people in rural areas for six different diseases.
Patients are identified and registered. The health authorities can stay in touch with each individual patient through SMS and email to ensure proper management and follow-up. Registering every single test with a confirmed result, location, ID of the person taking the test and batch information allows complete visibility of the entire chain.
Case example: US CDC
Together with an industry partner and the US Centers for Disease Control and Prevention (CDC), iSTOC is facilitating the development of a fourth generation HIV rapid test.
In the laboratory development phase, the iSTOC IDA Platform allows for better analysis of the tests; capturing the results in the cloud accelerates the development process and allows for the development of a better test. In field trials, the iSTOC IDA Platform makes it possible to use the tests safely and to ensure that the tests will perform optimally in the field, even under harsh conditions.
Case example: Brazil
Together with a national blood bank, iSTOC is facilitating research and clinical trials, ranging from projects to facilitate better patient care, to product development and process innovation, to quality assurance and security.
The use of the iSTOC IDA platform eliminates human error in testing, which is of highest importance both to ensure donated blood is safe for use and to ensure the right blood group when giving blood in emergencies – iSTOC provides rapid tests for PoC AB-Rh blood group typing.
Case example: Kenya
As early as 2014, iSTOC introduced its solution through pilot projects in Kenya. We worked together with a local clinic chain to ensure that our solution would be able to provide instant connectivity at point of care. Rural, slum and urban locations served as testbeds for the IDA platform. Another target of the pilot was to ensure that we could deliver multiple types of tests in a competitive manner for the highly competitive East African market. Since 2013, our solutions have spread to nearly a dozen African countries.
Quality assurance along the entire value chain
iSTOC maintains the highest international quality standards (CE, US FDA; GDPR; HIPAA) and in order to do so, we have developed a unique three-tier due diligence for all LFTs that we consider for original equipment manufacturing:
• Preparation: we review product development clinical tests documentation and production facilities to ensure correctness of CE, ISO, PEUA-FDA submissions which we see as minimum requirements;
• Independent verification: we rely on independent laboratories and national regulatory authorities to confirm quality of all tests; and
• Continuous PoC due diligence: once tests are delivered and in use at Point of Care (PoC), we are in the unique position to continue quality control and can report to both users and manufacturers if there are any inconsistencies in the performance of the tests.
Using this policy puts us in a position to be able to select the absolute best price quality ratio for any given diagnosis. In our experience, it is not the difference in quality, but the difference in brand value that explains variations in prices. We know this from empirical field data collected over nearly a decade with millions of samples. iSTOC possesses the knowledge that allows us to offer our customers the best LFTs at the most affordable prices.
With that, iSTOC knows more about the actual performance of LFTs outside of controlled trial and laboratory conditions than even the manufacturers themselves.
Quotes from partners and customers
CEMAG Care President André Ulmann, (France): "Our partnership with iSTOC is a key for making our newly developed devices widely available for the benefit of our customers."
Maor Medical Technologies (USA): "The vision we saw in iSTOC is one that, in addition to offering a good business opportunity, places a significant effort in doing good. The social responsibility that is embedded into the core definitions of iSTOC was a winning factor for us.
"A common phrase is that there's genius in simplicity; and when we present the IDA platform to potential users the first response is appreciation for the simplicity of the solution. The IDA platform is in fact a highly sophisticated solution that simplifies testing in a variety ways.
"Some of the key features that led us to pursue co-operation with iSTOC were:
• Bringing the lab to the patient and not the patient to the lab – all it takes is a simple smartphone with a trained individual administrating a rapid test and you have a testing solution for a whole village. Knowing how poor the healthcare services are that are available for a lot of people in the world and knowing that testing, the ability to know what's wrong, is lacking in significant portions of the world is a sad acknowledgment for us as individuals. The ability to be part of an endeavour that provides a solution was uplifting for us;
• The scalability – it took us less then a minute to understand that working with iSTOC is not only COVID-19 related, it is going to be an exceptionally long relationship. It was easy to see how the vision that led iSTOC's team when designing the system allows for constant adaptations for existing and future needs; and
• The future – iSTOC's current IDA platform is just the start and we knew the team is set to develop future applications that will help bring better and more affordable healthcare to more people."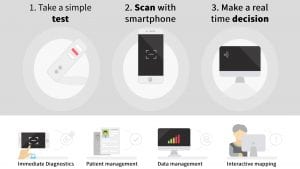 Acumen Health Intelligence CEO Shawn Kelley (USA): "Through our partnership with iSTOC, we have developed a comprehensive, turnkey COVID-19 testing solution. The innovative IDA platform, real time analytics and interactive mapping provide vital testing data to our clients in both the public and private sectors. Together with iSTOC, we are deploying practical, scalable, testing programmes to slow the spread of COVID-19, reopen the workplace and revitalise the US economy."
Franco Pallamolla, Lifemed Chairman (Brazil): "Lifemed, a leader in medical devices, and Signove, a leader in remote monitoring, are in partnership with iSTOC to deliver a digital point of care for COVID-19; Lifemed intends to launch a set of services that will ease the path of Brazilian health services fighting the pandemic.
"Brazil has a 210 million inhabitants and an urgent need to massively test its population. Opportunities to test, with focus in to back to work activities and opening of commercial areas have been a challenge and mostly happening without enough data. Lifemed, with its focus on innovation, and Signove, which focuses on linking the solution to local health services, will boost the capabilities of the mass screening in Brazil by geolocating every result and creating acting information for local health services.
"As a company Lifemed is committed to save lives, our involvement to IDA through is one step further in the demonstration of our involvement against the pandemic."
Signove CEO Aldenor Martins (Brazil): "We are grateful to contribute to the development of this digital point of care, merging our monitoring health solution with the IDA cloud and linking the information to patient vitals and EMR."
Our customers and partners
• Public sector;
• Public and private healthcare industry bodies (both COVID-19 and non-COVID-19 related);
• Transportation and transportation facilities;
• Large corporations in single and multiple location;
• Insurance companies and their client corporations;
• Co-operation with a voluntary organisation serving as an NGO assisting in remote areas; and
• Co-operation with a global NGO, the Global Fund HIP programme.
Joachim Delventhal
Chief Responsibility Officer
iSTOC Oy
http://www.istoc.io
This article is from issue 14 of Health Europa. Click here to get your free subscription today.