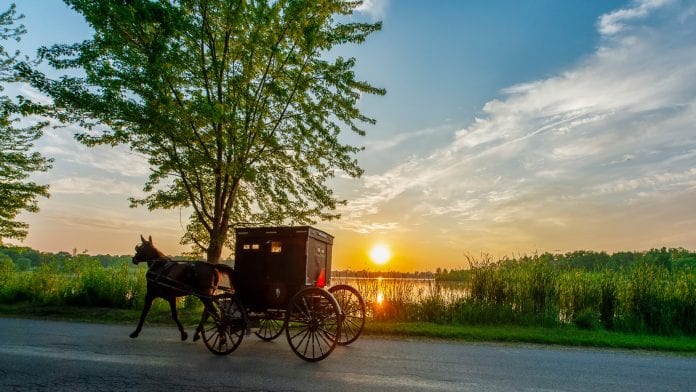 Researchers at the University of Exeter have discovered 25 brand new genetic disorders that affect American Amish communities
The Windows of Hope project, led by researchers from the University of Exeter, has found 150 genetic disorders in North American Anabaptist (Amish/Mennonite) communities, more than 25 of which are new to medical science.
The project meant the research team worked closely with the Amish community and clinical care providers to it highlight the immense clinical, social and scientific value of undertaking translational research into the causes of genetic disorders within a community setting. This approach ensures that patients, families and the wider community immediately benefit from the work taking place in their community.
As humans, we naturally carry variations in our genetic code that have the potential to produce genetic diseases. Our ancestry plays an important role in determining which genetic disorders we may be at risk of inheriting.
The roots of the Amish community begin in Europe and travelled to the USA. The genetic alterations that Amish immigrants carried with them to the USA were passed on to subsequent generations, whereas those that they did not carry could not be passed on. This means that over time some genetic disorders have become more common within the community, whereas others are not present in the community at all.
The researchers involved in the project, Dr Emma Baple and Professor Andrew Crosby, have been able to communicate their findings to people who are most likely to benefit from the discoveries by introducing information days for Amish families, educational meetings for health care workers and educational providers.
Dr Emma Baple said: "For many of the families we have worked with, the specific genetic cause of the disorder affecting them was not known to medical science prior to our research studies. Obtaining a diagnosis was very important for these families. Similarly, the knowledge learned from these studies was important for aiding diagnoses for other families worldwide affected by these conditions.
Many Amish children and adults affected by genetic disorders often undergo multiple expensive investigations in search of a diagnosis. Our work now means that clinicians are able to offer a rapid, inexpensive diagnostic genetic test that often can prevent the need for these other tests."
Prior to the project starting in 2000, under five percent of Amish individuals with a genetic disorder from communities in which they work had been given a much-needed diagnosis. Due to the research, they have found that the figure is now around 70% to 80%. The project has dramatically reduced the health, social and financial burden of inherited genetic disorders on the community.
Professor Andrew Crosby added: "Findings from our project have profoundly improved knowledge of genetic disorders and in turn revolutionised the approach to molecular diagnostic testing and genetic counselling in these communities. There are immediate benefits, in that health care providers can now offer very specific diagnoses of particular genetic disorders, often at a much earlier stage. In turn, that means families are able to receive accurate counselling and information about disease progression and prognosis."
The research team worked closely with New Leaf Clinic for Special Children in Ohio, and other regional specialist clinics including the Center for Special Children in La Farge, Wisconsin.
Dr Olivia Wenger, Paediatrician and Medical Director at the New Leaf Clinic for Special Children, said: "Research helps us to be much more effective in gathering information that's pertinent to the population we serve. I can quickly focus the tests that I order when I'm seeing a child with an unknown cause of developmental delay because of the work that's done through the research group in Exeter.
"They've described multiple conditions that are common in our community that I wasn't aware of before I started practice here seven years ago. They work hard to make sure that I'm aware of them and that other people who serve this community are also aware of them, and that we have the resources we need to expedite early diagnosis. It is the best example of translational work that I have seen in my 15 years of practice."
Local meetings for families to discuss these findings have been massively important to the project, Dr Wenger added: "The meetings are low-key and comfortable. I think it's a wonderful way to remind the families that we're all in this together."
A good example of the project's benefits to the community relates to children with a genetic disorder that affects their development, who have previously undergone many expensive, and sometimes invasive and painful clinical tests, in order to reach a diagnosis. The team discovered that a common clinical feature was an unusually long big toe, meaning diagnosis can be made simply by removing the child's socks.
Malinda Yoder, a mother to two children affected by a genetic disorder, Sara Mae and Kyle, said: "The research team did a great job explaining everything to us on our level of understanding. After a few years, we were told they had found the gene that was probably causing these symptoms. It was not a condition that had been given a name or studied, so it didn't have a name, but at least we knew that much."
Other examples entail other conditions in which Amish children have previously been given a diagnosis of 'autism'. The Exeter (@RDExeter) group was able to define the specific genetic cause and clinical features of these conditions, which enabled the team to develop cost-effective genetic diagnostic testing to be provided alongside providing families a much-needed name for each condition.