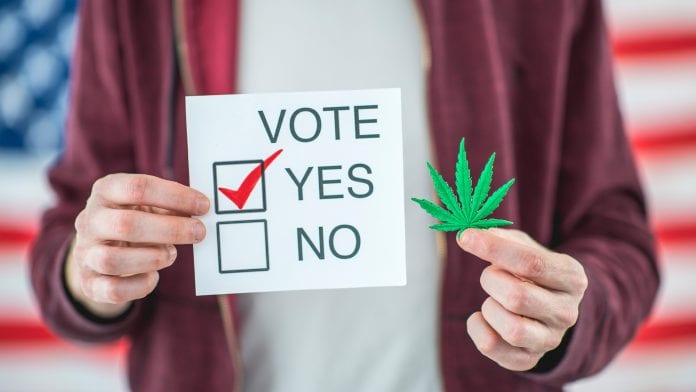 The US House of Representatives has voted for a bill that would decriminalise cannabis at the federal level.
In a bid to repair the damage caused by failing drug policy, Chairman James McGovern brought forward historic legislation – the H.R. 3884 Marijuana Opportunity Reinvestment and Expungement Act (The MORE Act) – that would decriminalise cannabis at the federal level and reassess convictions for people incarcerated on cannabis charges. The bill will now need to pass in the Senate.
The bill would also provide investment for people who have been harmed as a result of failing drug policy and will open Small Business Administration funding for legitimate cannabis-related businesses.
Focussing on racial and restorative justice
The House of Representatives voted in favour of the MORE Act by 228-164, which will end the prohibition of cannabis – removing the plant from the Controlled Substances Act – and put racial justice at the heart of America's federal cannabis policy.
Speaking in the House, Chairman McGovern said: "Mr Speaker, we are here today to continue our effort to reform our nation's failed approach to the war on drugs, to put racial justice at the heart of our nation's federal cannabis policy, and to make restorative justice a reality for so many Americans. This is what the public has demanded for so long: that Congress address the broken status quo that allows the colour of someone's skin to dictate the repercussions of their actions. That's not hyperbole, Mr Speaker. Cannabis accounts for over half of all drug arrests in our country. Half. Most are arrested for possessing small amounts, not for selling or manufacturing anything.
"That's bad enough. But today in America, you are nearly four times more likely to be arrested for cannabis if you're Black. Communities of colour use cannabis at roughly the same rate as their white counterparts. But if you look like me, Mr Speaker, you are far less likely to face the same penalties.
"I'm not okay with that. I'm not okay with a system that treats those who have been convicted of minor cannabis offences like they're some kind of drug kingpin. And I'm not okay with a system that sends people to prison for cannabis-related offences even in states where recreational cannabis use has been legalised."
He added: "America's failed war on drugs helped create this problem. It will take a national, holistic approach to resolve it. H.R. 3884 represents a major step forward. It complements other bipartisan criminal justice reform bills passed in this Congress and the 115th Congress. This is what beginning to reverse the failed war on drugs looks like, Mr Speaker. I think it is time for us to take a stand –   to stand for restorative justice, to stand for racial justice, to stand for criminal justice reform, and to stand with the majority of Americans demanding reforms to our nation's cannabis policy."
Historic victory for cannabis
The vote is an historic moment for the USA as it is the first time in 50 years that Chamber of Congress has voted to end the prohibition of cannabis in the country, however, the bill will still need to pass through the Senate. If successful, the bill will make licensing and employment within the legal cannabis industry accessible, allow cannabis to be recommended to veterans for medical use, and courts would need to expunge prior cannabis convictions.
Executive director at the Marijuana Policy Project, which has helped to pass 13 medical cannabis laws in the past 15 years, Steven Hawkins, said: "Serious criminal justice reform cannot begin in our country without ending the war on cannabis. The MORE Act would set federal marijuana policy on a path toward correcting an unfair system and help restore justice to those who have been victimized by prohibition. This legislation would also help address our country's fiscal and economic challenges by empowering states to implement programmes that can stimulate economic growth and generate new tax revenue at a time when both are desperately needed. We call on the Senate to listen to the American people and pass the MORE Act without delay.
"While the MORE Act includes many important steps toward federal cannabis reform, it falls short of a perfect bill and at least one provision can hopefully be removed before final enactment. An amendment inserted in the final days before today's vote would empower the federal government to prevent Americans who have been charged with cannabis-related felonies from working in the marijuana industry. This policy could block many of those individuals accused of prior marijuana offences from participating in the legal market, which will inhibit our ability to create an equitable and fair marijuana industry. The fact that it might apply to people who were never even convicted of a crime makes it particularly unacceptable.
"Not only does this requirement violate both the spirit and intent of this historic legislation, it is strongly at odds with many of the provisions contained in MORE itself, including the expungement of records and efforts to remove barriers from past convictions. While MPP strongly supports the MORE Act, we will continue working with bill sponsors, lawmakers, and allies to remove unfair provisions that perpetuate past harm."
Find out more about what is in the MORE Act here.