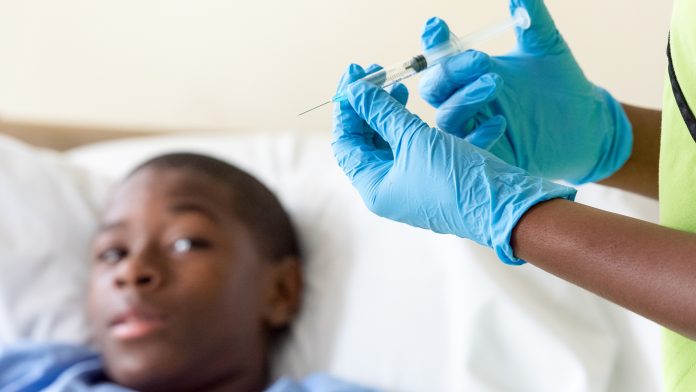 The University of Bergen has found that a malaria treatment, prophylactic antimalarials (PDMC), is cost-effective and saves children's lives.
In sub-Saharan Africa, young children become severely anaemic following malaria infection. Treating these children requires blood transfusion, and they must stay hospitalised for several days. Unfortunately, they are at a relatively high risk of dying during malaria treatment, but the risk is even higher during the months following hospital discharge which is typically caused by another malaria infection. 
Now, an international team of researchers from Africa, Europe and the US have found that giving children prophylactic antimalarials (PDMC) during the months following malaria treatment leads to a 70% reduction in hospital admission and deaths amongst these children. Within the 20 African countries with the highest malaria burden, 36,000 readmissions could be prevented yearly if all severely anaemic children took antimalarials after hospital discharge. 
The University of Bergen wanted to discover if this malaria treatment is cost-effective in Malawi, Kenya and Uganda, where malaria is endemic. 
How cost-effective is malaria treatment?
The researchers used data from previously conducted medical trials and developed health economic models for each country. They found that administering PDMC malaria treatment is very likely to be cost-effective in each country and that the cost associated with further treatment and hospital readmission costs are much higher than the cost of simple and affordable treatment with antimalarials. 
"The reduction of readmissions is so significant, it's really a no-brainer: with PDMC you can save money while improving the health of these children," said a professor at the faculty of medicine, UiB, Bjarne Robberstad. He has been supervising the study. 
Moreover, his colleague Melf Kühl pointed out that the real strength of the study lies within the consideration of adherence rates in the economic models. Parents can forget to give malaria treatment to their recovering children, reducing the effect notably. This is often ignored in research despite it being a real-life problem and may result in the initial optimal treatment no longer being the cost-effective option.  
Due to this, the team tested how many antimalarials parents would likely forget if they were provided with the medication in two different ways and included these findings in each country's model. Even with this data, the PDMC remains a no-brainer as it is cost-effective for both the health sector and households where the child receives all the medication with instructions once discharged from the hospital. Asking parents to regularly attend the hospital for the next supply of malaria treatment leads to higher costs to households and a lower real-life effect of the prophylaxis. Still, in all countries, both PDMC delivery options remained superior to the standard of care. 
New recommendations from WHO
Based on the results from recent studies, the World Health Organization recently began recommending PDMC as a treatment for severely anaemic children in malaria-endemic areas. The cost-effectiveness study informed this recommendation. These findings will inform national decision-makers in sub-Saharan Africa, who have now created a plan to introduce this malaria treatment. 
Recommended Related Articles