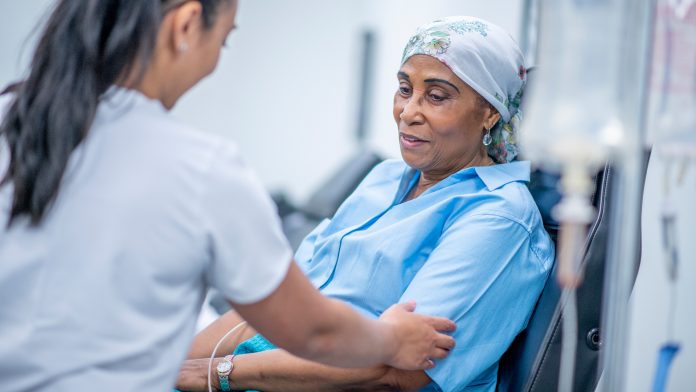 All.Can International has recently published a comprehensive study exploring how to enhance the efficiency of cancer care.
Inefficient cancer care is a leading factor in poorer outcomes for patients. Approximately one-fifth of health spending across the OECD is wasted. [1] Removing this waste could reduce healthcare spending by up to 40% across. [2]
All.Can International defines 'efficiency' in cancer care as: "Care that delivers the best possible health outcomes using the human, financial, infrastructural and technological resources available, with a focus on what really matters to patients and society."
Building efficiency in cancer care requires health systems to operate as highly effective, evidence-based and data-driven learning systems. This requires a standard set of evidence-based metrics from which systems can choose, according to their specific needs and circumstances.
Building on previous research, the All.Can "Cancer Efficiency Metrics Study", published on 17 June 2022, was produced by The Health Value Alliance in partnership with the University of Southampton and presents an evidence-based suite of cancer care efficiency metrics identified through robust evidence review and stakeholder interviews.
The academic review yielded 126 publications, 15 national cancer registries across Europe, Western countries, Australasia, and one international registry. In parallel to the academic review, 20 interviews with stakeholders from across the cancer care continuum were conducted, with transcripts thematically analysed using the grounded approach.
Overall, the research identified 13 cancer metric categories, 26 cancer metric themes and 137 individual cancer metrics. Stakeholders can apply these metrics across the cancer care continuum to assess consistently, benchmark and improve efficiency. The report also presents opportunities for further research.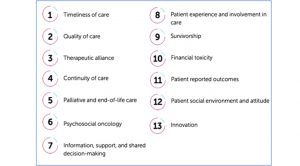 Ultimately, from examining what metrics were specifically referred to across all the data sources (the health literature, registries and the stakeholder interviews), a core set of eight metrics were identified.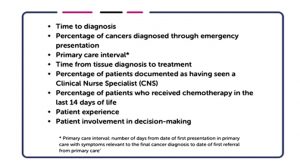 Importantly, there were only three metric themes where the research, registries and interviews consistently mapped, namely:
Timeliness of care
Quality of care; and
Financial toxicity
As such, these may represent the most important areas of care where patients have voiced concerns and where metrics are best applied to improve efficiency.
Interestingly, the findings of this research also aligned with All.Can's international patient survey results in 2018, where respondents stated they experienced the most inefficiency in the following areas:
Swift, accurate and appropriately delivered diagnosis
Information, support, and shared decision-making
Integrated multidisciplinary care
The financial impact of cancer.
In addition to the categories, themes and metrics identified, the research highlighted a variety of opportunities for building on the report further. These included:
Assembling a Delphi expert panel to agree on the most representative metrics
Assessing the significance of QoL as an indicator of efficiency in cancer care
Engaging with cancer care consumers to agree on metrics most important to them
Assess how patient experience affects cancer care consumer decision-making
Assess how cancer efficiency in individuals with multiple long-term conditions.
In summary, the report offers an evidence-based set of metrics to provide a foundation for stakeholders to use however best suits their needs and ambitions, with the benefit of an evidence-based body of rationale. Finally, the report is foundational and will evolve over time.
Based on the findings of our research, All. Can calls upon the cancer care industry to:
Validate these metrics with patients, families and carers within your setting
Utilise these metrics to establish a baseline for a progressive improvement of efficiency
Expand our research to broaden data-driven insights from across the cancer care continuum
To read the full report, click here.
References
National Committee for Quality Assurance, 2018 Medicare Special Needs Plans Performance Results: HEDIS 2018
https://www.oecd.org/health/tackling-wasteful-spending-on-health-9789264266414-en.htm