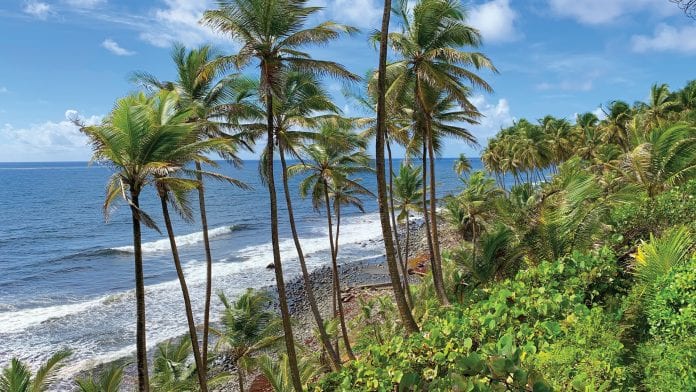 Explore how strong co-operative alliances and a knowledge-sharing philosophy have been key to Cannavais setting the standard on how investors should work in overseas markets.
Cannavais is a fully licensed vertically integrated medicinal cannabis venture invested in the Caribbean islands of St Vincent and the Grenadines. The company is working towards the development and production of medicinal cannabis products with a particular focus on how cannabis medicines can be appropriately administered to patients.
As a foreign investor in the emerging cannabis sector, Cannavais attributes their early success to the strong relationships they have established with both the government and the islands' traditional cultivators, and how they have earned the trust of the local community.
Two key approaches have helped Cannavais launch their successful overseas venture. The first is the operation of a co-operative initiative and the second is their openness to sharing knowledge and expertise with traditional cultivators. These methods offer a valuable perspective on how foreign investors can operate more effectively in emerging overseas markets.
The cooperative strategy
Simon Robins, Head of PR and Marketing at Cannavais, explained: "We recognise the importance of the traditional cultivators, as well as the local community and government, and how all of us working together will be vital in building a long-term and successful local industry. This is why, through our co-operative initiative, we are offering local traditional cultivators the opportunity to partner with us."
By working together through a co-operative initiative, Cannavais will produce premium quality medicinal cannabis products for the international export market.
Through the co-operative strategy, Cannavais will help traditional cultivators enter licensed cultivation. Cultivators on the islands require a licence from the Medicinal Cannabis Authority (MCA) to legally cultivate, manufacture, research and export cannabis and cannabis-based products. The MCA, the licensing authority established by the St Vincent and the Grenadines government, is responsible for regulating the cultivation, supply, possession, production and use of cannabis for medicinal purposes on the islands.
The co-operative partnership will ensure the traditional cultivators are rewarded with real credit for their skills and expertise, in a renumeration package they are familiar with, as well as adding value for them by providing ongoing support. This includes work-based training, assistance with security, imported genetics, land preparation, and the sharing of cultivation and harvesting knowledge. Additionally, Cannavais will assist with licensing and regulation and provide vital entry into international markets.
In addition to financial support that will help traditional cultivators secure compliant cultivation sites to legally cultivate medicinal cannabis, Cannavais is also providing valuable expertise and guidance on quality and plant genetics. The long history of cannabis cultivation in St Vincent means the origin of many cannabis seeds and plants is hard to determine. This, coupled with the natural hybridisation of cannabis plants, means it has previously been difficult to control the type and quality of cannabis plants being grown in the region.
Cannavais wants to share their expertise on plant genetics to help traditional cultivators grow the varieties that will be most sought after by the medicinal cannabis market and therefore offer the highest value for international export. Quality genetics is of particular importance as the medicinal cannabis industry moves toward requiring specific strains of the cannabis plant to target specific diseases and medical conditions.
The co-operative initiative has developed a strong alliance between Cannavais and some local cultivators and is helping the foreign investor gain the respect and trust of the local community. However, Robins goes onto explain how their current success in establishing the company as a trusted medicinal cannabis venture is also down to their frequent physical presence on the islands: "The company's successful integration into local life can be accredited to how we have incorporated ourselves as individuals on the islands. A number of Cannavais employees and representatives make frequent visits to the islands where they have immersed themselves with the local people and in the day to day culture of the islands."
'We must be more than fair with all our workers'
Cannavais recently made positive headlines with the announcement of the wages they are prepared to pay the local workers.
Robins explained: "Medicinal cannabis is big global business and we must be more than fair with all our workers."
He continued that Cannavais sees no reason why multinational companies should come to St Vincent and the Grenadines and pay less than what they are prepared to pay in their home countries. He added: "We expect the same high level of efficiency and output from our workers which we will of course provide the necessary training for."
Cannavais sees their presence in St Vincent as an opportunity to build an industry that benefits the region, while also providing high-grade medicinal cannabis products to the world.
An initiative that has come from these frequent visits is Cannavais sponsoring the CPEA Academic Award of Excellence, which rewards students for commitment and exemplary work from the previous academic year. The CPEA is an important educational organisation that encourages students and its members to aim high, realise their potential and achieve their ambitions.
The CPEA's mission is closely aligned with values Cannavais holds around the importance of investing in children's futures. Robins commented: "A benefit of spending so much time on the ground, is not only to understand what the local cultivators need in terms of practical advice and support, but also what is important to them, the workers and the local community."
Cannavais believes that to achieve the biggest positive impact locally, they need to concentrate on assisting the islands' younger generations. By focusing on where they can help children, late teens and young adults, they know their contribution will be felt immediately as well as providing a longer-term legacy that will benefit everyone.
Cannavais recently launched their corporate social responsibility programme in the region by sponsoring a number of local football teams and supplying professional kits. Football is a popular sport on the island of St Vincent, but the teams often face logistical and transportation issues when organising matches. Playing in professional kits, and their team colours, will help unite the players and enhance their pride in playing for a St Vincent football team.
Adding to the importance of creating relationships, Robins explained: "Building long-lasting relationships with local communities and delivering positive change through these partnerships is at the top of our agenda. Sponsoring the local football teams provided a great way for us to add value locally and demonstrate our company's ethos from the outset."
Cannavais is committed to making a difference locally at a grassroots level by running schemes like these that contribute value directly to the local community. Further to their community support projects, the co-operative initiative and fair wages for the workers, Cannavais has also carefully considered their impact on the environment and will be utilising eco-friendly, organic and sustainable agricultural practices in their operations.
Sustainable agricultural practices
St Vincent and the Grenadines are islands of outstanding natural beauty and the tropical climate and fertile volcanic soil offer ideal conditions for medicinal cannabis cultivation. Cannavais understands that this environment is key to their success and therefore want to minimise their impact on it. Medicinal cannabis cultivation requires a number of elements to come together and create the optimal environment for cannabis plants to flourish.
Successful medicinal cannabis cultivation is enhanced by the local environment and the conditions it provides, such as temperature, light, water and the availability of nutrients. At Cannavais, all of their medicinal cannabis cultivation will take place outside in the optimal environment provided by the islands which offer prime growing conditions as well as high-quality arable land. By using sustainable agricultural practices that make use of solar power, water reclamation and recycling, Cannavais aims to minimise their carbon footprint and protect this local environment.
Cannavais is clear in their belief that it should be the responsibility of foreign investors to ensure they give back as much, if not more, than they take from the area they operate in. This is certainly the company's philosophy in their support and what they can offer the traditional cultivators and local communities. The company's approach to eco-friendly agriculture suggests they are committed to applying this fresh perspective when it comes to the local environment too. To help ensure the local environment is protected in the long-term, the company will extend their knowledge-sharing culture to communicate expertise on sustainable farming practices with local people, to ensure everyone is working together to preserve the local environment for the future.
Cannavais has put time and effort into the areas they feel are important when operating as a foreign investor. The results are positive for the local people, their communities and the environment. What have the rewards been for Cannavais as they establish themselves as a new venture in the medicinal cannabis market?
A cultivation capacity that exceeds 400,000 kilos
Robins explained; "Our way of working and how we have conducted ourselves as professional and approachable to the people of St Vincent and the Grenadines, means we have started to build a solid reputation for Cannavais. This has culminated in groups of traditional cultivators and government bodies trusting the company and exhibiting an overwhelming desire to want to help Cannavais."
A clear advantage of the relationships the company has worked hard to build is the amount of land secured for cultivation. Through securing a sizeable landbank Cannavais now has a cultivation capacity that exceeds 400,000 kilos of medicinal cannabis flower per year.
Cannavais has achieved the respect of industry, time-served and leading experts which means they have attracted a variety of professional talent to the organisation.
The Cannavais team's commercial experience brings together expertise in import and export, cultivation, plant genetics, sales and marketing, supply chain management, logistics and project management.
"Together we are a diverse, knowledgeable and professional team," Robins says, "dedicated to the development of innovative medicinal cannabis products that will help people take control of their health and improve their quality of life."
The strong relationships, partnerships and the significant area of land secured for cultivation means Cannavais has built an advantageous stage from which they are well placed to serve the medicinal cannabis market and develop a range of products that will be available to patients internationally. The medicinal cannabis product range Cannavais is working on will address a number of health issues. Their particular focus is on finding convenient and acceptable methods for patients to use medicinal cannabis and therefore benefit from cannabis as a medicine.
Medicinal cannabis is currently most commonly used by patients to treat chronic pain, anxiety and depression and symptoms of diseases that affect muscle spasticity and inflammatory bowel conditions. However, with positive effects on the immune system as well as the body's emotional, cognitive, digestive and vascular functions, medicinal cannabis has the potential to positively affect patients and their symptoms caused by a range of conditions, such as HIV/Aids, cancer and treatment side effects, as well as Huntingdon's, Parkinson's and Alzheimer's disease.
For Cannavais, the emerging medicinal cannabis market is not only an opportunity to add value to the local area but also, through the development of a range of medicinal cannabis products, they want to provide natural and non-evasive alternatives to help improve the lives of patients who suffer from a range of health issues.
Delta-9-tetrahydrocannabinol and cannabidiol
The cannabis plant contains more than 100 different known active compounds called cannabinoids. These are the active components in the cannabis plant and each one has a different effect on the body. THC (Delta-9-tetrahydrocannabinol) and CBD (cannabidiol) are the main cannabinoids currently used in medicinal cannabis products.
Our bodies make and secrete their own natural cannabinoids, called endocannabinoids, and cells throughout our body contain endocannabinoid receptors. The endocannabinoid system is designed to respond to the body's internal and external environments and is closely associated with the body's self-regulatory processes. It is responsible for motor co-ordination, neuroprotection, pain control and appetite regulation and helps to maintain the balance of our biological functions.
The cannabinoids found in cannabis plants bind to our endocannabinoid receptors, producing various effects, some of which provide medicinal and therapeutic value. It is these therapeutic effects that Cannavais is investigating to develop proprietary cannabis strains for use in their products to deliver benefit to a wide range of medical and lifestyle issues.
As the prescription of medicinal cannabis is legalised in more and more countries around the world, it is logical that worldwide patient use will also increase. However, even as the benefits of medicinal cannabis are becoming more widely known, patients and medical professionals remain concerned about how the medicine can be suitably delivered in a format acceptable to both the medical profession and the patient.
Cannavais products
Inhalation of medicinal cannabis is not supported by the medical profession and many patients do not want to use this method either – being of particular concern for children and the elderly. Cannavais is focusing on developing solutions to these worldwide concerns and are concentrating their product development to overcome concerns over how medicinal cannabis can be conveniently taken by patients and acceptably prescribed by medical professionals. The products Cannavais is developing include transdermal patches, slow release oral tablets and topical balms.
Robins provided more detail on their focus: "Our product development team are working on medicinal cannabis formats that provide patients with an effective alternative to smoking or inhaling medicinal cannabis. We believe these new delivery systems will widen the reach of medicinal cannabis and enable patients – who would benefit from the medicine – to take it in a way that is appropriate for them and acceptable to the medical professionals prescribing the treatment."
To successfully make these products available to an international market and operate in the pharmaceutical market, Cannavais must adhere to strict quality standards. Some of these standards will include Global GAP and an EU GMP certified facility for their medicinal cannabis processing and extraction.
GMP (Good Manufacturing Practice) is the system Cannavais will use at their medicinal cannabis extraction facility in St Vincent and the Grenadines. It will ensure the company's medicinal cannabis is of consistent pharma grade premium quality and minimises the risks involved in pharmaceutical production.
The state of the art GMP certified facility that Cannavais is working toward, will make sure every step of medicinal cannabis extraction follows a robust system of procedures, processes and documentation to ensure products are of the quality, strength and composition stated on patient information labels and literature.
The long-term opportunity for St Vincent and the Grenadines
The international opportunities for Cannavais in this emerging market are clear to see and the company has made a strong start to make the most of them. What is the long-term opportunity for St Vincent and the Grenadines in the medicinal cannabis industry?
Robins summed up: "Cannavais believes the industry should be about creating jobs and wealth for people as well as revenue for the government that can then be used to benefit their education and health sectors, amongst other areas."
Cannavais has chosen St Vincent and the Grenadines to invest in largely due to its long-standing history with the traditional cultivators and the optimum cultivation conditions it provides. But also, the company recognises the benefits it can bring to the local community. The company's day to day operation and the building and development of their GMP processing and extraction facilities will create a large workforce. The contribution of high value exports coming out of St Vincent and ongoing product development are expected to bring additional wealth and opportunity to the islands.
Cannavais recognises that by working with the traditional cultivators, local community and government, they will cultivate a premium quality product, bring employment, wealth and opportunity to the local economy and help secure St Vincent's foothold in the international medicinal cannabis market. All as a benefit of building a reputable and successful international medicinal cannabis company.
For more information about the Cannavais venture and their products visit www.cannavais.com.
Simon Robins
Head of PR & Marketing
Cannavais
+44 (0)7797 727891
info@cannavais.com
Please note, this article appeared in issue 11 of Health Europa Quarterly, which is available to read now.