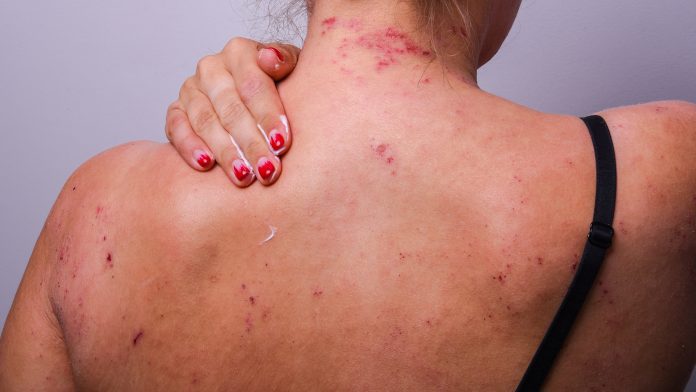 We discuss how chronic skin conditions can impact mental health with Alice Lambert, Head of Services at National Eczema Society.
Eczema is a chronic skin condition that typically affects one in five children and one in ten adults in the UK. It can be caused by a variety of internal and external factors, and while symptoms can vary in severity from person to person, skin is typically very dry and itchy, which can lead to it becoming inflamed and incredibly painful. Many find the severity of their symptoms ease as they reach adulthood, but for others, eczema is a lifelong condition that they must try to manage as there is currently no cure.
While certain foods and environmental allergens have been linked to eczema more and more evidence is emerging about the link between mental wellbeing and the health of our skin.  For instance, a recent study carried out at the Sixth Affiliated Hospital of Kunming Medical University in China, which pooled data from 20 studies, found that eczema was associated with a 64% increased risk of depression and a 68% increased risk of anxiety. Sleep disruption associated with itching, as well as feelings of social isolation and low self-esteem, are commonly associated with this skin condition and can have a huge impact on the sufferer's quality of life, and their families.
Raising awareness and improving understanding about the link between eczema and mental health is integral to improving treatment for patients, who are often only offered medications to manage their physical symptoms as opposed to psychological support. To discuss this further, Lorna Rothery spoke to Alice Lambert, Head of Services at National Eczema Society.
How can eczema impact a person's mental health and wellbeing?
Eczema can make people feel down or fed up, stressed, worried or anxious. It can affect a person's self-esteem and body image. A significant psychological component of living with this skin condition is dealing with the itch, which can be constant. Sticking to a relentless routine of applying emollients and other treatments can also be hard and dispiriting. Eczema can have an impact on many different areas: work, relationships, family life, friendships, school, hobbies, and leisure.
How much research is there currently on the relationship between eczema and mental health, and any interventions that can help?
In 2020, the National Eczema Society released a report, Eczema Unmasked, which we produced in collaboration with LEO Pharma. We gained insights from a survey to which over a thousand people responded. We asked adults with eczema, and parents of children with eczema, a range of questions to better understand the day-to-day and longer-term impacts of living with the skin condition. Three-quarters of adult respondents said eczema had negatively impacted their mental health, leaving them feeling depressed, anxious, helpless and socially isolated.
In 2020, the All-Party Parliamentary Group on Skin (APPGS) published a report on mental health and skin disease; this looked at the mental health support available to people with skin conditions in the UK and the psychological impact of living with these conditions. It provided evidence of the urgent need for more and better services to support people with the mental health impact of skin conditions like eczema, which can be debilitating. Almost everyone (98%) who took part in the APPGS survey said their skin condition affected their emotional and psychological wellbeing.
Cognitive Behavioural Therapy (CBT) is an example of an intervention that may help. CBT is a talking therapy that is often used to help people with anxiety and depression. Evidence shows it can also help people living with long-term skin conditions like eczema. We have more information on CBT in the context of eczema here.
Do you feel healthcare providers take enough account of the emotional or psychological aspects of living with skin conditions like eczema? How could support for patients be improved?
Unfortunately, healthcare providers often do not take enough account of the emotional and psychological aspects of living with a skin condition. Our Eczema Unmasked survey found that over half of adults and 40% of children had never been offered an emotional or psychological support service by an NHS doctor to help them cope with the mental health impact of their eczema.
If healthcare providers asked patients as a matter of course how their skin condition was affecting them psychologically, this would be a significant improvement. Healthcare providers need to feel confident in asking that question and knowing where to signpost patients for further support.
What would your advice be for people whose eczema is having a profound impact on their mental wellbeing?
It is really important that people do not suffer in silence. Managing both the physical and psychological aspects of living with a skin condition will lead to the person getting better faster and for longer.
We recommend that people tell their GP how their eczema is affecting their mental health. GPs can signpost people to helpful psychological support and sometimes even suggest medication.
People who live in England can also look up and self-refer to their local NHS Talking Therapies service. This does not require a GP referral, but you need to be registered with a GP to access the service.
Alternatively, people can access a therapist privately. The British Association of Behavioural and Cognitive Psychotherapies and the UK Council for Psychotherapy keep registers of practitioners who have met exacting standards and training requirements.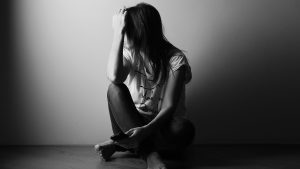 Some larger dermatology centres in the UK have psychological services available to patients with chronic skin conditions. Unfortunately, these are limited. People under the care of a dermatologist could ask their dermatologist whether they would be able to refer them to a psycho-dermatology service. Psycho-dermatology considers both the mind and the skin when seeing a person with a skin condition and addresses the connection and interaction between the mind and skin.
The National Eczema Society has a free, confidential Helpline people can contact if they have questions about their own or their child's eczema.
Our Helpline number is 0800 448 0818. We are open Monday to Friday between 10am and 4pm, not including Bank Holidays. You can also email your questions to helpline@eczema.org.
Alice Lambert
Head of Services
National Eczema Society
https://eczema.org
National Eczema Society Twitter
National Eczema Society Facebook
National Eczema Society Instagram 
This article is from issue 25 of Health Europa Quarterly. Click here to get your free subscription today
Recommended Related Articles