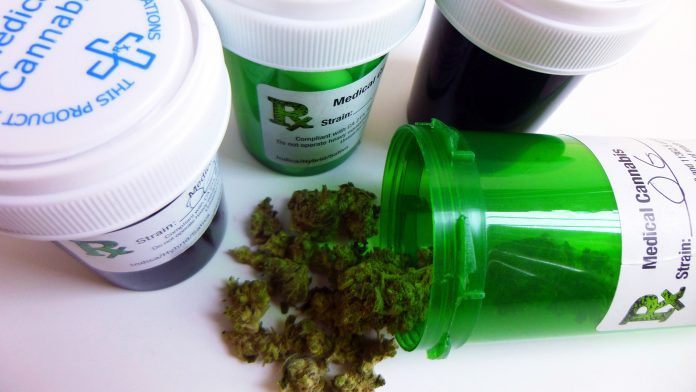 A new study has found that medical cannabis could be used as an alternative to opioids for managing pain amid an opioid addiction crisis.
The research, that examined thousands of patients, found that people reported less pain and better physical and social activity when using medical cannabis, as opposed to opioids. The findings have been published in the journal Substance Use and Misuse.  
The researchers also found that most patients who were prescribed oxycodone, codeine and other opioids were able to stop depending on them after using medical cannabis.  
The results support the idea that with proper medical supervision, medical cannabis could reduce opioid use in certain individuals and help to alleviate the opioid addiction crisis.  
The opioid addiction crisis is a global issue
Opioids are highly effective painkillers, but they are also highly addictive. 
Deaths from overdose involving opioids have increased by 800% since 1999 in the US, with over 550,000 deaths from 1999 to 2020. The opioid addiction crisis is a major issue in several countries, including the UK, Sweden, and Australia.  
There has been little previous research into the viability of medical cannabis as a substitute for opioids. Therefore, researchers from Emerald Coast Research wanted to survey medical cannabis users about the effects it has had on their medical conditions.  
The researchers surveyed 2,183 participants. These participants had a range of conditions including anxiety disorders, chronic pain, depression, insomnia, and post-traumatic stress disorder. Most participants were using medical cannabis daily. 
The survey found that most participants (90.6%) found medical cannabis to be very or extremely helpful in treating their medical conditions and 88.7% of participants said it was very or extremely important to their quality of life.  
It was reported that 85.9% of participants found their pain improved with the use of medical cannabis. As well as this, 84% said that medical cannabis was helping them in social and physical activities.  
Most (61%) of the participants were using opioids before being prescribed medical cannabis. The research found that 79% of these opioid users were able to stop or reduce their opioid use after being prescribed medical cannabis.  
Medical cannabis can reduce dependency on opioids
The number of participants taking the two most common opioids, acetaminophen, and oxycodone with acetaminophen, fell by five times the original amount. These statistics show the potential of medical cannabis as a solution opioid addiction crisis. 
"A large number of people feel the need to take opioid pain medication," said researcher Carolyn Pritchett, a neuroscientist and biological psychologist. 
"If there's the option to instead use a medicine with less harmful side-effects, including a lower risk of overdose and death, then it should perhaps be considered, especially given the opioid addiction crisis.  But more research, including studies that follow patients over time, is needed before substituting opioid painkillers for medical cannabis becomes commonplace." 
"Like any other medicine with side-effects, patients should be regularly monitored and assessed for adverse events, abuse disorder and other issues," she added.  
Recommended Related Articles