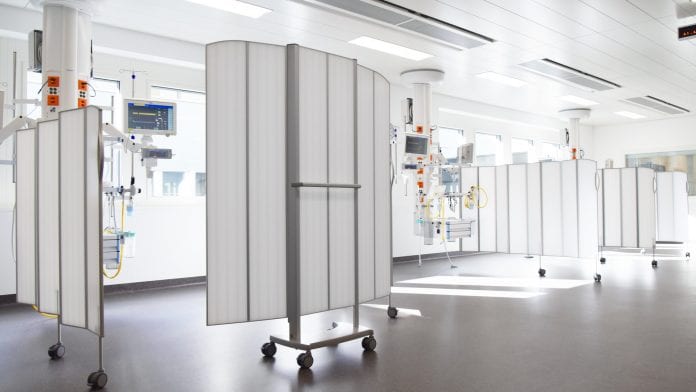 Silentia offers a strategic solution to infection control in healthcare facilities.
Hygiene is a key focus at hospitals to prevent the spread of bacteria, infections, and virus. Staff use hand sanitisers, gloves, protective gowns, protective suits, masks, and visors, while patients get clean beds and clean linen on the ward – but when it comes to cubicle curtains, it is a different story. These curtains are not freshly washed after each patient. On the contrary, they are rarely taken down and washed. They are touched by hundreds of people; and they pass on bacteria to patients and staff.
Privacy curtains carry pathogens
Several studies show that curtains between patients carry large numbers of antibiotic-resistant bacteria. Even if the curtains are washed regularly it does not help a great deal, as they quickly become contaminated with infectious bacteria again.
A study from the University of Michigan Medical Center in April 2019 found that contamination of patient privacy curtains by multidrug-resistant organisms (MDROs) is common. The study revealed that more than one in five cultures taken from patient privacy curtains were contaminated with MDROs. The frequency of changing curtains at the six facilities ranged widely from once a week to 'at least annually or when visibly soiled'.
Risk of transferring bacteria
A study at University of Iowa Carver College of Medicine in 2011 tested the bacterial contamination on curtains. Researchers tested 43 curtains in 30 different medical and surgical wards twice a week for three weeks. 26% of the curtains contained antibiotic-resistant Staphylococcus aureus bacteria. 44% contained Enterococcus bacteria, some of which were also resistant to antibiotics. When staff touch the curtains, they risk transferring these bacteria to other patients. Even if curtains are washed regularly it does not help. Out of 13 new curtains, 12 curtains were infected with bacteria within a week. Improved hand hygiene does not solve the problem: more hygienic screening is needed, according to the researchers.
Still many hospitals continue to use curtains between patients. It is of great concern considering the huge number of curtains in healthcare facilities in general.
A strategic solution to control infection
Hygienic hospital privacy screens can be cleaned every day and spot-cleaned if they get stains. It is an effective solution to increase a daily, frequent cleaning routine without extra cost. It is also the most effective solution, financially and hygienically, as a long-term investment in fewer bacterial outbreaks.
A leading alternative to patient privacy curtains is the Swedish-made hospital folding screens from Silentia. The Silentia screen is a patented system for hospitals and care environments all over the world, designed for easy, instant cleaning without being moved or requiring additional labour. The flexible products are offered in a wide range of heights, lengths, combinations, and colours to ensure optimal hygiene and patient privacy.
Case study: hospital removes all curtains entirely
"A rise in bacterial resistance and healthcare-associated hospital infections present a public health challenge and are a critical priority in a hospital environment; and it's a well-known fact that hospital curtains are a major source of infection," said Sylvain Bertschy, equipment procurement manager at the Riviera-Chablais Hospital, Switzerland. Riviera-Chablais decided to remove all curtains and install 300 Silentia screens in their place; and the new premises were ready for use in 2019. "The decision has been positive not only in terms of convenience for the patients and health workers, but also their safety, as the screens will help to improve hygiene," Bertschy added.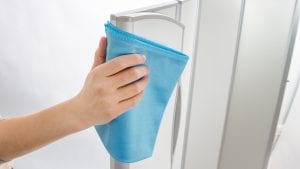 Case study: a huge boost to prevent infections
In 2014, Glostrup Hospital in Copenhagen, Denmark, installed more than 100 new screens in 11 wards. The replacement was completed in just four days. Now almost all wards and departments have hygienic screens. "The screens are included in our hygiene routines and it is easier for us to break the infection path and prevent infections because the surfaces are so much easier to clean. The screens have given a huge boost to the hygiene," said manager Anita Heidelbach. The change to hygienic patient screens was triggered by bacterial studies on fabric and plastic curtains.
Curtains: a constant cost
Curtains are associated with continuous costs of washing, troublesome handling, and storage. Hygienic screens are a long-term one-time investment with an estimated return on investment of one to three years. In addition, the value of screens helps prevent costly bacterial outbreaks. Silentia's screens can easily be disinfected between each new patient. The screens will help you eliminate a large risk factor throughout the hospital.
Investing in hygiene
When you put hygiene on the agenda at a management level and you weigh the hygienic hospital screens against the disadvantages and high costs of frequently washing and replacing patient curtains, it becomes clear that screens are the most effective long-term solution, financially and hygienically. They represent a scalable, long-term investment in higher hygiene and reduced outbreaks.
"Infection control has never been more important than today. Our mission during the last 30 years is to help hospitals provide the best possible hygiene around patients and staff. Through user-friendly products along with flexible thinking, and a service-minded approach, we will make way for innovative, high-quality solutions and close customer relations," said Dag Göranson, Managing Director at Silentia AB.
Conscious of sustainability
The screens have a technical lifetime of at least 10 years, and even longer when well-maintained. As a supplier, Silentia is conscious about sustainability and collaborates with hospitals regarding maintenance of the products. The folding screen system can easily be updated with new fittings and wheels.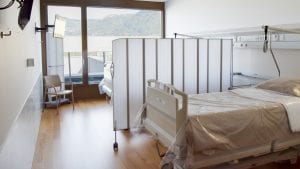 References
1 Bacteria analysis 2019: www.cidrap.umn.edu/news-perspective/2019/04/resistant-microbes-commonly-found-hospital-privacy-curtains
2 Bacteria analysis 2011: https://pubmed.ncbi.nlm.nih.gov/22464039/
Designed for easy cleaning
The screen is folded in and out with the handle as the only point of contact;
The smooth, hard surfaces are easy to clean;
The material withstands disinfectants normally used in hospitals;
The hidden hinges are designed for easy cleaning;
Wheels can easily be removed and cleaned or disinfected; and
The screens can be wall mounted or mobile.
Silentia AB
Dag Goranson
info@silentia.se
www.silentia.eu
www.silentia.eu/casestories
www.silentia.eu/the-easy-concept
This article is from issue 15 of Health Europa. Click here to get your free subscription today.