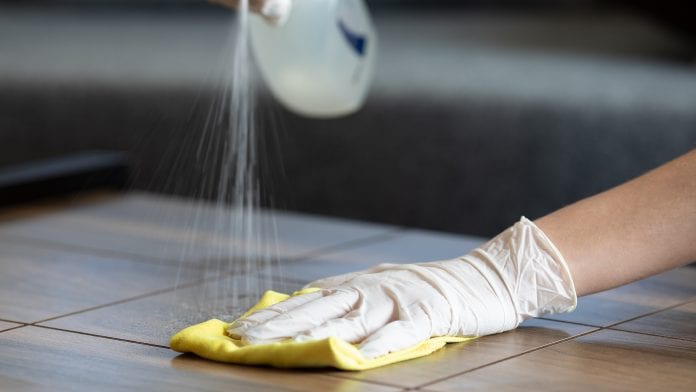 Zidac Laboratories delivers advanced, high-quality antibacterial and sanitising products to aid in the fight against COVID-19.
UK-based manufacturer Zidac Laboratories, which delivers advanced, high-quality personal care products for personal and industrial use, has grown exponentially since its launch in 2017. In 2020, in response to the challenges posed by the COVID-19 pandemic, Zidac introduced two new hospital-grade products – a novel formulation of hand sanitiser and a multi-surface disinfectant – and announced that it would donate £1m worth of hand sanitisers to UK hospitals and healthcare charities, including St Bart Hospital in London and the charity Medical Supply Drive, which sources and donates personal protective equipment (PPE) to frontline healthcare workers.
In addition to its hand sanitiser and disinfectant ranges, Zidac has developed an innovative new solution to the day-to-day irritants which complicate life under COVID-19: a hydrating mask relief spray. This spray creates a protective barrier to reduce friction between the user's mask and the skin of their face, with a powerful blend of natural ingredients to hydrate and tone the skin: rose floral water and aloe vera hydrate the skin, while bisabolol and lavender floral water calm irritation and inflammation.
Zidac's purpose-built manufacturing facility in Portsmouth has received AA accreditation through the Brand Reputation through Compliance (BRC) scheme; and is equipped with the capability to produce up to half a million filled bottles per day. The company's team of in-house scientists have already developed more than 6,000 unique antimicrobial formulations, with a focus on hospital-grade cleaning, disinfection and skincare, for the company's 400 public sector clients around the UK and further afield.
Zidac Sales Director Andrew Whiting tells HEQ about the company's role in combating the COVID-19 pandemic.
What products does Zidac currently offer? Do you plan to expand your range in the future?
Zidac offers a wide range of oral care, hygiene, and infection control products and solutions. Zidac's key focus is to create custom-made solutions for healthcare and industry. These solutions provide superior performance and, very often, additional functionality. Our clients, who are predominantly from the healthcare sector, come to us with their problems and our team of experts then develops products and solutions which solve those specific problems.
Zidac currently offers a range of hand disinfection products, including both hospital-grade and surgical versions; various disinfectants, including a multipurpose surface disinfectant; handwash; mouthwashes; skincare solutions such as the mask relief spray; and hand sanitiser dispensers. Our sanitisers and disinfectants are available in various sizes for convenience of use at home, at work, and on the go. We have developed a few thousand formulations across different product categories, and can very quickly cater to the various needs of our clients.
Zidac is constantly working on expanding its range of products – as our clients' needs develop, so does our range. We are continuously looking for new and innovative ways to help our customers and to provide them with new solutions. To this end, our research and development team is hard at work not only to improve our current products, but also to anticipate and address any needs our customers might have in the future.
A practical example of this is our mask relief spray, which reduces the friction between the mask and skin while guarding against the irritations of mask wearing. The current situation with COVID-19 pandemic and the restrictions which followed, including mandatory mask wearing, created a new challenge for our customers who had to deal with skin which was chafed and irritated by their masks. Working on behalf of a major healthcare organisation, we developed this product which prevents friction and provides relief from skin irritation, thereby effectively fixing this problem. This product has now been adopted by many other hospitals and healthcare providers, including customers overseas. Our aim is to be one step ahead – not necessarily ahead of our competition in the traditional sense, but rather to be one step ahead of the virus and the direct and indirect damage it causes. This approach is not solely limited to the COVID-19 pandemic; it applies to all other areas and factors that can affect our customers today.
Can you tell me about some of the charitable endeavours Zidac has given its support to?
Zidac takes corporate social responsibility very seriously and is continuously looking for ways to help those in need. In 2020, the company pledged to donate £1m worth of goods to charitable and humanitarian causes; and to date, it has donated over £700,000. Charities Zidac has supported – and will continue to support – include but are not limited to:
Barnardo's
British Heart Foundation
British Red Cross
Cancer Research UK
The Children's Society
Forget Me Not Children's Hospice
The Hygiene Bank
Macmillan Cancer Support
Scope
Sue Ryder
WellChild
In addition to this pledge, Zidac has also initiated a Social Value Pledge. We all know someone who has been impacted by COVID-19 – either by contracting the illness, knowing someone who has, or by their financial circumstances being affected as a consequence of the virus. In the past 12 months, full-time employment in the UK has decreased by over 1.74 million individuals. Numerous individuals have had to reach out to a charity of some description for daily assistance or support – situations where people have sought out help in the form of food, hygiene products, or emotional support.
Through its Social Value Pledge, Zidac hopes to donate at least 100,000 units of 500 ml Zidac shower gel before the end of 2021; this donation is of a household product that people will use on a daily basis from a hygiene point of view. Zidac's aim throughout 2021, is to make a difference to a minimum of 100,000 individuals through this initiative and to help them stay healthy and clean. With each purchase of a 5 L jerrycan of our Zidac range of shower gel, Zidac will donate one 500 ml shower gel to a charity or good cause of your choice (this is open to any charity or cause, not only the ones we have previously worked with).
What challenges have you encountered in developing or upscaling products to meet the increased need caused by the COVID-19 pandemic?
The COVID-19 pandemic rapidly turned hand sanitiser into an essential product, which has become a key part of society's everyday life. This has shown how important it is to focus not only on the disinfection capabilities of a sanitiser, but also on other qualities such as its fragrance or its benefits to the skin, in order to differentiate our product from the rest and to provide a degree of comfort and 'feel-good factor' to our customers.
The preventative measures put in place in response to the pandemic have also incurred problems of their own, such as facial irritation caused by mask-wearing and dry hands from frequent hand sanitisation. This has shown us the importance of not only focusing on hand sanitiser (where we focused on skincare as a key priority, in addition to disinfection), but to also find solutions to other problems, such as skin which has been damaged or irritated by mask wearing. These problems challenged us to innovate and create the best possible solutions for our clients.
Repeated handwashing and sanitising can dry the skin, and in extreme cases can lead to cracked skin which in turn increases the risk of infection. How does Zidac offset this risk?
There is a real risk associated with dry hands: when the skin is dry, it can crack; and these cracks allow harmful bacteria to enter the human body. This needs to be avoided at all costs. While Zidac's hand sanitiser guarantees effectiveness in killing microorganisms in accordance with the European standards for medical products, it also hydrates and soothes the skin. Protecting our users from harmful bacteria while simultaneously caring for their skin is a priority for Zidac; and our customers frequently remark on our sanitiser's hydrating and soothing properties, especially after prolonged usage. This has led to many healthcare providers switching to Zidac's sanitisers after internally testing them – they come to us with overwhelmingly positive feedback of how Zidac's sanitisers are the only ones which can help to tackle and successfully address the problems of dry and cracked skin.
How can companies benefit from Zidac's Business Account?
Efficiency and thorough product knowledge are key characteristics for any business. With Zidac's Business Account, our customers will receive a dedicated account manager who will support them every step of the way. Your account manager will learn about your business, understand your objectives, and become a proactive part of your team. Not only will you receive preferential rates, but we can also provide you with marketing support, product training, end user support, CSR support, social value support, and industry experience.
This article is from issue 17 of Health Europa. Click here to get your free subscription today.
Contributor Details