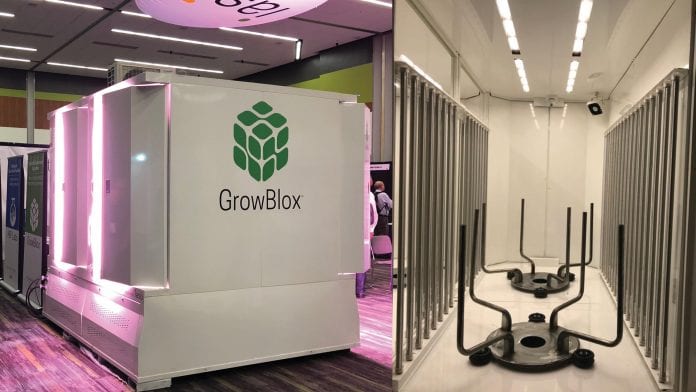 Iaso is a science company that promotes wellness and remedies through synergistic collaborations and investing in cannabis with key players in the industry.
To understand the fundamental values and the value proposition of a company, it's important to comprehend the journey, the milestones, the background of the founders, and the hurdles it has gone through. Even more in an emerging industry such as the cannabis industry, where the current cannabis ecosystem is highly fragmented, consisting of small-scale enterprises with little differentiation. Typical of an emerging market, the medical cannabis industry is driven by a lack of coherent business models, obscuring the creation of economies of scale. Find out how investing in cannabis and the dynamic industry enabled Iaso to promote wellness and remedies through diverse players in the industry.
Investing in cannabis with Iaso
Iaso's founder spent the previous twenty-five years preceding their first investment in the cannabis space in the commercial real estate development industry, as a consultant and developer for Walgreens Co. in their retail expansion efforts in Puerto Rico. In June 2012 Walgreens initiated a transaction to merge with Alliance Boots which consummated in December 2014. This event triggered the end of a business cycle and the beginning of new entrepreneurial cycle.
César Cordero Krüger, founder & CEO of Iaso Corp, initiated back then (2013) a journey to make an investment in a medical related field, ending in the cannabis space which was in its early stages in the USA and Canada in those days. So, after travelling extensively through the USA, Canada, Israel, and Mexico, in 2014 our team acquired the rights to certain technology that was being developed in Las Vegas Nevada, a controlled environment chamber for growing cannabis plants.
In 2016 medical cannabis became legal in Puerto Rico, and we created HBP Labs, LLC to pursue licences in cultivation, manufacturing, and dispensary all vertically integrated in one facility in San Juan, Puerto Rico, all licences were approved in 2017, and Iaso have been granted additional licences for two other dispensaries, one for transportation, and a research & development licence. While all this was happening, we entered into an agreement for the design & manufacture of an hydrodynamic extraction system in Chennai, India for the high volume processing of biomass, in anticipation of bottlenecks in production. That's when we stepped back to take a Macro look to all our efforts in the cannabis space, and Iaso Corp was born as a holding company for all our assets and efforts in the Industry.
When you take a closer look at the evolution of the industry, the main obstacle for mainstream acceptance of cannabis as a medical treatment is the lack of consistency, efficacy and safety, in addition to a well-tuned supply chain. To achieve this there are critical areas that need specific attention to be capable of producing medical cannabis applications to promote wellness, cures, and remedies. These areas span the entire continuum of Cannabis from micro-propagation, to controlled & precision agriculture, extractions, to drug delivery. Iaso's unique approach provides innovative solutions that embrace the foundation of the medical cannabis industry, capable of producing consistent products and remedies with controlled and minimum variability in potency, purity, stability and bioavailability.
Fig. 1 shows in a condensed format, the four pillars where Iaso has efforts and assets invested in developing either IP, SOP's, processes, equipment and technology, along with recipes that provide solutions, which are tested at HBP Labs Center of Excellence under real conditions with the actual plant.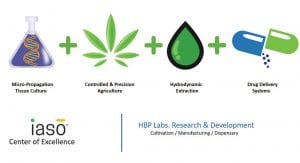 Under this structure Iaso has either licences agreements, collaborations, and research efforts with strategic and synergistic partners and collaborators. Some examples are a licencing agreement with Tikun Olam to grow their medical strains in our facilities specifically utilising aeroponic technology for producing flower for the local market, at the same time we observe phenotyping behaviours in our CEA rooms; licencing agreements with United Cannabis Corporation to produce their PRANA line of medicinal products, a joint venture agreement with Verano Holdings to open multiple dispensaries under Zen Leaf branding in the Puerto Rican market.
Genetic Uniformity: Micro-Propagation for the future
Iaso's micropropagation protocols, SOPs, and facilities are designed to be highly scalable in order to optimise production of custom and proprietary strains for licenced growers. The techniques used by HBP Labs will minimise epigenetic variability between generations, secularly maintain valuable genotypes of other licenced growers, scale-up production of novel cultivars 10-12 times faster than traditional propagation methods, propagate and provide growers with thousands of genetically identical plants, save growers money from eliminating the need to maintain their own mother room, and safe-guard cultivars of other growers in case of unforeseen destruction of their grow facility.
With GrowBlox all key variables in the plant's growth can be monitored, optimised and controlled from a smartphone, tablet or computer. View your plants from anywhere, adjusting light, temperature, water, nutrients and CO2 to ensure the healthiest cannabis plants possible. Lighting schedules can be automated with just a few taps in the GrowBlox software, allowing a smooth transition from the plant's growth stage to harvest. With GrowBlox, cannabis cultivators can give individual attention to each plant and continually fine-tune growing conditions to create the perfect harvest. In addition, it's the ideal system to safeguard mother plants, and for phenotyping experiments.
In addition to our solutions, Iaso operates a Center of Excellence to harness and showcase innovations that achieve best practices in medical cannabis products, applications, and technologies. The Iaso Center of Excellence is a 12,000 square foot facility located in San Juan, Puerto Rico's financial district; that includes a state-of-the- art aeroponic cultivation facility, multi-faceted laboratories for extraction and research, and a medical dispensary featuring products grown and produced inside the Center of Excellence.
This is the first full vertical integration of the cannabis ecosystem contained within one building in a truly urban environment. Integrating all modern concepts of controlled environment agriculture, vertical agriculture (literally vertical in a 6-story building), urban agriculture and sustainability concepts which we are willing to share with the right partners. Iaso has obtained permits to expand the Center of Excellence and operations on land which is immediately adjacent to the current building and owned by Iaso principals. This will allow Iaso to increase the Center of Excellence cultivation and production operations by more than 25,000 square feet. We are open to proposals for the development of this site.
Our Center of Excellence operated by HBP Labs has started to show some outstanding results in our laboratories as an example we have decoded approximately 14 different cultivars that we can consistently micro-propagate in exponential numbers, also we are the only group that we know of, that has successfully micro-propagated a cultivar in vitro and passed directly to aeroponic systems with great results, as one of our phenotypes developed at HBP Labs: Anacaona CiX/A11 – an hybrid sativa dominant with laboratory results of CBD:THC ratio of 1:1 with total CBD: 15.15% and total THC: 14.30% and 22 mg/g of terpenes (14 mg of ƿ-cymene); and our King Bud with THC: 23.72% and 30.22 mg/g of terpenes (18 mg of ß-myrcene).
Iaso Corp. is open for business and collaborations for research projects that we could advance in our HBP Labs facilities as well as to explore licencing opportunities and joint ventures that would represent a synergistic alliance for Iaso solutions around the world.
Iaso's Solutions and areas of opportunity are:
Plant Micro-Propagation;
Tissue Culture/Phenotyping; and
Genetic Research.
HPB Labs develops, tests and reproduces a wide range of cannabis cultivars with a myriad of genetic backgrounds. Using modern plant tissue culture techniques, HBP is able to rapidly multiply cultivars while safeguarding and assuring genetic consistency through to future generations.
Hydrodynamic Extraction
Full spectrum high bioavailability
PhytoX is a innovative extraction system that uses fresh cannabis plants to preserve all volatile compounds through a unique process. Our proprietary, patent pending technologies are designed to optimise the extraction of phytocannabinoids from active trichomes to maximise yields, increase potency, and create higher bioavailability by converting the entire plant into nano emulsions.
Precision cultivation
Controlled environment agriculture
GrowBlox is a cutting-edge, fully integrated indoor growing system for medical-grade cannabis. Our patent pending, proprietary, automated aeroponic chambers create and maintain precision controlled growing conditions for continually monitoring and managing light, temperature, humidity, air quality, water, PH, EC, nutrients, and CO2.
Able to grow 4 plants chamber per harvest, completing 5 harvests per year;
Average yield per chamber of 40-50 pounds of medical-grade cannabis per year. Fits in a 64sq ft footprint;
Advanced LED lighting system optimised for growing cannabis;
Management system with integrated sensors, actuators, and a state of the art climate control system;
Complete atmospheric controls with adjustable CO2;
Built in imaging cameras for remote viewing;
Plant watering schedule using up to 8 different nutrients;
50 micron spray nozzles that maximise nutrient absorption;
Continuous control of pH and EC monitoring; and
Software meets FDA 21 CFR Part 11.
César Cordero Krüger
CEO & Founder
IASO Corporation
+1 (787) 765 5182
cck@iasocorp.com
www.iasocorp.com
Please note, this article will appear in issue 10 of Health Europa Quarterly, which is available to read now.