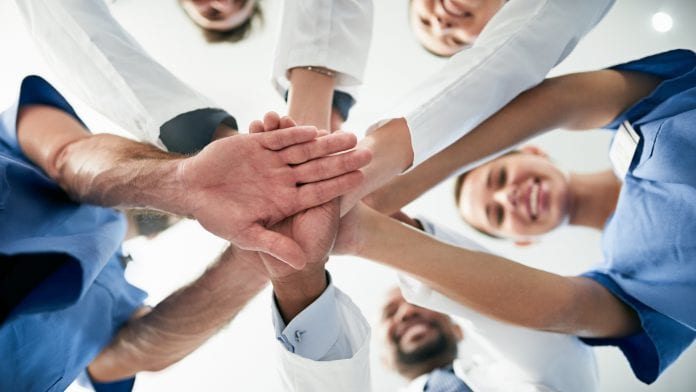 UVC specialist, Finsen Tech, explains how its innovative products are helping to prevent the spread of harmful viruses in healthcare settings and beyond.
Finsen Tech is a global company specialising in the design and manufacture of lifesaving UVC disinfection products, services, and solutions that can be effectively utilised across healthcare, hospitality, and other sectors.
Finsen Tech was founded in 2015 with the aim of providing UVC disinfection solutions which offer high levels of efficacy and unbeatable value. Since then, we have done just that – harnessing the power of UVC light to help customers across the world confidently, effectively, and safely disinfect their surgeries, wards, hotels, restaurants, and more.
UVC disinfection
UVC disinfection itself is the process of using a calculated dose of UVC light to kill viruses and bacteria. Its effectiveness is theoretically limitless, but in practical terms, it is restricted by the product used to emit it. Too little intensity, an insufficient duration for the dose, or a failure to comprehensively expose the disinfection target are all potentially limiting factors.
Our products are unique in their deployment of a wide range of proprietary innovations designed to effectively preclude these factors – enabling UVC disinfection to be used easily, quickly, consistently and with a high degree of efficacy.
Finsen Tech now supplies in-room, air handling and cabinet-scale UVC disinfection devices to medical and non-medical facilities in countries around the world. Each device has undergone significant clinical testing by unaffiliated third-party researchers who have unanimously found that our products are extremely effective. Finsen Tech's new portfolio is unrivalled and truly sets us apart from all our competitors.
THOR UVC®
THOR UVC® is the most powerful UVC room disinfection system available in the world, it eliminates shadows and performs three integrated room scans to ensure that the optimum disinfection cycle is achieved. THOR UVC is a high-output UVC disinfection robot, which utilises unique room mapping technology to deliver a fast and effective germicidal dose of continuous-wave UVC energy killing germs and pathogens when and where you require.
THOR UVC is an intelligent device and completely removes the guesswork and ineffectiveness of regular cleaning. THOR UVC is the latest constant wave UVC surface and air disinfection technology, designed for all areas of the hospital, healthcare, or business environment. Log 6 reductions (99.9999%) bacterial kill is achieved in minutes.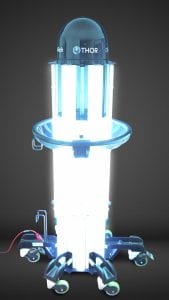 ZEUS®
ZEUS® is a unique surface decontaminator cabinet, effective against all known problematic pathogens. Its unique, patent-protected decontamination process penetrates hard-to-reach areas of objects and items that are often missed when disinfecting by hand. ZEUS has been engineered to be as adaptable as possible, and the chamber can take either multiple smaller products such as a remote control or mobile phone or single larger products in one single cycle due to the internal dimensions of 348mm H x 442mm D x 477mm W. ZEUS could not be easier to deploy, our unique surface decontaminator only requires a standard single-phase mains power connection and works on 110-240v so it can be deployed globally in any location. In addition to this, due to ZEUS using only UVC light to disinfect, there is no requirements for specialist ventilation or extraction.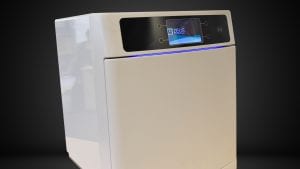 HYPERION®
Additionally, the HYPERION® chamber decontaminates non-invasive medical equipment, electronic and other devices within 60 seconds, using clinically proven ultraviolet light technology. HYPERION is not just for hospital use. It can provide an ideal decontamination solution within hotels, restaurants, offices and much more.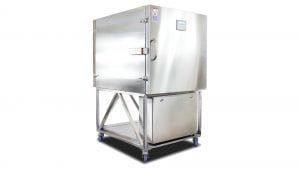 EIR®
The EIR® range is designed to inactivate airborne micro-organisms in small and closed areas such as offices, houses, small rooms, toilets, and storerooms etc. The importance of clean, healthy indoor air has never been more important than it is today. Small particles (aerosols) are formed by talking, coughing, and sneezing, and can hang in the air for extended periods of time. These particles then circulate rooms by both air current and movements. Breathing in this contaminated air increases the risk of the continued spread of viruses. EIR is designed to circulate the indoor air at least three times an hour depending upon the building ceiling height and floor area. The EIR UVC series achieves a 99.97% kill rate on a single pass. The possibilities with EIR truly are endless, we regularly see the unit being used in closed areas such as shopping centres, stores, hospitals, offices, airports, and clinics.
To inactivate airborne viruses, indoor air combined with UVC disinfection units are particularly effective in preventing further spread. The EIR UVC series provides clean air indoors ensuring improved safety for everyone. Our UVC emitters which operate at 253.7nm eradicate bacteria, viruses, and all known pathogens when they are exposed to a sufficiently high dose of ultraviolet light, ensuring that the DNA and RNA are damaged and can therefore no longer replicate. The air is then passed through the HEPA filter, resulting in clean air being circulated back into the room itself.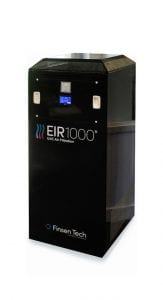 This article is from issue 18 of Health Europa. Click here to get your free subscription today.
Contributor Details