Omni CleanAir President Paul de la Port tells HEQ about the need for indoor air purification.
Omnitec Design was founded in 1988, with the goal of delivering high-quality air purification in confined spaces. More than three decades later, the company launched a new family of air purification systems, Omni CleanAir, designed to remove harmful particles and pathogens – including COVID-19 – from high-use and high-traffic indoor areas such as offices, schools and hospitality spaces.
Paul de la Port, President of Omni CleanAir, tells HEQ about the need for indoor air purification to halt the spread of infection.
What can you tell me about your products? How does Omni CleanAir stand out from similar technology?
Omnitec Design is a company which has been around for 35 years, focusing exclusively on portable commercial-grade air purification: none of our products are anything less than medical grade under the High Efficiency Particulate Air (HEPA) filtration standard; and they have been used in professional environments such as the decommissioning of nuclear facilities, asbestos and mould abatement, and in communities affected by wildfires. One of the products we offer is a patient isolation system to be used for creating negative-pressure rooms, with recirculation and air filtration, for use in hospitals and healthcare facilities: it's designed specifically for pandemic response.
As the pandemic emerged, we saw customers deploying our industrial and hospital-grade systems to everyday environments. The issue is that our traditional systems require professional expertise and that these machines are expensive – they are designed for a hospital environment where a team will know exactly how to set up a negative-pressure space in a regulated environment with all the necessary certifications. In April 2020 we set ourselves a new goal: to develop a product, using the experience we have amassed over 35 years, that provides a reliable solution for the demanding, real-world environments business and schools are facing every day.
Over the last 10 months we have sprinted to develop and create Omni CleanAir; and in September 2020 we launched the new product line, which is specifically focused on taking the exact same technology we have been using in hospitals, packaging it and making it more accessible and affordable. This journey has resulted in a disinfection solution that can be deployed in everyday workspaces – this could include supermarkets, hair salons, doctor's offices, corporate offices, schools, conference rooms and more – without that need for prior professional expertise or certification; and which is much more accessible from a price perspective, without compromising on the level of industrial and commercial performance of our other products.
What benefits can this offer for healthcare in practice?
Omni CleanAir combines three specific technologies in a single package. The first of them is high-capacity airflow: as is the case with many pandemics, COVID-19 is transmitted by airborne particles, and high-capacity airflow prevents the spread of those particles by changing and filtering the air in any given space at very high rates. The second technology is ultraviolet germicidal irradiation (UVGI) – this is a form of UVC energy delivered in a very concentrated form, which irradiates all the air within a particular space. The third technology is our medical-grade HEPA system, which boasts 99.99% efficiency: this has the effect of removing even the smallest particles, down to 0.1 microns in size. By combining these technologies into a single portable package, which can be operated in any space, we are able to dramatically reduce the risk of infectious disease transmission.
We have performed testing and delivered our first production units at schools, medical facilities and offices; we intend to focus on how best to educate potential users and provide greater visibility of what our technology can do within these everyday workspaces. Many countries around the world are in various stages of lockdown and people are needing to get back to work, but there's no one solution. Indoor air quality is still of critical importance, especially with the rollout of a vaccine. You will see that many government and advisory boards have advised improvements around ventilation as a key preventative measure in indoor environments. Yet, a lot of buildings have air ventilation systems which are either old or non-existent, which is why we are really focusing on implementing this product into everyday workspaces, so we can help people get back to normal.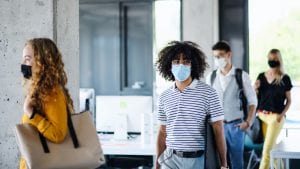 Is there a possibility that wider uptake of air disinfection could accelerate a return to public life?
This pandemic has proven that there is not one single intervention capable of solving the problem. There's no silver bullet here. However, I do think a multi-layered approach to keep people safe in indoor spaces is required. At the most basic level we have all been educated on the importance of personal protective equipment (PPE), social distancing, remote work and other administrative controls, but engineering controls such as ventilation are the next layer of protection; and I think in combination with all the other standards we already have in place, air disinfection will help us to get back to normal.
One key benefit of our installation protocols is that machines don't get sloppy or distracted, which provides an added level of protection: because of their heritage, our machines are designed to be plugged in the wall, switched on and then run 24/7, without interruption, sometimes for years. They are constantly maintaining that level of protection, which is crucial to get indoor air quality under control.
How have your products evolved since the launch of Omnitec in 1988?
The original founder of Omnitec saw a need to keep people safe in very confined spaces: the very first product was focused on ambient particle reduction. From its humble beginnings, the expansion of the application has been more or less organic – there is a need to remove harmful particles from the air, whether they are allergens, pollutants, or pathogens. In order to meet these urgent needs, the technology has evolved and adapted organically into what you see today, which is a very broad portfolio of applications with which we are doing just that.
We have been producing our Omnitec PAC machines, on which Omni CleanAir is based, for the last decade. They have been used in hospitals for patient isolation, filtering pathogens, and creating negative-pressure spaces. From there it was the obvious next step to adapt the technology, to deal with all of those dangerous particles and pollutants in the air.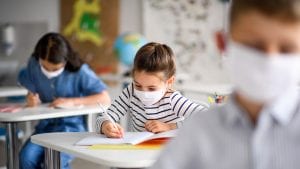 How do you see Omni progressing in the future? Do you plan to expand your range of products?
We are a global company; and this year, we are going to make sure that our many air cleaning products are available in a range of global markets, including the UK. Indoor spaces come in every shape and size; and we are really focused on trying to create a small range of products, which are not complicated to use, for use in spaces of any size. Currently, the largest capacity unit we produce is the OCA 1200, which can treat 1,200 cubic feet per minute (CFM); very soon we will launch the OCA 500, a small unit of 500 CFM to help us reach smaller treatment areas.
The impact of the COVID-19 pandemic on people's livelihoods has been devastating; and businesses, schools and other institutions need to get back to work safely and affordably. The key need for our product specifically is tied to the fact that these indoor environments are hotspots for the spread of infection. Ventilation is typically poor, occupancy is high, and any activity inside shared spaces just contributes to higher particle counts – and that equals danger.
This pandemic is going to get under control – we all hope this will happen sooner rather than later – but it has made incredibly clear the importance of indoor air quality. If there is one silver lining to the COVID-19 crisis, it's that it has raised everybody's awareness of just how dangerous poorly ventilated indoor spaces can be. As we are all aware by now, this disease is airborne. The more viral particles are in a given indoor space, the more carriers and sources of disease transmission there are, the higher the risk. It is an overwhelming, urgent priority for businesses to keep their buildings healthy and to keep their staff healthy, in order to keep their bottom line healthy by opening back up.
Omni CleanAir is not just a pandemic response product: we feel it is going to be the next natural evolution in common-sense hygiene for indoor spaces. In 1980, the US healthcare system adopted hand hygiene as an official standard, which would have been considered ridiculous in the early 20th century. This is the next natural step in basic hygiene practices, because this pandemic has taught us that if you ignore the danger which can arise from dirty or contaminated indoor air, the outcomes can be terrible. We need to take indoor air quality more seriously, specifically with regards to the spread of pathogens. That's the mission that we're on: to eliminate the illnesses caused by unhealthy air.
This article is from issue 16 of Health Europa. Click here to get your free subscription today.
Contributor Details