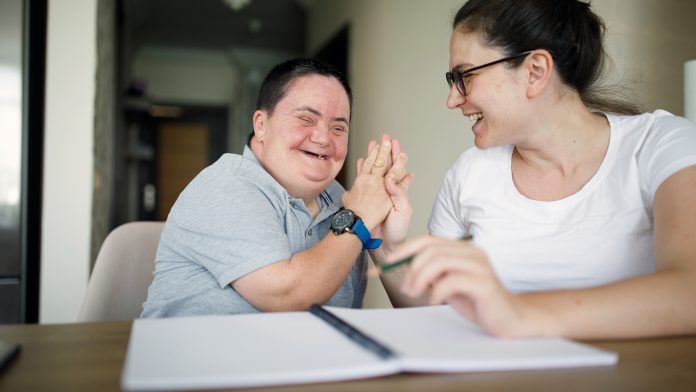 A research project in the UK aims to enhance people's lives with learning disabilities by using Artificial Intelligence (AI) to gauge a better understanding of the conditions.
The study, called the DECODE (Data-driven machinE-learning aided stratification and management of multiple long-term COnditions in adults with intellectual disabilitiEs) project, will be led by researchers at Loughborough University and the Leicestershire Partnership NHS Trust. The study will employ machine learning to analyse the impacts of multiple long-term conditions (MLTCs) in people with learning disabilities.
The DECODE project is scheduled to begin in April this year and is funded by the National Institute for Health Research (NIHR). Other partners in  the project include the University of Leicester, Swansea University, King's College London, University of Plymouth, the University of Nottingham, and De Montfort University.
Learning disabilities in the UK
In the UK, around one in 100 people are diagnosed with a learning disability, with about 65% of these individuals having two or more long-term health issues – multiple long-term conditions. The average life expectancy for people with MLTCs is 20 years lower than the UK average.
More often than not, the symptoms of learning disabilities are misdiagnosed as mental health or behavioural problems, meaning they do not get the optimal care for their condition. Additionally, because it is challenging to understand the complex care needs of people with MLTCs, providing effective joined-up care between health and social services is difficult.
The DECODE project
The DECODE project will examine healthcare data of people with learning disabilities from England and Wales, enabling them to determine which MLTCs are most likely to occur together, how the conditions evolve over time, and the influence of other factors such as lifestyle choices, financial situation and social interactions on the conditions.
The researchers will directly collaborate with people with learning disabilities, their carers, and professionals who help them identify the MLTCs that affect them the most. This will allow the team to devise strategies to enhance care for these individuals and create visual information that can be easily interpreted, such as graphs and infographics.
The overall objective of the initiative is to develop a new joined-up model of care for people with learning disabilities that amalgamates a range of clinical guidelines relevant to the most prominent MLTCs in a format that is accessible to everyone. The project will optimise health and social care providers' management of MLTCs and may even prevent them from developing.
Dr Thomas Jun, a Reader in Socio-technical System Design at Loughborough University and co-lead for the project, commented: "We are very excited about this collaboration opportunity, working with clinicians and experts in data science, AI, medical informatics, human factors, design, ethics and qualitative research, as well as those with lived experience of learning disabilities. We will be able to demonstrate how AI can create safe, ethical and cost-effective improvement to the quality of life for thousands of people with learning disabilities."
Co-lead Dr Satheesh Gangadharan, a Consultant Psychiatrist with the Leicestershire Partnership NHS Trust, concluded: "Moving forward, we hope our research will shape how people with a learning disability and long-term conditions are supported in the UK and beyond. The links we have with the National Learning Disability Professional Senate, Royal Colleges, Health Education England, Public Health Wales, NHS England and NHS Wales will enable us to make a real impact and improve the care."