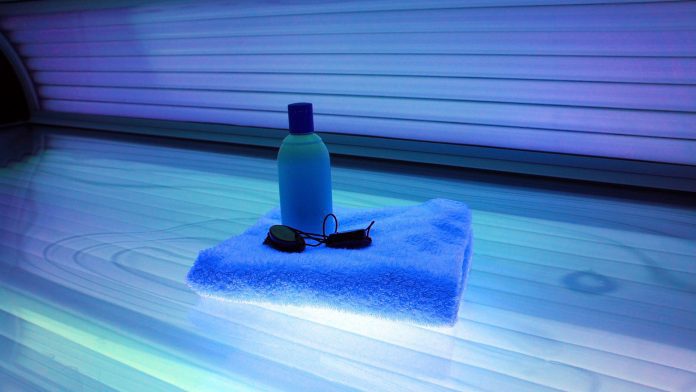 Research indicates that an indoor tanning ban would substantially reduce deaths from melanoma skin cancer.
Melanoma cancer develops from cells called melanocytes that begin to grow and divide quicker than usual. It is the most serious form of skin cancer; risk factors include pale skin that does not tan easily, blue eyes and a close relative who's had melanoma skin cancer.
There is a growing rise in indoor tanning bed use and the commercial availability of this service is attractive to young people. However, tanning beds contain UV radiation which can increase the risk of skin cancer, including melanoma.
Research carried out by the University of Manchester concluded that an indoor tanning ban could reduce the number of deaths from melanoma skin cancer.
The positive impact of banning indoor tanning
The team tracked the projected impact on the 618,000 18-year-olds living in England in 2019 and found that a ban on indoor tanning would result in 1,206 fewer cases of melanoma skin cancer and 207 melanoma deaths over their lifetimes.
In addition, it would result in 3,987 fewer cases of other more common types of skin cancer, including squamous cell and basal cell carcinomas, which impose a major burden on both affected patients and the NHS.
The ban would also save the NHS £700,000 resulting in a Net Monetary Benefit of £10.6m with a 99% likelihood that the ban with the information campaign would be cost-affective.
The researchers noted the actual impact of an indoor tanning ban and the NHS savings would be far greater when benefits to individuals who started to use sunbeds over 18 years were also factored in.
Sunbed use in England
It is reported that sunbed use is particularly high in the northwest and cities with greater social deprivation; the growing popularity is thought to partly explain the unusually high rates of melanoma skin cancer seen in young women living in the northwest.
Furthermore, estimates show that around 62,000 children under 18 are currently using sunbeds in England.
Paul Lorigan, a Professor of Oncology at The University of Manchester and Honorary Consultant Medical Oncologist at the Christie NHS Foundation Trust, said: "If the NHS invested in a public health campaign to support the ban on sunbeds, we estimate that melanoma and other skin cancers would be significantly reduced, NHS resources would be saved and deaths averted.
"It is quite clear that melanoma and keratinocyte skin cancers have a significant impact on population health and healthcare budgets, and that a proportion is attributable to indoor tanning. Anyone who has used a sunbed increases their risk of melanoma by almost 60%.
"We show quite conclusively for the first time that banning indoor tanning supported by a public health campaign would be an efficient use of healthcare resources to reduce melanoma and other skin cancers in England.
"Our findings agree with calculations of future productivity losses that were caused by these diseases in the USA is mainly young people in 2015 after exposure to tanning devices. There the total economic losses amounted to over $US127 billion over the individuals' lifetimes."
The team analysed the cost-effectiveness of the policy on the NHS using modelling to track the national cohort of 18-year-olds over their lifetimes.
The mortality data specifically was obtained from the Office for National Statistics. They compared a nationwide ban on commercial indoor tanning combined with a public information campaign with the status quo of the availability of commercial indoor tanning. They also calculated the expected costs, Quality Adjusted Life Years and the Net Monetary Benefit of a ban.
The study was published in the British Journal of Dermatology.
Recommended Related Articles