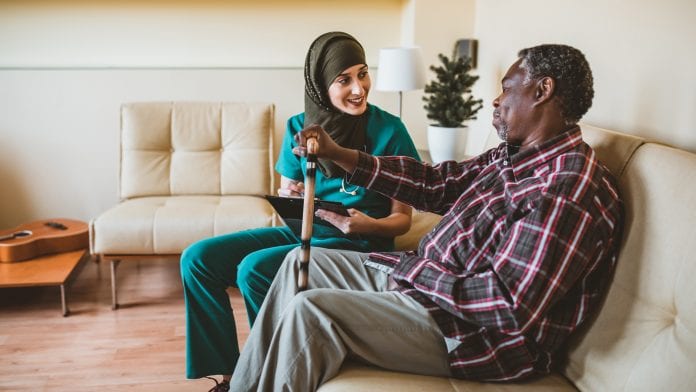 The UK Government has created a guidance resource on infection control measures for those providing home care.
The resource has been collated for care providers such as social care staff, local authorities, and commissioners in England and brings together all infection control guidance related to COVID-19 and home care.
The guidance has been informed by discussions with provider representative groups and webinars that have been held to offer support to organisations working in health and social care during the response to the pandemic.
Clinically vulnerable people
The guidance gives advice on how home carers can support clinically vulnerable people who are receiving home care during the crisis, such as dividing people who receive care into 'care groups', and local authorities and clinical commissioning groups (CCGs) supporting care providers with extra costs, such as the staffing and PPE.
It also highlights that, to reduce contact for the clinically vulnerable, home care providers should be working with agencies to develop a plan to reduce the number of people going into the homes of the vulnerable.
Contact between staff should be minimised, and 'where it is not possible to allocate specific care groups to specific staff subgroups, it may be possible to schedule for clinically extremely vulnerable and clinically vulnerable individuals to be seen before people from other categories.'
Care providers should assess whether reduced visits may be appropriate and will need to conduct risk assessments on whether this is the correct measure to take – liaising with any unpaid carers or partner agencies.
Patient testing and safe discharge into the community
All people working in the home care sector are entitled to a COVID-19 test and the guidance advises home care workers to self-isolate if they are experiencing any symptoms.
Regarding the discharge of patients from hospital into the community, it is advised that testing 'must not hold up a timely discharge', and that home care providers must assume patients are COVID-19 positive for a 14 day period when awaiting test results. However, it is noted that no person should be discharged before it is clinically safe to do so.
In each locality, a co-ordinator will be accountable for all elements of the discharge process, and, where home care agencies recognise inadequacies, they should escalate these to the co-ordinator.
Social care support
The government is providing support and finance for the social care sector to ensure safe infection control and procedures around COVID-19. So far, £3.2bn of funding has been provided to councils for COVID-19 related expenses and pressures, as well as £850m in social care grants, and £600m as part of an infection control fund.
As part of the Department of Health and Social Care's 'Adult Social Care Action Plan' the Government is aiming to recruit 20,000 more workers into the sector. A further £4m is being provided for this recruitment campaign, which will include free initial training for applicants.
As part of this drive, a new website has been launched to encourage workers to join the sector.
NHS support for home care provision
Local authorities and home care providers will be supported by NHS providers in the provision of care with a number of steps, such as administration of records of those receiving care, options for alternative care models, such as telehealth, and developing plans with local authorities.
The guidance notes that this support will include planning around resilience, 'including plans to share resources locally in an outbreak of COVID-19.'
To read the detailed guidance in full, please click here.