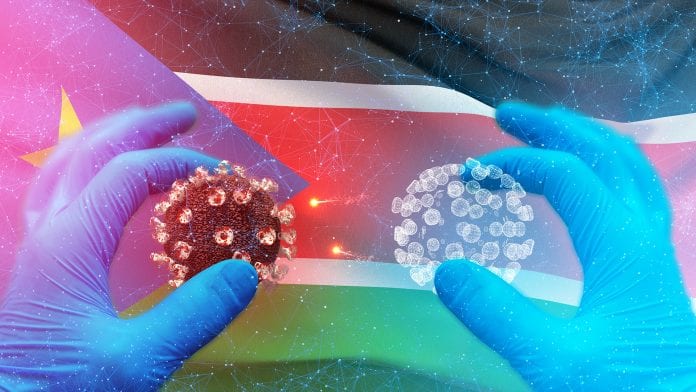 Jemila M Ebrahim of the World Health Organization speaks to HEQ about how it is supporting South Sudan with infection control during the COVID-19 pandemic.
The World Health Organization (WHO) has partnered with the South Sudan Ministry of Health to provide comprehensive training for laboratory scientists in infection prevention and control (IPC). The training programme, which is being delivered with funding provided by the EU, outlines best practice for sample management and waste handling and disposal within the WHO's current infection control guidelines for COVID-19.
WHO communications officer Jemila M Ebrahim tells HEQ about the WHO's ongoing support for South Sudan during the pandemic.
What measures have been put in place to prevent the spread of COVID-19 among citizens in South Sudan?
WHO has been working closely with the Ministry of Health, UNICEF and other partners to put in place measures to prevent the spread of COVID-19. These include conducting awareness on COVID-19 at the national and state and Boma [administrative division or ward] level, through:
House-to-house and megaphone announcements;
Printing and distribution of key messages on COVID-19;
Airing radio jingles with COVID-19 prevention messages on 40 radio stations in 10 languages; and
Training over 100 editors and freelance journalists to enhance skills on reporting on health issues, with a focus on COVID-19, ethical reporting, gender-based violence (GBV), fact checking, social media and safety of journalists.
The country has put in place a mechanism to track rumours, inaccurate information and community perceptions on COVID-19. The information is being used to develop messages that address the rumour directly and dispel incorrect information. Furthermore, an assessment has been done to document current perceptions, knowledge and attitudes to guide evidence-driven risk communication and community engagement activities.
What support and resources has the WHO provided for clinicians and healthcare workers (HCWs) in South Sudan? Are healthcare workers at particular risk of infection?
To reduce health worker infections, WHO has conducted surveys in health facilities to better understand infection prevention practices; and comprehensive training has been provided for various cohorts of HCWs across the country. Currently, over 800 HCWs have been trained virtually and more than 270 healthcare workers have been trained on case management and infection prevention and control. This has immensely contributed to the increased number of trained HCWs for the entire response at national and sub-national level, with enhanced surge capacity.
WHO has also provided support to the Ministry of Health in the following areas:
Expansion of the Infectious Disease Units bed capacity from 24 to 82 with comprehensive water hygiene and sanitation amenities to enhance the country's emergency response to COVID-19;
Provision of viral haemorrhagic fever kits including essential medicines and other supplies to enhance IPC and prevent HCW infection;
Providing COVID-19 training materials;
Development and periodic revision of COVID-19 guidelines informed by new evidence-based WHO guidance and policy briefs, and wide dissemination of regionally organised virtual training sessions; and
Guiding and supporting the clinical team monitoring COVID-19 cases under the national home isolation strategy, with basic patient monitoring equipment such as blood pressure machines, infrared thermometers, pulse oximeters, personal protective equipment (PPE), transportation, essential medicines, payment of incentives and technical guidance on patient management and referral decision to designated facility for COVID-19.
WHO has developed an HCW exposure tool to track health care workers that are exposed to or infected with COVID-19. Since the COVID-19 outbreak was declared in South Sudan, a noticeable decrease in the proportions of infections among healthcare workers has been observed from May to July 2020, with a 67% decrease during the last month. According to the Ministry of Health, 122 healthcare workers in South Sudan have been infected to date.
The WHO has provided a course of training in infection prevention and control to South Sudanese laboratory staff: were there any significant infection control failings before this training was delivered?
COVID-19 is a new disease; hence it is important to provide the necessary knowledge and skills to implement IPC measures in laboratories. In July 2020, WHO trained over 50 laboratory experts on IPC and handling and disposal of infectious and hazardous waste to reduce health worker infections.
What are the WHO's primary recommendations for preventing the spread of infection in a laboratory testing environment?
The WHO recommends implementation of appropriate IPC measures, including rational and risk-based use of personal protective equipment. These measures also include adherence to hand washing guidelines; systematic disinfection of contaminated materials guided by standard protocols; sterilisation of reusable lab equipment and supplies; proper washing of equipment and glassware in the laboratory; adherence to proper waste segregation and recommended disposal; and regular laboratory cleaning guided by standard operating procedures (SOPs), which should be regularly updated and enforced through a proper Ministry of Health management structure.
How important is international collaboration and knowledge sharing in healthcare, particularly in terms of combatting a global pandemic?
COVID-19 is caused by a novel virus with many unknowns, which can best be solved through international collaboration and knowledge sharing. This is critical to understand the clinical spectrum of the disease: infectivity; transmission dynamics; incubation period; discovering a cure and vaccine for the disease.
To this end; WHO has undertaken the following:
Sharing of initial viral isolates from China with experts to quickly develop PCR testing primers;
Initiated solidarity trials involving several countries with the aim of identifying an effective medicine to improve clinical outcomes in COVID-19 patients;
Initiated vaccine trials in several countries to facilitate the identification of an effective and safe vaccine for COVID-19;
Deployment of experts to provide surge response to countries, for example through the Emergency Medical Teams that are being deployed to support COVID-19 response in countries; and
Recurring experience sharing sessions with case management and IPC experts in the region.
To contribute to the global body of knowledge on COVID-19, four key studies are underway: a 'first few COVID-19 cases' study; a survey to assess the magnitude of COVID-19 at community level; the COVID-19 household transmission study; and the COVID-19 health workers' study.
Jemila M Ebrahim
Communications Officer
World Health Organization
https://www.afro.who.int/
This article is from issue 14 of Health Europa. Click here to get your free subscription today.