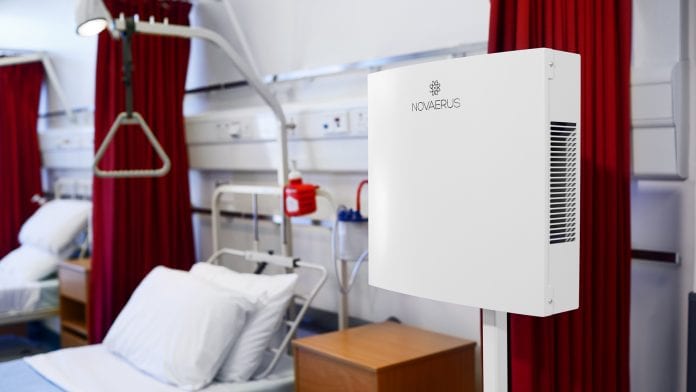 A small Irish company, Novaerus, plays a big role in infection control as the world returns to work in the COVID-19 era.
As the world exits from the COVID-19 crisis, tens of thousands of white, shoebox-sized metal devices — parked on shelves, mounted on walls — are working 24 hours a day to make indoor air safer to breathe. Whirring quietly, plugged into ordinary outlets, these devices have been installed just about everywhere — above hospital beds and surgical gurneys across Europe, adjacent to dental chairs and IVF incubators in China, on pharmacy walls in Hong Kong and school library shelves in the United States, in Irish pubs and hotel lobbies. They are fastened inside 80% of South Korea's ambulance fleet. Their unobtrusive design conceals a sophisticated and powerful technology, now deployed in 58 countries to help prevent the spread of SARS-CoV-2, the virus that causes COVID-19.
These pathogen-killing devices represent a decade of innovation at Novaerus, a small Dublin-based company with outsized influence in the COVID era. Designed to control infection in high level medical settings, Novaerus technology is now generating interest well beyond hospitals. "In a world that's been transformed, we're helping people get back to work and return to a safe environment," says Kieran McBrien, Senior Vice President of International Business Development.
Infection prevention in a pandemic
When COVID-19 exploded, so did global awareness of a worrisome and accelerating phenomenon: the airborne transmission of pathogens. For decades, infection spread has plagued hospitals, driving up mortality rates, costs, and fear among patients. Even in pristine facilities, viral and bacterial particles — launched airborne by a cough, a sigh, the rustling of a bedsheet — waft about the corridors, only to be inhaled by patients or settle on bed rails, stethoscopes, and countless other high-touch surfaces.
It is Novaerus' mission to prevent pathogen spread. The company's devices, commonly installed in critical-care units and operating theatres, have long protected hospital patients from infectious outbreaks of all kinds — influenza, norovirus, tuberculosis, MRSA, aspergillosis, measles.
But it was COVID-19 that put Novaerus on the map.
In the pandemic's early days, experts assumed SARS-CoV-2 was spread in the community via hefty droplets, sprayed by sneezes and coughs and evaded by taking a few steps back. Then it became clear: symptom-free people were spreading the virus, too. Studies piled up confirming transmission via aerosols, infectious particles light enough to sail across a call centre or church, small enough to slip through gaps in a surgical mask.
"Now we know there's a great range of droplet size," says McBrien. "Whether you're sneezing, singing, or talking, you can emit very small, very infectious particles that can remain suspended for a long time."
Infectious aerosols, whether viral, bacterial, or fungal, are no match for Novaerus devices, as independent lab tests have shown for years. More recently, testing found the company's technology can reduce airborne load of MS2 Bacteriophage, a virus used as a surrogate for SARS-CoV-2, by 99.99% in just 15 minutes. Hospitals from Wuhan to Budapest began installing the units in their COVID wards. Then, as lockdowns eased, the hotels and pubs started calling.
"It took us seven years to become an overnight success," quips McBrien.
Obliterating pathogens in milliseconds
Ultra-low energy plasma technology is the patented process deployed inside Novaerus' compact devices. A series of coil tubes, precisely positioned, generate an electrical discharge, not unlike the plasma emitted by lightning. A high quality fan draws contaminated air into the device, pathogens are obliterated by plasma field, and clean air is expelled back into the room.
"The pathogen cell becomes stretched and stressed by our plasma to such a great extent that it explodes into little pieces," explains Michael Corr, Novaerus' Director of Business Development. "The pathogen becomes inert, harmless debris."
This happens in milliseconds, adds senior Novaerus microbiologist Jessica Dobbin: "There's no chance for a pathogen to develop resistance against our machine."
There's also no chance anyone in the vicinity, whether a vulnerable patient or an allergy-prone nurse, will be placed at risk by the technology. Unique among air disinfection devices, Novaerus' units leave behind no harmful byproducts. "We do all our pathogen killing in a tidy, compact way, sending out nothing but decontaminated air," Corr says. "Our devices can safely operate around the clock right next to critically ill patients."
Continual air disinfection is critical to infection control. Whereas some systems clean air at a point in time, allowing pathogens to invade the space when a door is opened, Novaerus technology never stops. "With our devices running 24/7," Corr says, "the air is continually disinfected, so your chances of getting infected are massively reduced."
Novaerus technology has been developed in a laboratory staffed with world-class scientists and engineers. The company's headquarters, where most of its 46 employees are based, sits on Dublin City University's Innovation Campus, a cluster of cleantech companies adjacent to the university. The Novaerus building includes a biology lab, where bacterial strains are grown and tested, and an electronics lab, where scientists design the products' electrical elements. The physics lab is where the plasma testing is conducted, in sealed chambers of varying sizes; humidity, temperature, and airflow are carefully controlled to mimic real life conditions.
"We are a science-based company and have invested heavily in creating the best testing facilities possible," says Dr Kevin Devlin, CEO of WellAir, the parent company of Novaerus. "The laboratory and testing chambers we have created match very closely the type of facilities you would find in specialised, state of the art, third party laboratories around the world."
Hands, surfaces, air: closing the infection control loop
While COVID-19 consumes the world's attention, Novaerus scientists are tackling twin crises that preceded and will certainly outlast the coronavirus pandemic: the global increase in hospital acquired infections and the rise of antibiotic-resistant superbugs. It is no secret that hospitals serve as breeding grounds for dangerous microbes. In high income countries, 5% to 10% of hospitalised patients, including 30% of intensive care patients, contract an infection during their stay. Each year in Europe and the United States alone, hospital pathogens infect nearly six million patients and cause 140,000 deaths. In some countries, as the World Health Organization (WHO) notes, the childhood death rate from hospital acquired infections equates to 'a plane crashing every hour.'
"Hospitals are loaded with pathogens," says Corr, who knows from experience, having served as a registered nurse in emergency medicine and intensive care prior to joining Novaerus. Among the most worrisome of those pathogens are antibiotic-resistant bacteria, known as superbugs. Over the decades, overuse of antibiotics has unleashed deadly strains, such as methicillin-resistant staphylococcus aureus (MRSA) and Clostridium difficile, impervious to the drugs that revolutionised medicine in the 1940s. Already, an estimated 70% of bacteria worldwide have developed resistance to antibiotics. Diseases once easily cured by penicillin, for instance, now require rounds and rounds of expensive and toxic drugs. In some cases, there is no 'next drug'.
Infection spread is particularly acute in nursing homes, whose residents transfer in and out of hospitals and where capacity for isolation is minimal. MRSA and C. difficile are endemic in long term care; influenza and norovirus are on the rise. Nursing home outbreaks typically last longer than hospital outbreaks, often half a year, at tremendous human and financial cost; and yet, as McBrien notes, the healthcare-acquired infection crisis has attracted slight investment.
McBrien points out that in Germany, billions are spent on strategies to prevent auto accidents: hidden cameras are installed, strict drink driving laws enacted, roads and vehicles re-engineered for safety. "But almost 10 times as many people die from hospital acquired infections," says McBrien, "and very little is done about it."
For decades, medical facilities have focused on the same two infection control solutions, hand hygiene and surface cleaning. Certainly, both are critical. Both also are inadequate. At hospitals worldwide, hand hygiene compliance remains, to use the WHO's term, 'abysmally low' — typically below 40%. Healthcare workers fail to use enough handwash, clean the back of their hands, or remove gloves properly. Lapses persist even when training is extensive, even when medical workers know they're being watched and are rewarded for compliance.
"In our era of budget cuts and reduced healthcare staffing, it is difficult for healthcare workers to master the art of contamination-free patient care," says Dr Ojan Assadian, president of the Austrian Society for Infection Control, who has consulted with Novaerus.
Medical workers aren't just overworked; they're also human, which means they engage in automatic, unconscious behaviours — unaware of what their hands may be doing when their minds are occupied. Similar problems plague surface disinfection efforts, due in part to sub-par staffing and training. "Cleaners do not know how to get surfaces microbially safe – it's just superficial," says Dr Assadian. A toilet scrubbed in the allotted two minutes may appear sparkling yet remain teeming with pathogens.
Even stellar cleaning protocols may not suffice, because infectious microbes rebound quickly. Research shows hospital bed rails would need cleaning every two hours to keep certain bacteria at bay – not a cleaning schedule any hospital can afford. "We are trying to solve problems of today with instruments of the past," observes Dr. Assadian. "It is time to rethink our approach and combine existing strategies with new technology."
Enter Novaerus, whose technology offers an additional line of protection against infection.
"The healthcare industry has continued to focus on cleaning surfaces and hands, but they've been missing the air," says Felipe Soberon PhD, a plasma physicist and Novaerus' Chief Technology Officer. "Novaerus is working to close that loop."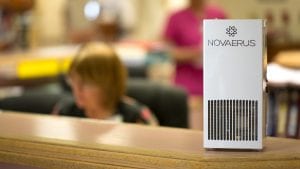 The airborne pathogen risk
The occasional measles or tuberculosis outbreak draws attention to airborne transmission; it is common knowledge these diseases are spread by aerosols. But until recently, little heed was paid to the threat of other pathogens which may be drifting about.
"Norovirus, the winter vomiting bug, is a big one," says Corr. "Most people think it's only transmitted through touch, but studies consistently show norovirus is found in the air as well." In fact, norovirus is so contagious that as few as 10 viral particles can trigger illness; a single vomiting episode can launch more than 13,000 norovirus particles into the air.
Also hovering in hospital air is MRSA, a superbug that upon invading the bloodstream or lungs, causes death in 20% of infected patients. MRSA particles, propelled airborne when an infected patient coughs, for example, can transmit infection via open wounds, feeding tubes, catheters, nasal passages, and airways.
No less dangerous is C. difficile, once easily treated but now, due to increasingly virulent strains, menacing nursing homes. In Europe and North America, incidence of C. difficile infection has more than doubled in a decade. Spores have been detected in the air surrounding patients — likely stirred up when bedsheets are changed and when doors are opened and closed for food delivery or ward rounds.
Novaerus technology kills these airborne pathogens and countless others. "In our labs and independent labs, we can show beyond any doubt that bacteria, fungi, and viruses are destroyed," says McBrien. "That's an absolute."
Many hospitals have turned to air disinfection to beat back pathogens that keep coming back. After installing Novaerus units, they report significant improvement. Says Corr: "I'll hear, 'Wow, we would have had 30 or 40 MRSA cases in that period, and now we've got three or even none."
Hospitals that invest in Novaerus technology do so not just to protect patients but also to protect those who care for them. Infection remains a prime occupational hazard for healthcare workers. As Corr points out, "staff are in an infectious environment a lot longer than patients."
During norovirus outbreaks, healthcare workers are more than twice as likely as patients to become infected. The coronavirus pandemic, like the 2002 SARS epidemic before it, has been particularly devastating for healthcare workers. Globally, over 90,000 healthcare workers have been infected. At the height of the COVID crisis in Spain, medical professionals comprised 14% of cases. Hardest hit are critical care workers, as the very procedures they use to save patients' lives — intubation, ventilation, CPR — can generate heavy loads of deadly aerosols by triggering forceful coughs. Compounding the risk, aerosol-generating procedures are performed in high stress situations, as patients go into shock or cardiac arrest, their oxygen levels plummeting. Sufficient personal protective gear may not be at hand, and lapses in infection control practices happens.
For these reasons, hospitals have expanded their use of Novaerus devices. At Uzsoki Hospital in Budapest, Hungary, the pulmonology department was transformed into the COVID ward and added 13 Novaerus units to the 28 already in use. "Our healthcare workers felt much safer with the devices operating," reports Istvánné Szegedi, the hospital's COVID Chief Nurse.
When the crisis ended, 60 pulmonology workers were screened for SARS-CoV-2 antibodies. Nationally, 8% of Hungary's healthcare professionals had been infected; in the Uzsoki pulmonology department, not a single staff member tested positive for antibodies, an outcome Szegedi attributes in part to continuous air disinfection. What's more, Szegedi notes, Novaerus devices are essentially self-operating, requiring no expertise, equipment, or maintenance staff, a considerable benefit given that outsiders were banned from the hospital for 10 weeks.
Once Hungary's restrictions were lifted and commerce resumed, Gergely Szíjjártó, Novaerus' representative in Hungary, found the market for the company's devices had greatly expanded. Suddenly, Szíjjártó was hearing from engineering firms, financial advisors, and accountants, all seeking to outfit their offices with hospital-grade technology.
"There's huge awareness now at the employee level — everyone knows infection can spread in the air," says Szíjjártó. "Management and HR teams want to know what they can do to ensure their employees feel safe coming back to work."
Corr, who oversees sales for 20 countries in Europe and Asia, hears the same from hotels and restaurants aiming to instil confidence in employees and patrons. He has sold numerous units to pubs in Dublin's busy Temple Bar neighbourhood, known for its cobbled streets and live folk music. "Novaerus is becoming a back-to-work device," Corr says.
After COVID struck Ireland, pharmacy group McGreals installed Novaerus units in all its locations. "Our team and our patients now have a much higher expectation of hygiene measures at their local pharmacy," says group owner Killean McGreal. "With all the people coming into our pharmacies with colds, flu, and chest infections, having Novaerus units makes sense."
Dental clinics, too, are turning to Novaerus, as they strive to safely welcome patients and staff back. In reality, the dental environment has always been somewhat of a hazard. Influenza and rhinovirus spread easily in clinics, and the oral cavity harbours numerous pathogens. All that drilling and scraping and spraying generates pathogenic fusions of saliva, blood, plaque, and gum secretions. These bio-aerosols can form a toxic and persistent cloud that can span from the floor to a height of six feet. "Dentists understand the risks quite well," says Szíjjártó.
Now, the whole world does, too. "The pandemic has created a massive awareness that there are pathogens in the air," says Corr. "People now understand the concept of air disinfection as a preventive measure rather than just as a reaction to a crisis."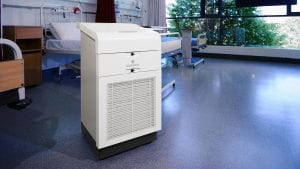 The pandemic and the pollution crisis collide
Infectious aerosols, whether hovering in hospitals or hotel lobbies, are Novaerus' most pressing target, but they are not the only airborne threat indoors. Pollutants of all kinds wreak havoc — in pathology labs, fertility clinics, offices, schools — and these particles, too, are destroyed by Novaerus devices.
Some pollutants, like volatile organic compounds (VOCs), emanate from the indoors; others, like PM2.5 — ultra-fine particulate matter generated by traffic, construction, industry, and insecticides — waft in from the outside. Both create hazards for developing embryos, schoolchildren with asthma, immune-compromised patients, and anyone with chemical sensitivities or dust allergies.
"Indoor air can be four or five times more polluted than indoor air," says Corr. "Buildings are not sealed off from contaminants outside."
In IVF laboratories, airborne toxins compromise implantation and live birth rates. Cleaning solvents, cabinetry, flooring, monitors, incubator parts — all can emit gases known to compromise embryo development. In addition, particulate matter can dissolve into the aqueous solutions where embryos are cultured. Novaerus units are common in IVF labs, particularly in China, South Korea, and other countries with ongoing air quality challenges. These are the regions, too, where the pollution crisis and the COVID crisis are most likely to collide.
Air pollution has long been linked to respiratory infection and disease. Just as PM2.5 damages nature, turning streams acidic and depleting soil nutrients, these toxic particles inflame human tissue and deplete immunity. So, when a respiratory virus strikes, those with pollution-impaired lungs and weakened defences are primed to suffer the most.
When the SARS coronavirus surfaced in 2002, patients from highly polluted regions were twice as likely to die as those who'd breathed relatively clean air in the previous two months and previous two years. Now, studies from the United States and Italy are showing COVID-19 patients with greater exposure to PM2.5 face a higher risk of death.
Adding to the worry: PM2.5 particles, when circulating indoors, appear to promote the spread of SARS-CoV-2. "There's more and more evidence that pathogens can hitch a ride on pollutants," says Corr.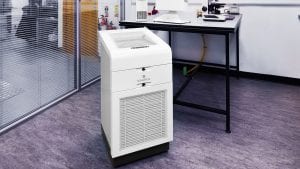 Plasma technology: nothing and everything has changed
Over the course of a decade, Novaerus' fundamental technology has not changed, but the company's scientists are continually enhancing it. "Plasma is part of nature — the sun is made of plasma," says Kieran McBrien. "What has improved is our ability to produce it and control it, so more of the air that passes through our devices is exposed to the plasma."
Novaerus' newest product, the Defend 1050, a mini-fridge-sized unit on wheels, disinfects nearly one ton of air in an hour. The device, driven by a powerful fan, is designed for the sort of large indoor spaces — construction sites, school auditoriums, senior living common areas — that we have only recently re-entered.
In the COVID era so many decisions, about where we can go and when and with whom, are driven by what's in the air. The issues that have absorbed Novaerus for a decade are now consuming us all, and the team feels pride in making the indoors safer during this precarious transition. "We're driven by proof, by facts, by research, but we also have a strong ethical underpinning," says McBrien. "It makes us stand up a little straighter to work for a company that contributes to the reduction of illness around the world."
Elizabeth Daly Ni Bhroin
Marketing Manager
Novaerus Ireland Ltd
+353 1 907 2750
ebhroin@novaerus.com
www.novaerus.com
This article is from issue 14 of Health Europa. Click here to get your free subscription today.