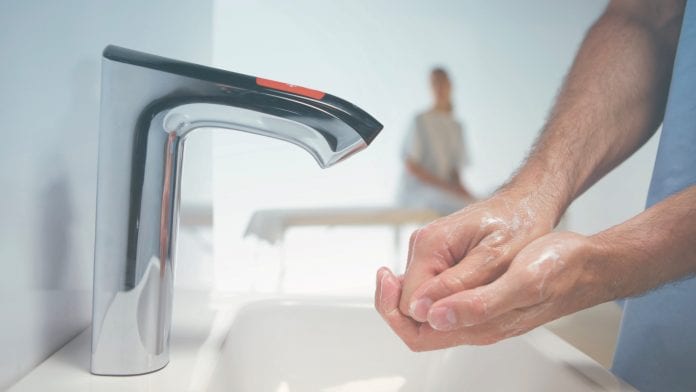 Water control specialist Rada's new generation of digital taps for healthcare is setting new standards in infection control to help improve patient outcomes.
The importance of tackling healthcare-associated infections (HCAIs) will be an issue well known to all those working in healthcare – and with good reason. Despite huge strides in improving infection control and introducing new measures and tools to combat the spread of bacteria, HCAIs continue to be a global challenge. According to the World Health Organization (WHO), HCAIs claim 37,000 lives in Europe alone every year1. The WHO's report and subsequent studies by medical institutions around the world have shown that, if we are to continue to tackle HCAIs, every part of a healthcare building must be optimised for infection control.
Water controls are vital components on which staff, patients and visitors rely for hygiene, cleanliness, and infection control. However, water is not an unlimited resource and must be used responsibly. The way in which it is managed and distributed can also have wider implications on energy consumption, costs and carbon emissions. It was with these key aims in mind that we challenged ourselves to set a new standard for how a tap could contribute to greener, safer healthcare.
Intelligent Care is our latest generation of digital taps, designed to efficiently meet the exacting demands of healthcare environments. It is the result of a design and development journey informed by user-led research and feedback from frontline staff and estates teams, as well as our own research on the way digital technology can boost performance and return on investment.
Removing the risk of cross-infection
Pathogens which cause bacterial or viral illnesses can live on hard surfaces for some time, so it is vital that components like taps actively support staff in delivering safer, cleaner care. For water controls, that means promoting cleanliness. Intelligent Care is designed to resist the growth of infection-causing pathogens at every opportunity. The panel and basin-mounted taps all have chrome-coated exterior surfaces with no joins and crevices, eliminating the areas which are most typically prone to bacterial growth. The smooth surface and ergonomic design also make cleaning the tap easier and more effective.
Cross-infection risks from nearby high-touch surfaces can also contribute to the prevalence of HCAIs. This made user interaction a key design consideration for Rada: Intelligent Care can be operated using non-touch control, minimising the risk of bacteria spreading through contact. Its gesture control options have a simple interface with clear graphics, so that water temperatures can also be easily adjusted without the user needing to touch the tap.
Rada's approach to infection control through design extends to the engineering of Intelligent Care's internal workings. Its brass valve engine, integral smooth bore copper outlet pipe and the basin mount version's copper inlet tails are all created using carefully selected materials which offer enhanced resistance to microbes. The open bore flow insert is removeable for easy cleaning and maintenance access.
WHO guidelines recommend that, to prevent bacteria from forming in the water system, hot water should be stored at a minimum temperature of 60°C. Thermostatic control is therefore vital in making sure water is released from outlets at a safely blended temperature, eliminating scalding risks for users. At the heart of each Intelligent Care tap is a pioneering digital thermostatic mixing valve (TMV) which enhances safety and infection control with digital precision. Through advances in design and with smarter engineering, the digital valve is now small enough to locate integrally within the tap body, rather than remotely.
The water contact surface area has been significantly reduced and internal waterways simplified, which – alongside the materials used – helps to reduce the opportunity for bacterial growth and biofilm formation inside the outlet.
Enhancing infection control measures through digital innovation
The benefits of having the digital TMV within the tap itself are not limited to just water temperature control at point of use. It also helps to automate labour-intensive hygiene protocols and provides the ability to automatically log evidence the protocol has been carried out.
One of the key things we learned in our research was that implementing hygiene measures required by international infection control standards, such as duty flushing, was proving enormously time-consuming. A 'catch-all' approach also meant that systems were being flushed even if they were in regular use. Record-keeping showing compliance with guidelines and standards was also often manual, resulting in a process which placed undue pressure on staff time, was open to the potential for human error and risked wasting water.
At Rada, we have been harnessing digitally connected technologies in our product development for some time. We are passionate about the difference that automation, remote monitoring capabilities and digital precision can make to the vitality of estates. We recognised that intelligent, digital water controls provided an enormous opportunity to address inefficiencies, improve infection control and save resources.
Digital technology is by nature more precise and accurate than human intervention. This helps to ensure that products are optimised for infection control, with correct water temperatures and the ability to programme key hygiene measures precisely. Meanwhile, the flexibility of this programming means that hygiene measures such as duty flushing and thermal disinfection can be set according to varying national standards, and specific healthcare applications.
One of the most significant advancements made by Intelligent Care is the ability to network multiple outlets. For healthcare, this can ensure water management is always optimised for user safety and infection control. A single tap or small network of Intelligent Care taps can be fully controlled directly via the Rada app, which has been as carefully designed by Rada as the range itself. Intelligent Care also allows connection into an existing Building Management System (BMS) network, providing facilities managers with an overview of the entire network from a central point.
This integration allows facility managers to automate, monitor and manage Intelligent Care's functionality, including flow times, temperatures, and infection control regimes, from a central dashboard. This can help increase operational efficiencies and in turn, running costs, with precision. As well as eliminating the risk of human error in undertaking key management tasks, these efficiencies mean that resources can be diverted to other areas to enhance care delivery.
Each tap records when it was last used – this is especially valuable when it comes to duty flushing. Flushing of the system must be carried out to prevent sitting water and possible bacterial growth, but the frequency depends on when each outlet was last used. With Intelligent Care, 'smart' duty flushing regimes only take place as needed. Data logging records also automatically update after each duty flush, to demonstrate compliance with national guidelines and standards.
Intelligent Care's intuitive functionality enables a much greater level of flexibility to infection control regimes. This also has the added benefit of conserving precious water and energy resources, optimising cost efficiencies while minimising environmental impacts.
Duty flushing and thermal disinfection activity are automatically logged to the tap's memory, giving healthcare providers clear, accurate evidence of compliance with national guidelines and standards. This removes the need to update records manually, further freeing up staff time. This data capture functionality is also a valuable step in enhancing the monitoring, maintaining, and promoting of water management within the hospital.
Achieving operational excellence
Rada set out to provide estates teams and all those responsible for water safety and management with peace of mind in knowing that essential hygiene functions and products themselves are operating as they should.
Each Intelligent Care tap on a BMS network can be monitored in real time from a central point, with functionality included for pre-emptive system alerts. This means that any anomalies can be identified swiftly and remedial action taken immediately, helping to avoid the inconveniences of a non-operational tap on a ward.
The ability to connect the taps to building management systems also equips estates and facilities teams with intelligence on how the product is being used. Estates teams can use this intelligence to make data-driven adjustments to the system, meaning that products can be optimised.
Using actionable intelligence to make best practice-led adjustments is a valuable and targeted way to ensure estates teams have the support they need to manage risks more broadly. It means that staff have access to insight that enables water management, and its important role in infection prevention and control, to be made easier and more effective than ever.
While digital infrastructure can help the estate run better, it also offers the added benefit of reducing demands on the building. The option of connection with remote monitoring platforms means there may not be a need for the same physical, onsite presence which is required with manual checks on the water system.
The possibilities unlocked by Intelligent Care's digital capabilities mean that the tap is actively helping teams to run efficient, more sustainable healthcare facilities that offer the highest standards of infection control. This also extends to how products are used by staff and patients.
Supporting handwashing best practice
Handwashing is key to preventing infection; and it is vital that frontline staff, patients and visitors all have access to tools that actively promote and encourage hand hygiene best practice. However, water temperatures which are too cold or too warm will play a part in how long someone will wash their hands for. The same can be true of programmed flow times. This knowledge played a key role in the creation of Intelligent Care's comprehensive programming options.
Water flow times can be programmed to support any specific handwashing protocols that nurses, doctors, and surgeons must follow according to the application setting. The ability to control how long a tap will stay on for can also be used to promote public handwashing guidance in patient and visitor spaces as well, ensuring that appropriate hand hygiene measures are encouraged according to the infection control responsibilities of every user. Precise control over water temperature settings is also offered – this is key to promoting best practice by ensuring a comfortable user experience. Intelligent Care's data capture functionality also offers a valuable way to encourage and, to some extent, better assess compliance with hand hygiene guidelines.
The technology behind Intelligent Care has a key part to play in sustainability efforts too. The level of precision that digital control can offer helps ensure water use is closely managed – water flow rates and times are set to a highly specific degree of accuracy. That means long enough so handwashing can be completed properly, for the right duration, but not so long that water is unnecessarily wasted.
Intelligent Care is more than just a tap. It is a pioneering piece of technology that embraces all the advantages of a modern, connected world. Every element has been designed by Rada to help reduce bacterial growth and spread; support infection control; achieve user safety; and deliver more efficient, sustainable solutions for healthcare providers. It is a new standard for the ways in which healthcare taps can help keep people safe and contribute to an optimised estate.
References
World Health Organization. (2011). Report on the burden of endemic healthcare-associated infection worldwide: https://apps.who.int/iris/bitstream/handle/10665/80135/9789241501507_eng.pdf;jsessionid=23C0F238866A506A89112F944E8F294B?sequence=1
Stuart Skinner
Marketing Manager
Rada: a Kohler company
radacustomerservices@radacontrols.com www.radacontrols.com
This article is from issue 17 of Health Europa. Click here to get your free subscription today
Recommended Related Articles