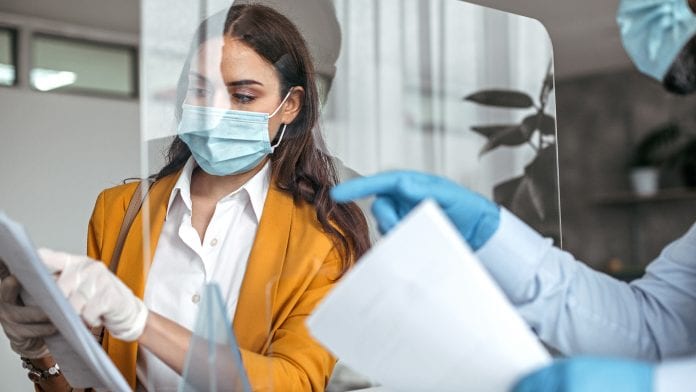 Get Ready sets a standard for integrated resilience.
For over 12 years, Get Ready has developed IPAC and infectious disease outbreak programmes for hospitals and healthcare, and we are now using that experience and expertise to create IPAC solutions for the workplace. After expanding our team of critical care and public health experts to include professionals drawn from an array of fields, including property management and real estate; technology; personal protective equipment (PPE); engineered barriers and industrial furniture; and heating, ventilation and air conditioning (HVAC), we have spent thousands of hours developing the processes and tools which organisations require to create and maintain a medically safe workplace.
The Get Ready Workplace IPAC Programme is designed for healthcare (hospitals, long-term care facilities), office, retail, and manufacturing environments. Our goal is to ensure employers are compliant with public health regulations and guidelines, employees are safe, and customers feel confident to use the services of the organisation by providing a complete operational programme.
Top 10 elements of an IPAC programme
A successful IPAC programme requires these main elements:
1) A pandemic team which includes representation from HR, Operations, Occupational Health and Safety, Facilities, Legal, Communications, Finance, Logistics, Union, and the Executive.
2) A mandate which identifies the purpose and scope of the programme.
3) Operations oversight, identifying the workplace (home, office) and the people working there.
4) The facility to develop and conduct risk reduction assessments for each role. Risk of exposure is measured by proximity of close or direct contact with a potentially infected person(s) with COVID-19 virus. Global health experts agree that when the average adult person coughs or sneezes, they may expel infected COVID-19 virus droplets up to six feet. The purpose of the risk assessment is to identify the risk of exposure people may have based on their role or activities by reviewing:
a) Physical distancing – the ability to maintain a minimum distance of six feet from nose to nose
b) Time – to occupy the same or close spaces at different times to avoid close contact through scheduling
c) Engineered barriers – barriers, walls, windows, plexiglass, etc can be used to separate people when a six-foot distance is not achievable
d) Personal protective equipment (PPE) – this is required when distance, time and barriers are not possible or fail to protect people
The assessment includes the evaluation of staff access and egress from the workplace, floorplans and capacities of workstations, common areas, meeting and training rooms, safe food services and deliveries, and HVAC and fresh air exchange.
5) Fully developed medical directives, HR policies and training protocols for screening, physical distancing, PPE, exposed persons procedures, return to work procedures, signage, and one-directional flow. Get Ready's cloud-based platform provides a simple online solution for these requirements.
6) Cleaning and disinfecting practices, procedures, equipment, PPE, training, staff scheduling, weighing the benefits of internal and external cleaning staff, and establishing the necessary supply inventory.
7) Contractor/vendor pandemic plan verification – to include validation of continuity plans, screening, PPE, reporting of exposures to client, tenant agreements, property management integration, site and facility customisation where this is necessary.
8) Communications for each outbreak phase: this refers to both internal and external stakeholder communications, including websites and social media.
9) Change Management – devising a schedule for rollout of the IPAC programme, determining milestone timelines, deliverables, communications, and approvals.
10) Review and maintenance of the programme, including updates with Public Health, annual reviews, and integration into Business Continuity Plans.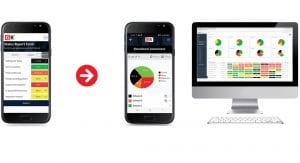 In addition, our strategic partners add valuable services to the IPAC programme:
Building amenity management
Remotely monitor and manage amenities in residential and commercial buildings amenities, for instance via water leak detection, smart washrooms
Reducing the costs and headaches incurred by property damage, insurance claims and wasted resources
Smart retailing
This platform easily enables retailers to combine the efficiencies of physical shopping with the convenience and safety of online commerce, by digitally transforming their physical space into a mobile app in order to offer patrons options of home delivery, kerbside pick-up and in-person shopping.
Self-serve micro-markets
These markets maintain the convenience of a corner store while minimising touch points and reducing the spread of disease.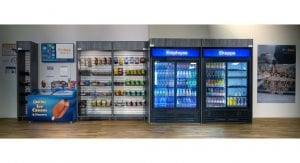 Personal protective equipment
Risk reduction assessments by roles to determine PPE requirements, price, availability, inventory, training for donning and doffing, use and disposal.
Engineered barriers
Socially distanced designed barriers and screens for a COVID-19 safe work environment, with manufacturing and design capabilities dating back to 1927. Furniture extenders are universal, cost effective and require no tools to install. Custom solutions can be manufactured in Toronto. Using the risk reduction assessment, the allocation and installation of barriers is conducted to keep people safe when physical distancing is not possible, permitting people to return to the office, school, and worship.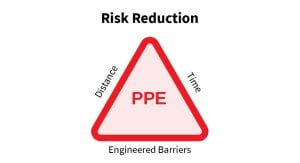 Commercial Real Estate
Comprehensive lease audits to ensure current clauses within a lease provide adequate protection. The pandemic has changed the commercial real estate industry and our professionals can support clients in a number of capacities including helping to understand optimal space densities; reviewing lease terms in respect to landlord obligations; social distancing in common areas; safe building access; building contractors' infectious disease processes; and janitorial protocols, as well as supporting a disciplined and transparent process to develop effective real estate strategies to reduce cost and risk.
ThermalPass
Approved by Health Canada as a Class 1 medical device, ThermalPass reads an individual's body temperature using infrared thermal sensor and activates a discreet alert to notify of any potential fever threat.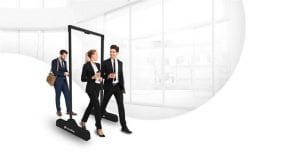 Nerva Energy
Nerva Energy Group is an energy advisory firm and speciality contractor located in Ontario, Canada. It takes great pride in providing its clients with world-class building optimisation solutions and innovative technologies to assist with the mitigation of rising energy and operational costs. Nerva's mission is to combine proven real-world engineering solutions with cutting edge technologies which are currently underrepresented in the global marketplace. Leveraging Nerva's niche energy expertise with an array of leading technologies results in high performance smart buildings; creating energy efficiency opportunities; and fostering a positive impact for building occupants, their quality of life, and the environment overall.
Nerva's lineup of in-house technologies includes:
Advanced Wireless Building Automation: By combining cloud-based services with secure self-healing wireless mesh networking and Internet of Things (IoT) devices, Nerva is refining the building automation market by offering systems for all building types with more features and exceptional energy efficiency, at a lower price point than traditional vendors.
Utilising a 'pressurise and spray' application process, Nerva can quickly and repeatably seal buildings and residential suites from the inside out:
O Delivering the highest level of airtightness which exceeds the Passive House standard, leading to formidable levels of energy efficiency and suite isolation.
O Reducing air leakage rates to 5% or less, as opposed to the common 20% to 35% range achieved with traditional solutions such as mastic and tape, ensuring HVAC systems perform at their maximum levels for greater energy performance and improved indoor air quality.
SPARK
In 2016, SPARK Niagara was created as a centre where business, education and municipality join into an interactive knowledge community: one which not only highlights Niagara's talent, but also uncovers business opportunities that help our city retain and attract youth and talent, produce our own skilled workforce, and solve local challenges through technological innovation.
The Collective Impact project is a four-year strategy to work with the City of Niagara Falls, Ontario, Canada and our 12 communities across Niagara to develop system-wide solutions for youth as they build and act upon plans for their future and the jobs of tomorrow. Since 2016, Spark Niagara has collaborated with colleagues in Canada, the United States and internationally as a co-catalyst in advancing Collective Impact as a framework for community innovation and change. In 2019, FedDev announced funding for Spark Niagara, beginning our collective with Ryerson University's DMZ.
SPARK serves as government liaison and develops opportunities and partnership with like-minded stakeholders.
Evolving IPAC
The original IPAC programme was designed for hospitals and is easily adaptable and customisable to meet the needs of any healthcare provider. The healthcare programme's components address facility outbreak, community outbreak (epidemic), and regional or global outbreak (pandemic). The cloud-based IPAC portal is simple to deploy so that organisations have quick access to an array of information to help maintain staff and patient safety. Get Ready's additional offerings are integral in establishing physical distancing, limiting touch points, protecting staff and reducing the spread of disease.
Business Continuity
Sustainable and – let's face it – affordable Business Continuity Plans (BCPs) are equally important to ensure the survival of a business. It is one matter to get employees back to work safely; and another to send them home again. Businesses must have a plan in place to continue operations with virtual staff, a reduced complement of staff, or no staff at all. Get Ready's cloud-based integrated BCP solutions reduce the demand and increase the capacity of the organisation to weather the pandemic storm.
The time to plan has passed. With the second wave of COVID-19 all but inevitable, organisations have to be prepared to maintain a safe work environment – and, by extension, to stay in business. To do this, processes which meet Public Health Agency guidelines and regulations must be established to address the following:
Self-screening and workplace screening
Self-isolation
Social and physical distancing
Cleaning and disinfecting
Personal protective equipment
Attendance tracking
Exposure in the workplace
Employee training on IPAC awareness and the proper use and disposal of PPE.
Get Ready has the expertise, tools, and pre-built compliant processes to help any organisation stay in the game.
As we learn more about coronavirus, Get Ready will continue to evolve in order to address and response to new information, processes and protocols, technology will adapt and improve, delivery of services will be more succinct, and additional relevant platforms will be brought on board to ensure the safety and wellbeing of our clients.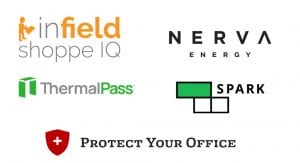 Scott Ashley
Get Ready Online Inc
www.getreadyglobal.com
This article is from issue 15 of Health Europa. Click here to get your free subscription today.