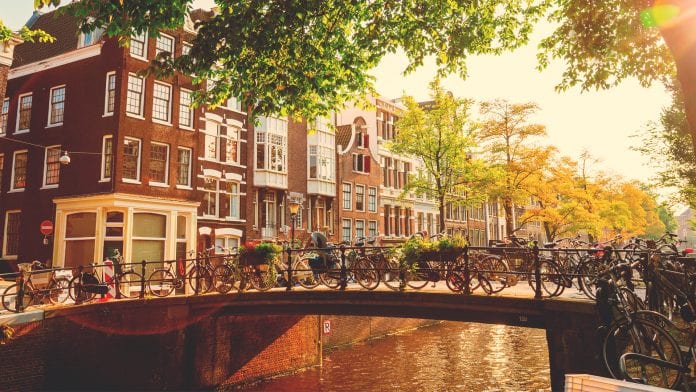 The European Association of Urology (EAU) will host its 35th annual congress, EAU20, in Amsterdam on 20-24 March
The European Association of Urology (EAU) will host its 35th annual congress, EAU20, in Amsterdam on 20-24 March. The EAU's annual congress is Europe's largest urology event, with around 15,000 specialists and associated medical professionals expected to attend: EAU20 aims to provide urologists with a comprehensive platform to explore new research, share best practice and network with fellow professionals.
Professor Chris Chapple, Secretary General of EAU, said: "In 2020 the annual EAU congress is coming to Amsterdam. EAU20 will provide a forum for presenting original unpublished data, sharing ideas for urological innovation, as well as disseminating evidence-based knowledge of primary clinical relevance. I look forward to welcoming you to the Dutch capital city for an exciting and innovative congress."
A sustainable congress
EAU20 intends to work to promote sustainable practices around the congress: attendees are encouraged to walk or use public transport when travelling to and from the event venue, and EAU will provide delegates with free public transport passes, covering Amsterdam's bus, tram and metro services.
Meanwhile, gift bags distributed to attendees will be fully reusable and made of 100% organic cotton; and EAU is encouraging participants to make use of the venue's recycling facilities. Instead of a printed programme, the event's schedule will be made available through EAU's new events app.
Recognising innovation
A number of awards will be presented to researchers who have made significant contributions to innovation in the field of urology, including:
The Best Paper Published in Urological Literature Award makes two prizes of €5,000 each available for the two best papers focusing on clinical and fundamental research published by urologists, urology-adjacent scientists or urology students;
The Hans Marberger Award will allocate €5,000 for the best published paper around the theme of minimally invasive surgery in urology. The award is named after endourological pioneer Professor Hans Marberger and is supported by an annual grant from medical device manufacturer Karl Storz SE;
The Prostate Cancer Research Award will recognise the best paper published on the topic of experimental or clinical research into prostate cancer, with a €5,000 grant provided by the Fritz H Schröder Foundation;
The Crystal Matula Award, worth €10,000, will be presented to the most promising young urologist under the age of 40 who has the potential to become a future leader in urological study.
The EAU Section of Urological Imaging (ESUI) will also present its own ESUI Vision Award 2020, which is supported by a €1,500 grant from healthcare firm Invivo, to the first author of the imaging study published within urology in the last year which is determined to be the most innovative of its kind.
Emerging developments
Professor Chris Bangma, Chair of the Department of Urology at Erasmus University Medical Hospital in Rotterdam, will co-chair a thematic session on New Technology in Urology at EAU20.
Thematic Session 21 will take place on Monday 23 March; and will focus on emerging developments which are not yet fully ready for a formal demonstration, including innovations in single cell capturing, technologies for printing complex tissue models, and 'four-dimensional' regenerative medicine technology.
Bangma said: "Technology is all about practical applications for the health professional…and urology is a profession for 'doers'. We remove, replace, remake [and] reconstruct organs, tissues, or cells in the urinary tract. In order to improve our results and renew our skills, we often borrow the innovations of others and integrate their findings into our profession.
Can we operate better if we can see what a radiologist sees in the diagnostic phase, during the operation? Can we replace diseased tissue with a tissue similar in quality to what Mother Nature makes at birth? How can we learn from the experiences of thousands of patients to help the one person in front of me? The 'New Technology' session at EAU20 highlights some of the challenging technological developments needed to improve current urological practice just now or in the immediate future."
Innovation, technology and the future
The event will explore developments such as the growing implementation of genomic data analysis and the potential of technology to improve outcomes of surgical interventions, as well as the impact of national and international healthcare policy on medical technologies.
Bangma continued: "Clinical applications are around the corner and can be incorporated in clinical decision tools. In the future, urologists might have a 'second digital me', or 'digital twin': an avatar that collects all of your data over time and allows information from different sources to be combined. This digital twin's data can be applied during surgical procedures. The EAU is involved in projects preparing for such networks.
"These developments are not for everyone, at least not immediately – but thirty years ago flexible cystoscopy was too expensive for routine care; and nowadays people are considering the idea of scopes for one-time use only. We realise that not all developments are going to make it into the clinic. We only want to be there in time if they do, and we want them to be in our hands."
Please note, this article will appear in issue 12 of Health Europa Quarterly, which will be available to read in February 2020.
Recommended Related Articles