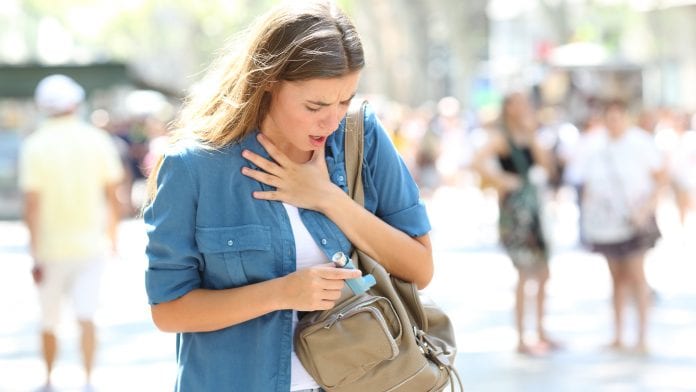 OmniSpirant Limited are taking a bold approach to address the global COPD crisis
OmniSpirant Limited are a leading European biotech startup company with ambitions to change the paradigm of treatment for respiratory disease. Chronic Obstructive Pulmonary Disease (COPD) is an umbrella term used to describe progressive lung diseases including emphysema, chronic bronchitis, and refractory (non-reversible) asthma. This disease is characterised by increasing breathlessness, frequent chest infections and persistent wheezing. COPD currently cannot be cured or fully reversed.
This debilitating disease today has a solution, developed by OmniSpirant, as we explain below. Until now, the current COPD therapeutics market has lacked any effective disease modifying treatments and the clinical stage pipeline is weak, given the massive disease prevalence; COPD is arguably the disease with the most severely unmet medical and patient needs.
Smoking is indeed the primary cause of this devastating disease, but 15-20% of COPD cases are due to exposures to occupational dust, chemicals, vapours or other airborne pollutants in the workplace. Air pollution is also a likely and underappreciated driver of the growth of the disease and declining lung function in COPD is strongly associated with ageing.
COPD affects up to 500 million patients globally and is the world's fourth leading cause of death. This dire situation is projected to worsen with COPD becoming the third leading cause of death globally in 2030 and the leading cause of hospitalisations in the industrialised world. COPD is classified as a priority disease by the EU and WHO as it is the only leading cause of death that is rising in prevalence globally. The burden of this chronic respiratory disease is growing rapidly, fuelled by an ageing demographic, persistent smoking habits, and air pollution.
A recent study has estimated that air pollution may be a factor in as many as 47,000 COPD deaths per annum across the 28 EU Member States. Epidemiologic studies have found a measured prevalence of COPD in Europe of between 4% and 10% of adults (European COPD Coalition). However, COPD is widely undiagnosed and untreated especially in its early stages, so the actual prevalence may be higher. New therapies that can slow disease progression desperately need to be developed.
An increasing burden
The disease costs tens of billions of euros annually to healthcare payers in reimbursement for largely ineffective pharmacological and medical interventions. In the key United States market, COPD is responsible for USD $72bn (~€65bn) per year in direct healthcare expenditures. In the EU, estimated spending on inpatient, outpatient and pharmaceuticals exceeds €10bn per year and productivity losses are estimated at €28.5bn year.
The disease also causes an estimated 300,000 premature deaths in the EU annually (European Respiratory Society). These startling figures are forecast to rise dramatically as the disease prevalence is set to rise sharply.
Current COPD treatments do not include an effective disease modifying therapy which can reduce the exacerbation of symptoms and/or slow down COPD from progressing and worsening. State of the art therapies for COPD consists of combinations of oral, injected or inhaled bronchodilators, anti-muscarinics, corticosteroids, anti-inflammatories, and antibiotics, all of which are used to treat symptoms and reduce exacerbations of COPD with only modest results.
Except for a small minority of Alpha one Antitrypsin (AAT) deficient COPD patients (five in 10,000 carry the mutation responsible for AAT deficiency on both chromosomes), there are no available therapies which modulate disease progression. AAT is a protein that protects the lungs from the destructive actions of common illnesses and exposures, particularly tobacco smoke.
Furthermore, the COPD pipeline is also devoid of disease modifying treatments. The COPD pipeline is full of incremental advances on existing mainstay therapies which merely treat disease symptoms and do not target the root causes of the disease. There are a few innovative therapies in development but a small molecule or biologic agent such as a monoclonal antibody (or even combinations of several of these agents) are highly unlikely to provide a curative or even therapeutically useful intervention in a complex disease like COPD.
OmniSpirant's solution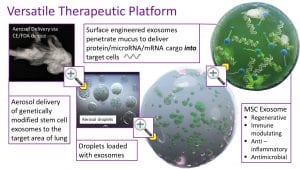 OmniSpirant believe that the solution to the COPD epidemic can be found in the new era of advanced therapeutics by combining several technological advances in the fields of cell culturing, genetic engineering and their innovative exosome technology platform. OmniSpirant are developing inhaled bioengineered exosome therapeutics, delivered by a tailored aerosol delivery method based on vibrating mesh nebuliser technology.
In the first instance, the presenting problem is that patients have established lung damage and an increased risk of developing lung cancer (independent of smoking history). OmniSpirant believe that microRNA/mRNA engineered stem cell exosomes can provide powerful anti-inflammatory and regenerative effects and also reduce the risk of patients developing lung malignancies.
Exosomes are naturally produced by cells and recent research highlights the vast potential of stem cell exosomes as transformative regenerative medicines. Stem cell exosomes have shown great regenerative potential in animal models of COPD by stimulation of repair mechanisms and reversing damage to the lung. Stem cells have also shown some promising results in COPD clinical trials.
Donor (Allogeneic) MSCs delivered intravenously in repeat-dose clinical trials for COPD (Prochymal Osiris Therapeutics) were found to be safe and well tolerated and reduced systemic inflammation, but no significant improvements in lung function were observed. We believe that the use of exosomes, as the therapeutic essence of stem cells, delivered by the inhaled route of administration will be capable of far greater efficacy by delivering far higher doses of exosomes directly to the affected lung tissues than intravenous delivery while typically only requiring about 1% of the overall dose. Furthermore, our exosomes will have enhanced delivery (via proprietary surface engineering) and are also bioengineered to enhance efficacy.
New technology
OmniSpirant's novel technology platform is capable of delivering high doses of these exosomes across the mucus barrier and through cell membranes to deliver the therapeutic payload directly into the diseased lung cells. Such delivery has proven problematic for competing gene transfer technologies because the mucus in the lungs is a barrier that traps the carriers used to deliver gene therapies such as nanoparticles and viral vectors. These trapped gene therapy carriers are mostly cleared from the mucus layer before they can penetrate into the underlying cells and introduce their genetic cargo.
The use of exosomes overcomes other issues associated with viral and non-viral vectors which include the generation of therapy-inactivating host immune responses and poor ability to cross cell membranes. Furthermore, traditional gene transfer vectors may be immunogenic and elicit adverse inflammatory responses.
OmniSpirant's solution is a proprietary method of surface engineering exosomes so they can efficiently penetrate the protective mucus barrier and enter into the underlying cells. These stem cell exosomes are therapeutic (regenerative, anti-inflammatory, antimicrobial and antifibrotic), non-immunogenic, and can be tailored via genetic modification of the parent stem cells to create ideal inhaled gene therapy vectors for any lung disease.
The surface engineered exosomes have demonstrated 100% mucus penetration and target cell uptake in the gold standard in vitro model (well-differentiated bronchial epithelial cells in air liquid interface culture), which is game changing compared with the state of the art viral vectors which can achieve only 30% of cells at best. We believe that the enhanced delivery of stem cell exosomes can translate the promising regenerative effects witnessed in various animal models of inflammatory lung diseases into the clinic.
To treat COPD, our approach is to genetically modify the stem cells so that they produce exosomes carrying carefully selected nucleic acids which are tailored for treating the underlying causes of COPD, which has been linked to gene expression and cellular senescence. The genetic element to COPD runs much deeper than just AAT deficiency.
Abnormalities in scores of genes have been clearly shown to increase or decrease the risk of developing COPD and perturbed gene expression is apparent in hundreds of disease associated genes. MicroRNAs (miRNAs) are a recently discovered class of non-coding RNAs that play key roles in the regulation of gene expression and more than 2,000 miRNAs have been identified in the human genome to date. The fact that each miRNA has the ability to target multiple genes within a pathway makes miRNAs one of the most abundant classes of regulatory genes in humans, regulating up to 30% of human protein coding genes.
MiRNAs have been widely shown to be dysregulated in the affected lung tissues of COPD patients which makes an inhaled gene therapy a highly promising approach for treating COPD. Such a gene therapy could effectively modulate the disease altered microRNAs (and their target genes) to halt or even reverse the disease. Recent advances in cell culturing techniques, isolation of exosomes and proprietary cell engineering technologies hold the promise to bring this therapy to the afflicted masses. The BOLD project estimates that there are currently 36 million patients in the EU and US alone with GOLD Stage 2 disease or higher; we need to act quickly as this figure is set to rise dramatically in the coming decade.
OmniSpirant are currently seeking investors or partners to fund the preclinical development of OS002 and anticipate that clinical studies can be initiated within approximately four years – an impactful investing opportunity as the rising prevalence of COPD means that by 2030 there may be over 4.5 million deaths annually worldwide and COPD is predicted to be the leading cause of hospitalisation. Let's work together to change those grim statistics.
OmniSpirant and their consortium partners were awarded a €9.3m Irish government grant award (Disruptive Technologies Innovation Fund) in December 2019 to advance the development of their novel COPD gene therapy.*
OmniSpirant have received funding from Horizon 2020, ReSpire, Grant agreement ID: 855463 and have been accelerated by EIT Health.
Gerry McCauley
CEO
OmniSpirant Ltd
+353 876306538
gmccauley@omnispirant.com
www.omnispirant.com
Please note, this article will appear in issue 12 of Health Europa Quarterly, which will be available to read in February 2020.