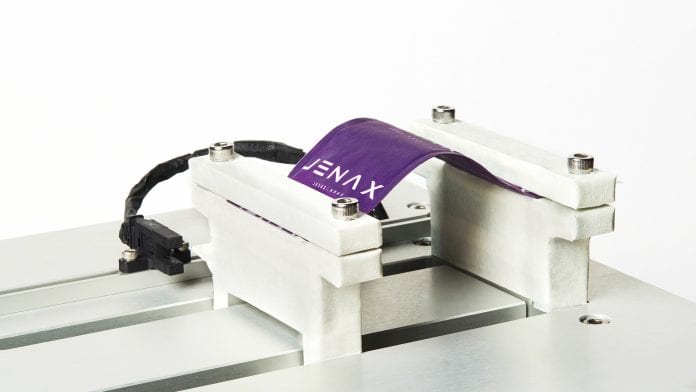 The Director of Jenax Inc. explains the medical applications of J.Flex, a truly flexible battery that fits into the world of wearable healthcare devices.
Jenax Director, EJ Shin, introduces the company's innovative J.Flex product, a flexible battery which can be seamlessly integrated into wearable healthcare devices for monitoring and data collection purposes in preventive and therapeutic applications. Here Shin explains the challenges faced by designers in the sector and how J.Flex can assist in maximising data collection and overall performance while having minimal impact on the patient's usual day to day activities.
The market for wearable healthcare devices is expected to reach a market value of €24.4 bn globally by 2023. As the range of products increases, how important would you say energy storage options are to the overall performance and design of the device?
Energy storage in general has taken a larger role over the years as many devices have evolved to be portable or user-friendly. In developed regions like Europe, the US, and Japan where the aging population presents a real challenge, the medical industry trend is shifting to more personalised patient care and homecare. In response to rising insurance and medical costs, medical wearables and connected devices have become popular in providing preventive and predictive medical diagnosis and care.
Performance and design of a device impacts the satisfaction of users, and batteries play a bigger role than ever before in these. Therefore, it has become more essential for device makers to choose the right energy storage solutions for their devices. Traditionally, machines or devices would be wired and plugged into a wall, having constant and guaranteed power whenever needed.
Today, consumer demand regarding the performance and overall design of a device has advanced: portability, functionality, user-friendliness and sensitivity are qualities all highly valued by consumers. The battery, as a component, is no longer an exception to meeting these expectations. Unfortunately, battery options were not very diverse for wearables to satisfy such expectations as traditional batteries are too thick, big, or rigid. The battery industry needed to respond to the changing markets, and consequently, the concept of flexible batteries or thin batteries is introduced.
Flexible batteries can be a more optimised option for wearables and connected devices. How one designs these flexible batteries impacts the performance and design of a device. For example, if a patient needs biometric signals to be measured every 2 seconds, that would require different battery specifications compared with measuring them every other hour. If a device needs to transfer data in real-time, again, that is different from sending the collected data at the end of the day. These battery specifications – dimensions, capacity and size – along with its design are all crucial to the performance of a final product.
Jenax is changing the paradigm of batteries with its innovative ultra-flexible, thin, fast charging, rechargeable lithium-ion battery – J.Flex. The battery can be bent and rolled in any direction. J.Flex can be seamlessly integrated into wearables and thereby provide greater comfort of use to consumers. Furthermore, Jenax's battery technology provides high performance in addition to the flexibility: J.Flex was tested continuously 10,000 times by bending it to 20mm in radius, and the capacity of the bent battery was almost the same as the capacity of the non-bent battery. With its features such as flexibility, thinness, fast charging and safety, J.Flex offers greater performance and design for device makers.
Jenax has been collaborating with companies worldwide, and engineers have shared that the battery selection is commonly done in the last phase in designing new medical wearables or connected devices. Then they find that the selected batteries are not the most optimised choice for the device – that they are either too big or too thick. Then, it becomes too late to revisit the design and change.
Jenax works with product engineers from the early stages to provide customised battery for their devices. Consumers may ask questions like the following: 'Did this product bring enough data to my doctor to diagnose me correctly? Did it help my health management to be more efficient? Did it help reduce my medical costs?' For a device to satisfy these needs, the required condition is that a patient actually has to wear it.
To do so, the device needs to be comfortable and user-friendly to maximise the chance of the product to be on a user's body for the required time – whether that is 24/7 or half a day. Jenax collaborates with device makers to help them realise products they envisioned with its customised battery solution that provides both the energy and comfortability their devices need.
How does Jenax offer more freedom to the design of hardware for the medical device community, and how can patients benefit from it?
Heart monitoring devices or any kind of biometric signal monitoring devices contact users' bodies. If a device maker wants to integrate a technology into their products so it can monitor 24/7, it needs to be seamless. Patients do not want other people to see something protruding from the shirt and wonder what it is. It also should not impede movement, so the device needs to be as thin and light as possible.
Some companies have tried coin cells and not received high acceptance rate because such batteries are not aesthetically pleasing or comfortable. Whether wearables are for homecare or hospital use, they should be aesthetically pleasing and comfortable for people to wear.
Flexible batteries like J.Flex offer device makers greater freedom in hardware design as they can leverage spaces never considered possible before to place energy storage and maintain flexibility of devices. Whether it is wrapping the bendable batteries outside of medical tools or flat along the patches or inside a shirt, flexible batteries increase comfort of users and thereby usage rate.
If the devices are comfortable to wear or use for a longer period of time, then the devices would gather sufficient data to help patients and caretakers for preventive and therapeutic applications. Executing usual daily activities while obtaining needed data would achieve the point of homecare and personalised patient care.
How has Jenax worked to assure the safety of your product, and how do you contribute to increasing or enhancing the safety of the batteries for wearable devices?
Particularly with wearables, we receive many questions about safety. If one creates a shirt with a battery inside, what happens if a user falls from a bike and the shirt is ripped or damaged? What will happen to the battery or the device? There are international standard tests to ensure the safety of the battery such as a high temperature test, a drop test and a nail penetration test; however, these tests do not necessarily apply to every situation users face.
For example, mobile phone batteries currently in the market passed safety tests, yet accidents still occurred because of different environments and conditions that the batteries were exposed to. Like many other players in the battery market, we are doing our best to increase the safety of batteries. Jenax internally developed a solid-state electrolyte, specifically gel-polymer electrolyte. Due to the electrolyte's form factor, there is no leakage when the battery is cut or damaged and thereby risk is reduced for users.
As the marketplace continues to evolve, what are the hopes for the future of Jenax solutions, and what partnership opportunities are available?
We believe our enabling battery technology can help a lot of industries and sectors within the medical industry.
We have seen many European companies looking for innovative ways to provide better solutions to their customers. The most obvious one is wearables, but there are other applications such as the Internet of Things (IoT), particularly medical IoT. For example, hospitals often lose small tools or devices, and the replacement or repurchasing leads to increased cost for them. Smart labels integrated with flexible batteries can be placed on those devices and track them, and this can help hospitals with their asset management.
We are also experiencing increased demand for flexible batteries in sports, lifestyle, logistics and more. We are open to any partnership opportunities to expand the markets for more advanced solutions in Europe. The collaboration can bring innovative products to enhance people's lives, and we are not limiting ourselves where we can help to further advance.
EJ Shin
Director
Jenax Inc.
+82 1899 9800
ej@jenaxinc.com
www.jenaxinc.com
www.linkedin.com/company/jenaxinc
Please note, this article will appear in issue 10 of Health Europa Quarterly, which will be available to read in July 2019.