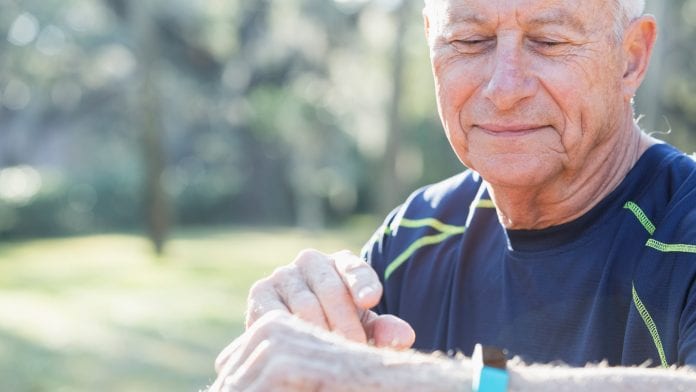 Cush Health offers solutions to protect elderly patients while maintaining their independence within the community.
The World Health Organization predicts the economic and societal burden of falls will increase to epidemic proportions in all parts of the world. Cush Health is an NHS clinician-led team with an innovative and scalable solution that aims to combat this and help extended healthy living.
Fall prevention
Every year one in three people over the age of 65 will experience a fall, which can have life-changing or life-threatening consequences. The most recent available census data shows 18% of the UK population is aged over 65; this is predicted to be closer to 25% by 2046. Fall-related injuries account for 1.5 million bed days and cost the NHS over £2bn annually. For individuals, falls can result in unquantifiable levels of anxiety and fear over simple day-to-day activities.
Current fall prevention strategies are inadequate: most patients are referred for falls risk assessment only after a fall has occurred, by which time for many it is too late. These assessments are often subjective and based on a snapshot assessment in an artificial environment; with the need for specialist staff making them time consuming and costly.
Data science
The Cush Health team combines data science and frontline NHS experience to generate algorithms and solutions to improve patient care. With first-hand clinical experience, Cush Health co-founders Dr Sam Fosker and Dr Kalon Hewage are able to establish easy integration of data and measured metrics into healthcare pathways with clinically validated and relevant outcomes to streamline healthcare services and improve outcomes.
Data-driven technologies have the ability to transform healthcare; and this is exactly what Cush Health aims to deliver. Its platform analyses an elderly person's gait using commercially available wearable technologies such as smart watches; this allows Cush to remotely assess patients in their natural environment during activities of daily living to build an objective overview of their risk and needs. The app platform can deliver bespoke strength and balancing programmes and act as a marketplace for aids and community services. Cush aims to dramatically increase patient concordance with therapy as they will receive continual feedback on their progress, equipping them with the self-motivation and tools to improve.
Dr Fosker, Cush Health co-founder and anaesthetic and critical care doctor, said: "Our platform is a novel solution to the 'Supported Patient Autonomy' that mHealth solutions can provide – by assisting in the transition between different care institutions, we can help our older population adapt back into their independent lifestyles. It acts to support not only their physical health but their psychological and social wellbeing as well."
COVID-19
The current COVID-19 pandemic has made these technologies all the more pertinent; and Cush has been working towards helping its local healthcare trusts develop solutions to enable them to deliver high-level care under the current government guidelines and social distancing restrictions. Cush Health is expanding its platform to enable the healthcare system to build back a more sustainable and equitable health model following the pandemic. Cush has achieved this by connecting multidisciplinary teams spanning primary and secondary care with patient rehabilitation services across a wide geographical area, in an environmentally sustainable manner.
Healthcare providers will be able to use the remote monitoring system to manage their patient population in real time, with outliers automatically highlighted for review or intervention; thus reducing time and costs associated with continual visits and follow-ups as well as improving flow from acute hospital beds back into the community. This will facilitate continuity of care and bridge the gap between healthcare services and patient autonomy. By integrating into technology already widely disseminated in the community such as smartphones and smart watches, this agnostic solution is scalable and can grow quickly to meet demand.
Once Cush Health users are back in the community, they will be able to easily connect with local services and community projects in order to integrate back into their independent active lives. Cush Health is expanding its network of community teams to include both independent schemes and large charitable organisations such as Age UK to create as much support and help for users as possible. This has become increasingly relevant within the current pandemic climate and will allow healthcare services to not only enable socially distanced support but offer services to a wider population, improving health equity and access to care.
With our current climate, the impact of deconditioning and social isolation has grown from an acknowledged worrying concern to a potential global catastrophe. By integrating improvements in mobility with local services we can not only protect the independence of our older population but also help with the social fear and lack of confidence that can put them at increased risk of further deterioration and injury.
Dr Hewage, Cush Health co-founder and orthopaedic surgical registrar, said: "Older people have been particularly affected by the COVID-19 pandemic following the UK government advice for them to 'shield indoors' adversely affecting their physical activity. In addition, delivery of rehabilitation in hospital and in the community have both been limited by the pandemic. Second and third waves of COVID-19 are expected which will continue to negatively affect older people's activity and mobility. Innovative ways to support this population are urgently required to minimise the impact of the pandemic and ensure the provision of high-quality, holistic and patient-centred care."
Cush Health
Cush Health has been awarded two Innovate UK grants to study its target population of elderly patients. The team has been able to train a machine learning algorithm with accuracy over 90% for fall prediction from remotely collected unstructured data. Cush is supported by the Kent, Surrey and Sussex Academic Health Science Network and the Enterprise Europe Network; and has built up partnerships with NHS trusts and clinical commissioning groups (CCGs) in the Southeast of England. It has also developed working partnerships with care homes and healthy ageing teams in the UK, France, Belgium and the Netherlands, having won the EU-funded SEAS 2 GROW Agetech Accelerator.
Cush Health's solution will help streamline healthcare services and improve environmental and sustainable economic outcomes. The NHS is the largest public sector contributor to carbon emissions; and Cush's novel solution presents a great opportunity to help turn the tide towards net zero healthcare in the UK and beyond.
Cush Health Ltd
Sam Fosker
founders@cushhealth.com
www.cushhealth.com
This article is from issue 15 of Health Europa. Click here to get your free subscription today.