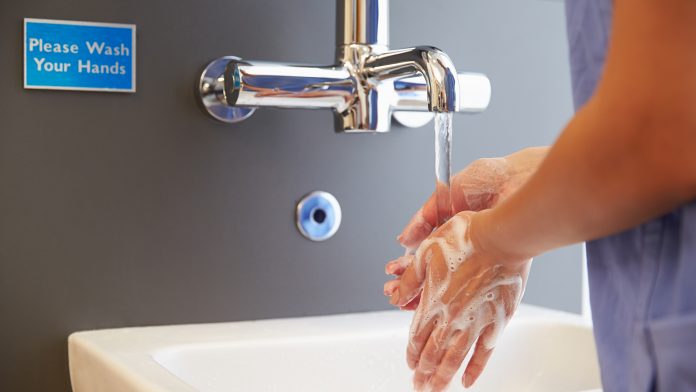 New research has suggested that implementing interactive video content may boost good hand hygiene practices, helping to reduce healthcare-associated infections (HIAs).
The Thomas Jefferson University Hospital-led study identified that smart technology – such as engaging video content – can effectively improve hand hygiene practices to mitigate the spread of healthcare-associated infections. The investigation demonstrated that this innovative intervention could be adapted to strengthen handwashing practices long-term.
Lily Ackermann, MD, ScM, FACP, Thomas Jefferson University Hospital, and the paper's lead author, commented: "Appropriate and consistent handwashing is critical to reducing the spread of HAIs, but it has been notoriously challenging, costly, and time-intensive to increase and sustain best practices among both hospital staff and the general public. This study suggests that automated video engagement could offer an effective new approach to improve handwashing duration."
The study is published in the American Journal of Infection Control (AJIC).
Importance of robust hand hygiene
Good hand hygiene practices, such as handwashing, are the easiest and most efficient strategy for reducing HAIS and require proper technique and an adequate duration for an effective wash. Recommendations from the US Centers for Disease Control and Prevention (CDC) state that everyone – even those not working in a healthcare setting – should wash their hands for a minimum duration of 20 seconds. However, previous research indicates that these guidelines are not often followed.
To try and boost compliance with these hand hygiene practices, Dr Ackermann's team tested whether an automated, smart video engagement system could increase the number of people who met the 20-second handwashing duration. Additionally, the study assessed if people became fatigued with the intervention.
Implemented video technology
The team developed a system that included smart hand-soap and towel dispensers connected to a computer that was programmed to display a rotating set of 20-second-long creative videos. The video began to play on a display screen above the sink and started to time the duration of the user's handwashing as soon as they dispensed soap onto their hands, stopping the video and timing when they dispensed a towel to dry their hands.
The researchers implemented two of the systems in staff bathrooms of a non-clinical hospital, capturing data for three defined periods: a three-week control period where no video was played, a nine-month 'impact-video period', and a 'sustain-video' period of 17-months.
The results demonstrated that the video intervention boosted hand hygiene, elevating handwashing duration and the number of people who achieved the recommended 20-second recommendation compared to the control.
During the impact-video and sustain-video, the mean seconds of duration for handwashing was 7.5 and 4.4 seconds, respectively, as compared to the control (21.9 seconds, 18.6 seconds, and 14.4 seconds). Although only 21.8% of the control group achieved the 20-second handwashing guideline, 61.1% in the impact-video group and 41% in the sustain-video group met the 20-second duration, an increase of 39% and 19.2% in the two video groups, respectively.
Moreover, the team found that handwashing duration was reduced by 0.5 seconds each month during the impact-video period and 0.1 seconds for the sustain-video period. The highest number of users achieved the 20-second wash duration in the first month of the impact video period, followed by a 22% decrease at month three and then steadily declined to 45% below the peak at month 11. The team believed that this is due to creative and message fatigue, signifying that video content should be refreshed every three months to sustain engagement and enhance hand hygiene practices.
Linda Dickey, RN, MPH, CIC, FAPIC, and 2022 APIC president, said: "This study and its findings are exciting because they suggest a viable new approach for addressing a fairly intractable healthcare problem. Solutions that meaningfully improve and sustain good hand hygiene will reduce infections, save money and save lives."
Recommended Related Articles