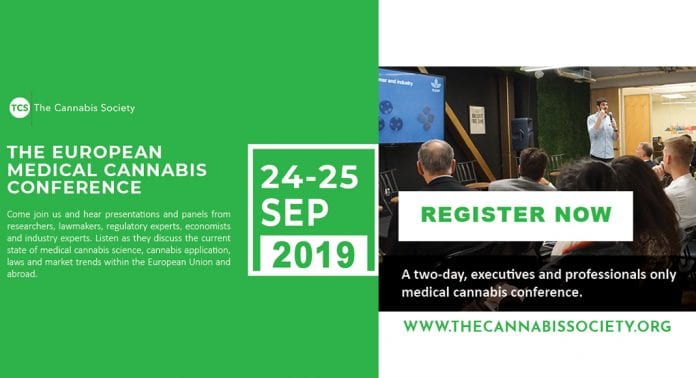 The Cannabis Society (TCS), with support from Dentons and FTI Consulting, has put together a distinguished two-day medical cannabis conference.
Join TCS at its European medical cannabis conference to hear presentations and panels from researchers, lawmakers, regulatory experts, economists and industry experts. Listen as they discuss the current state of medical cannabis science, cannabis application, laws and market trends within the European Union and abroad.
Date: September 24 & 25
Location: Dentons (Markgrafenstraße 33, 10117 Berlin, Germany)
Did you know that Health Europa are media partners with The Cannabis Society? We'll be at their event covering the conference and getting exclusive interviews with the speakers – stay tuned and follow us for live Twitter updates at @HealthEuropa
What will the medical cannabis conference entail?
On day one, get to know more about what cannabis is, the future of medical cannabis, use of cannabis in the elderly, dosage & usage, and more.
On day two, European and international experts will discuss communication strategies for cannabis companies, investing in cannabis, how technology interacts with the industry, importing and exporting and more.
Confirmed speakers include leaders in the cannabis industry including: Tjalling Erkelens (Founder & CEO, Bedrocan), Patricia Frye M.D (Chief Medical Officer, Hello MD), Dr. Robert Pawinski (Chief Medical Officer, Althea), Rick Brar (CEO & Chairman at Brains Bioceutical Corp.), Dr. Jonas Vanderzwan, MD, CCFP (Canadian physician), Dr. Adam Norris, MD, DABFM, CCFP (Canadian physician), Melissa Sturgess (Chief Executive Officer, Ananda Developments Plc), Marguerite Arnold (CEO, MedPayRx UG), Dr. Hartmut Vennen (Senior Managing Director, FTI Consulting) and more…
Interested in attending? Register now at: http://bit.ly/TCSBerlinSep19
More about The Cannabis Society
The Cannabis Society (TCS) is an organization focused on progressing the medical cannabis industry in Europe. TCS runs highly-curated, invite-only, professional-only conferences that brings together top cannabis researchers, medical professionals, industry executives, investors and service providers.
TCS is a global organization hosting conferences and events in markets including Europe, North America, South America, Israel and Australia.