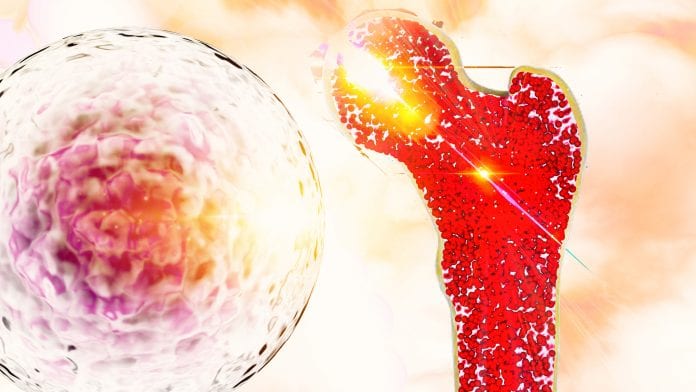 Dr Sari Prutchi Sagiv, CSO at Kalytera Therapeutics Inc., showcases the potential of CBD to revolutionise treatment of Graft versus Host Disease.
The development of bone marrow transplantation procedures is widely considered one of the greatest victories in the war against cancer. The vast majority of bone marrow transplant recipients are patients with various forms of blood cancers, such as leukaemia, lymphoma or multiple myeloma. A real game changer, bone marrow transplantation has boosted survival rates for some blood cancers from nearly zero to over 85%.
Unfortunately, however, patients receiving bone marrow transplants are at high risk of developing Graft versus Host Disease (GvHD), a life-threatening complication that occurs when the transplanted cells from the donor – the graft – identify the transplant recipient – the host – as foreign.
This triggers an immune reaction that can wreak havoc in the transplanted patient's body as it is attacked by the donated cells. This can occur from just days (in the case of acute GvHD) up to months or years (for chronic GvHD) after the haematopoietic cell transplantation (HCT) procedure has taken place.
The mortality rate of acute GvHD is very high – in the case of grade 4 GvHD, it is over 90%. The overwhelmingly positive preliminary response of patients to CBD in preventing and treating GvHD shown in early trials, could be the key to significantly decreasing the incidence of this terrible condition.
What is GvHD?
Before we go on, there is a distinction to be made between a transplant rejection, which occurs when the immune system of the transplant recipient rejects the transplanted tissue, as may be the case in liver or heart transplants, and GvHD, which occurs when the while blood cells in the donor's reject the recipient.
There are two types of bone marrow transplant: autologous (from the patient's own stem cells) and allogeneic (stem cells from a donor). It is in the latter where GvHD may occur.
GvHD from allogeneic bone marrow transplants can manifest itself in many forms and degrees; ranging from mild, moderate or severe, to potentially fatal for the patient. Acute GvHD can cause rashes and blistering of the skin, nausea, vomiting, abdominal cramps accompanied by diarrhoea, jaundice; and may attack the lungs, liver and eyes. It is often associated with chronic illness, infections, disability, reduced quality of life, and is a major cause of morbidity and mortality following HCT.
Researchers estimate that despite aggressive preventive measures with immunosuppressive treatments, 30% to 50% of transplanted patients whose donors were fully matching siblings and 50% to 70% of patients whose donors were unrelated to them develop some level of GvHD.
Kalytera Therapeutics: a potential treatment
Though it may sound surprising, currently there are no FDA approved therapies for either the prevention or treatment of acute GvHD.
Enter Kalytera Therapeutics, a clinical-stage pharmaceutical company aiming to develop cannabidiol (CBD) for the treatment of serious diseases. The company's drug development expertise and intellectual property portfolio put it at the forefront in the development of CBD-based medicines for a range of important unmet medical needs. Currently, its resources are being focused mainly on mitigating the effects of GvHD following bone marrow transplantation.
Kalytera Therapeutics lead programme, in which we are evaluating CBD for the prevention and treatment of GvHD, is in late-stage clinical testing. Kalytera Therapeutics have an ongoing open label Phase 2 clinical study to evaluate the pharmacokinetic profile, safety and efficacy of CBD for the prevention of acute GvHD with encouraging preliminary results; we are currently approaching the end of cohort 2. A series of Phase 1 studies requested by the FDA, such as the effect of food intake on the absorption of oral CBD, have also been completed.
At this stage, Kalytera Therapeutics are ready to plan a meeting with the FDA to discuss the possibility of starting a pivotal study later this year. Following the approval of Epidiolex for Dravet Syndrome by GW Pharma, the FDA has encouraged that Kalytera apply for a 505(b)2 regulatory pathway, which provides manufacturers of some types of drugs to apply for FDA approval without performing all the work required in a new drug application.
Kalytera Therapeutics have also received a Fast Track Designation to aid in the development and expedite review of drugs intended for serious or life-threatening disease and addressing an unmet medical need, for the company's CBD products for prevention and treatment of acute GvHD. This could accelerate the approval process for these products.
Drug and steroid treatments
The obvious first step in attempting to prevent GvHD is to find donor cells that match the genetics of the immune system of the transplant recipient as closely as possible. But even in the ideal case of the donor's being a sibling, the patient still must rely on drugs specially developed to cause immunosuppression of the donor cells, through either T-cell depletion or drugs. Treatments usually used for this include methotrexate, cyclosporine, tacrolimus, sirolimus, mycophenolate mofetil and antithymocyte globulin (ATG), as determined by each medical team and institution.
When it comes to treating GvHD, the graft's immune cell activation needs to be suppressed with medication, so that donor-host immune tolerance can be established once again. Most patients are given corticosteroids, which directly suppress the donor's immune cell attack on the host's tissues. This also raises the risk of infection and the relapse of cancer.
As of now, there are guidelines but there is no standard treatment for either prevention or treatment of acute GvHD. Only 30% to 50% of patients with moderate to severe GvHD respond to corticosteroids, leaving many at risk of fatal outcomes. Everyone in the healthcare system should be aware that more research is necessary to discover better treatment options to reduce the rates of mortality and morbidity in transplantation patients.
CBD treatment
The programme Kalytera is now implementing is based on previous Phase 2a clinical trials, which showed outstanding preliminary results in the prevention of the disease by giving patients CBD orally. In the first study, 48 patients received CBD for seven days prior to the bone marrow transplant procedure and for 30 days thereafter, as opposed to a group of 101 historical controls who had been given the usual GvHD prophylaxis and treated in the same BMT unit by the same medical team.
Remarkably, results showed none of the 48 patients had developed acute GvHD in the 30 days of treatment with CBD. Those who developed GvHD did so within a median time of 60 days, whereas the control group of 101 historical controls began to develop acute GvHD in a median time of 20 days only (ranging from nine to 137).
In the CBD treated group, the rates of grade 2 to grade 4 acute GvHD by day 100 were 12.1%, compared with 46% in the control. The rate of severe grade 3 to grade 4 was 5%, compared to 10% in the control. Equally important is the finding that CBD was also safe and well tolerated, with no severe adverse events attributed to its consumption. This is consistent with safety data previously reported on CBD administered to humans, even with three to four times higher doses and even when taken over extended periods of time.
In light of these encouraging initial results, it was decided to test the efficacy of a prolonged treatment covering 100 days: the time window in which acute GvHD usually occurs. In a second study, 12 patients were administered CBD at the same dose starting from seven days before the bone marrow transplant procedure until 100 days post-transplantation. No safety issues were observed here either and only one noncompliant patient, representing 8% of the CBD treatment group, developed acute GvHD; compared to a 46% incidence at the same institution in the historical group of 101 patients described above. This is despite the fact that the majority of the patients (10 out of 12) received stem cells from unrelated donors, including five patients who received stem cells from non-fully matched donors, which would normally increase their chance of developing GvHD.
In a third Phase 2a study, which was performed for treatment of already sick patients, 10 patients with acute GvHD, who were refractory to standard treatment with high dose steroids (only 60% of patients respond to first line therapy with high dose steroids), were administered daily doses of CBD for up to three months. Strikingly, nine of the 10 patients enrolled in the study responded to treatment, seven of them achieving complete remission of GvHD and two more achieving a near-complete response.
These results are impressive when we take into account that the 12-month mortality rate among patients with grade 3 and grade 4 GvHD who do not respond to steroids exceeds 60% and 80%, respectively. Indeed, these preliminary results compare favourably with the results of the historical control group of 29 patients with steroid-refractory grades 3 and 4 GvHD, among which 26 patients died from GvHD and its complications.
With a median follow-up period of 13 months, six patients were still alive. Two patients died from leukaemia relapses, and two patients died from GvHD-related infectious complications. No patient deaths were determined to be associated with CBD treatment. This underlines the urgency of developing a product that can prevent and treat GvHD.
The future
On the list of the 10 most expensive medical procedures, allogeneic BMT ranked fourth; while autologous BMT, at less than half the outrageous cost, still made it to the eighth place. Depending on the country and institution, costs range from tens of thousands to hundreds of thousands of dollars per procedure. The need and incentive to increase the rate of success are indisputable.
The life-saving ability of Kalytera's CBD products for the prevention and treatment of acute GvHD, currently classified as an orphan disease, means the company has good chances of obtaining premium pricing for a course of treatment. Over 20,000 patients suffer from acute GvHD following bone marrow transplantation in the six major markets of the US, Germany, the UK, France, Spain and Japan every year.
According to the January 2018 Market Forecast Report by DelveInsight Perspective, the potential market for a successful drug for prevention and treatment of GvHD in the seven major jurisdictions of the US, Germany, France, Italy, Spain, the UK and Japan is estimated to be over $408m in 2018; and could grow to approximately $1.3bn by 2027.
Once Kalytera's CBD products are approved by the FDA, the company believes that treating physicians would not be expected to prescribe anything other than its approved formulation of CBD (as opposed to a non-approved CBD that might be available online or from other commercial sources), especially since patients are often in isolation in the intensive care unit. It is safe to assume that neither private insurance nor government provided healthcare reimbursement would be available for non-prescription generic CBD in the jurisdictions where Kalytera intends to market its CBD product.
Conducting proper, large scale clinical trials with CBD is of utmost importance. Although in some areas CBD seems to be generally safe in the broader healthy population, it can be harmful to some groups, such as young adults, women of childbearing age, pregnant women, children, people with known heart conditions or low blood pressure, and the elderly.
Despite all the hype about the multiple health benefits of cannabis-based products trumpeted by many (though not clearly stated due to possible risks of liabilities for unsubstantiated claims), so far only one CBD-based drug has received FDA approval for the treatment of two rare and serious types of epilepsy.
Contrary to popular belief and anecdotal evidence, CBD is not a biologically inert compound. Rather, CBD has a complex pharmacokinetic and pharmacodynamic profile similar to any other medication with the potential to interact with other medications and medical conditions. CBD is metabolised in the liver by enzymes responsible for metabolising a large percentage of other drugs. When taken concomitantly, CBD may reduce or neutralise the intended action of those other medications. Kalytera has completed drug to drug interaction testing in vitro and is now planning to start testing in healthy subjects.
CBD oil can have negative side effects too, such as drowsiness, drop in blood pressure when taken in large doses, being potentially harmful for people with low blood pressure. Other problems are dizziness or light-headedness, appetite changes, diarrhoea, hormonal changes, hypokinesia and resting tremor when used for epilepsy. In psychotic disorders it has side effects too, but they are milder than on other drugs used until today. It can benefit some Parkinson's patients, but not all of them.
Kalytera has a solid, experienced leadership team and very strong intellectual property portfolio. We have three issued US and European patents covering the use of CBD in the prevention and treatment of GvHD, as well as four orphan drug designations for the treatment and prevention of GvHD in the US and Europe.
Our promising preliminary results indicate we will be able to help BMT patients and their donated bone marrow get along better. This will greatly improve patients' quality of life, productivity and life expectancy by keeping them GvHD free.
Dr Sari Sagiv
+972 36176173
This article will appear in the second issue of Medical Cannabis Network which will be available to read in April 2020.