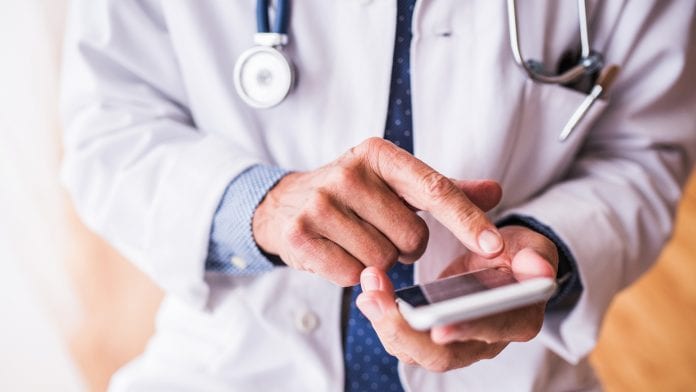 A new Artificial Intelligence (AI) smartphone app that can help detect kidney disease earlier is set to benefit hundreds of patients in the UK.
Developed by Healthy.io, the pioneering AI app turns a smartphone camera into a clinical-grade tool to detect early kidney disease then allows patients to transmit their results to their GP in minutes, without any need to leave their home.
Chronic kidney disease affects around 1 in 10 people in the UK. This new testing and technology is designed to reduce unnecessary trips to the GP and hospital, as well as to encourage more people to seek an early diagnosis.
Healthy.io will be supported by NHSX, the digital transformation arm of the NHS, to offer 500,000 patients technology-supported home-testing kits over the next three years, with more than 3,500 patients having already received one.
Revolutionising kidney disease detection
The technology is one of 42 innovations that are being supported by the first round of the AI in Health and Care Award programme, which is managed by the Accelerated Access Collaborative in partnership with NHSX and the National Institute for Health Research.
Patients will receive a test kit, which includes a standard urine dipstick, a urine collection pot and a patented colour board. The smartphone app guides the user through the test, which includes scanning the dipstick on the colour board using a standard smartphone camera. Using AI and colourmetric analysis, the app is able to read the dipstick results equivalent to a lab-based device. The app tests for results by analysing testing images and producing results regardless of lighting conditions, setting, or camera type.
Health and Social Care Secretary Matt Hancock said: "This is another brilliant example of how innovative technologies are transforming healthcare and improving lives. Patients are able to receive a diagnosis sooner, saving time for clinicians so they can spend more time on treatment, and ultimately saving more lives through earlier diagnosis. This innovation is another step forward in making high-quality healthcare more accessible – in some cases without leaving the comfort of your own home."
Matthew Gould, Chief Executive of NHSX, said: "Artificial intelligence holds enormous potential for the NHS and in many areas is already providing radical benefits for patients and clinicians.
"The use of this latest testing technology is another huge step forward enabling us to provide earlier diagnosis of disease and improve patient care and treatment outcomes while also freeing up NHS staff."
According to an independent evaluation by the York Health Economics Consortium, if rolled out nationally Healthy.io's solution has the potential to save more than 11,000 lives and save the NHS at least £660m over five years.