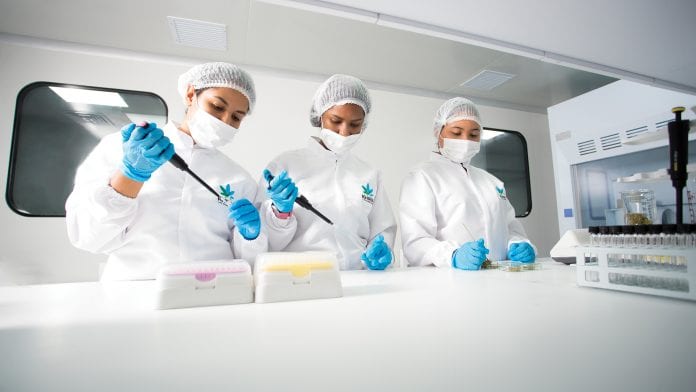 With a multi-jurisdictional strategy and brand-oriented approach, Khiron Life Sciences is positioned to be the dominant integrated cannabis company in Latin America.
Khiron Life Sciences Corp combines global scientific expertise, agricultural advantages, branded product market entrance experience, and education to address the needs of over 620 million people across Latin America.
The company targets the Latam market of 620m people, with operations in Colombia, Uruguay, Chile and a presence in Peru and Mexico (as well as access to Brazil through the Mercosur Regional Free Trade Bloc). With core operations in Latin America, the company is fully licensed for the cultivation, production, domestic distribution, and international export of both THC (tetrahydrocannabinol) and CBD (cannabidiol) medical cannabis.
Khiron is also heavily involved in the scientific and medical community: the company leads research and education programs, and also owns and operates the Latin American Institute of Neurology and the Nervous System (ILANS). ILANS is a network of medical clinics that treat 119,000 patients annually. With a patient-oriented approach, the company combines scientific expertise, agricultural advantages, branded product market entrance experience and education to drive prescription and brand loyalty to address priority medical conditions such as chronic pain, epilepsy, depression and anxiety.
Founded in 2016 by Andrés Galofre and Alvaro Torres, Khiron is led by a highly experienced management team and influential Board of Directors. This includes global retail brand entrepreneur Joseph Mimran, and the 55th President of Mexico and former CEO of Coca Cola Mexico, Vicente Fox. Building on regional expertise, Khiron is now positioned for global growth, having recently announced plans to enter the US consumer market through a joint venture initiative.
In May 2018, Khiron listed on the TSX Venture Exchange (KHRN), becoming the first Colombian-based medical cannabis company to trade on any exchange globally. The company is also traded on the Frankfurt Stock Exchange (A2JMZC) and on the OTCQB market (KHRNF). Khiron has corporate offices in Bogotá, Colombia with over 250 employees globally.
Regional expertise and global growth
Alvaro Torres, CEO and Director, recently noted that Khiron builds upon its regional expertise as a strategy to expand into global markets: "We continue to execute on our stated strategy to be an integrated cannabis leader in Latin America and leverage this expertise, as we identify global market opportunities where we believe Khiron has a competitive advantage."
One of Khiron's strategic advantages is its strong positioning for global growth. An example of this is the capacity to produce both medicinal THC and CBD extracts (from Colombia) and dry flower (from Uruguay), which allows Khiron to create high quality products for the global market.
As part of this global strategy, Khiron is now positioned to enter the US market for cosmeceutical cannabis products. In Q1 2019, the company entered into a joint venture with Dixie Brands to bring a portfolio of cannabis-infused products to the Latam market depending on each country's regulations.
By combining Dixie's portfolio of more than 100 cannabis-infused products with Khiron's established footprint throughout Latin America, the companies aim to capture first-mover advantage and establish leadership in this region. Under the agreement, Dixie will also distribute Khiron's Kuida® brand of CBD-based cosmeceuticals in the multibillion-dollar US cosmetic market.
Recent company highlights
Reflecting upon the past year of rapid growth, Alvaro Torres, Khiron CEO and Director, commented: "Fiscal 2018 marked an important year for Khiron as we accomplished a number of significant objectives towards delivering on our strategy of becoming an internationally recognised, market-leading cannabis company. From a start-up to a team over 250, we have established operations and activity in multiple jurisdictions, acquired medical clinics, developed a market-leading skincare brand, entered into research partnerships, set up educational programs and received medical association endorsements."
Financial:
Listed on the TSX Venture Exchange (KHRN), the Frankfurt Stock Exchange (A2JMZC) and on the OTCQB market (KHRNF),
Generated first revenue in Q4 2018 with the commercialisation of the Kuida brand of cosmeceutical products,
Recently completed two financing rounds, raising a combined $59m CAD (~£34.27m).
Market:
Increased geographic footprint in Colombia, Mexico, Chile, Peru, and Uruguay,
Entered into a joint venture with Dixie Brands to bring both a portfolio of cannabis-infused products to Latin America, and Kuida CBD-based cosmeceuticals to the US market.
Product:
Received first INVIMA approvals for seven CBD-based cosmeceutical products in Colombia,
Kuida is now available in 176 retail locations across Colombia, both in stores and online,
Increased potential cultivation capacity to 220 tonnes per annum through organic growth and acquisitions.
Wellness unit
As part of its branded product portfolio, Khiron has established a wellness business unit focused on cosmeceutical and nutraceutical products to consumers across the Latin America and global markets. This unit was introduced with the launch of its initial consumer brand Kuida, the first mass-market CBD brand in Colombia, which brings the benefits of cannabidiol (CBD) to skin and body care products for women.
Kuida was launched in September 2018, and has been distributed across Colombia through retail, wholesale and online channels. Initially, the brand was distributed through an exclusive agreement with Farmatodo and Farmalisto, one of Colombia's largest pharmacy chains with 56 stores. Expanding on that agreement, Khiron entered into distribution agreements with a number of other stores as well.
As a result, Kuida is now carried by Cafam, another leading Colombian drugstore chain with 270 locations. Under the Cafam deal, Kuida will be sold at an initial 49 point of sale locations, with an agreement to expand this distribution to a total of 150 stores in the first six months of roll-out.
Alongside this, Kuida will also be distributed by Fedco and Linio, which is controlled by Grupo SACI Falabella, the largest retailer in Latin America. This agreement will increase the brand's retail exposure to 78 more store locations and approximately 600,000 monthly e-commerce visitors. Khiron will be able to further expand Kuida distribution across other Latin American jurisdictions through Fedco and Linio's leading online portal for beauty products.
Khiron also recently announced a partnership with Centro Dermatologico Federico Lleras Acosta (CDFLLA) to initiate the first cannabis clinical research for skin in Latin America and expand product development to address the global skincare market.
The research will focus on studying and improving the methods of administering and prescribing cannabis as a potential supportive therapy for various skin conditions and symptoms.
As part of the program, Khiron and CDFLLA will conduct training sessions, educational events and seminars focused on educating the medical community and patients on the safety and efficacy of medical cannabis. In addition, CDFLLA will support Khiron in performing studies on cosmetic and cosmeceutical products manufactured and marketed by Khiron, through its subsidiary Kuida.
All of these agreements and research initiatives will further expand Kuida's points of sale in retail and e-commerce locations and will help accelerate Khiron's multi-channel brand distribution strategy of targeting the $7bn (~€6.1bn) Latin American skincare market.
Jessica Cuervo
Khiron Life Sciences Corp
+57 1 7442064
communications@khiron.ca
www.khiron.ca
Please note, this article will appear in issue 10 of Health Europa Quarterly, which will be available to read in July 2019.