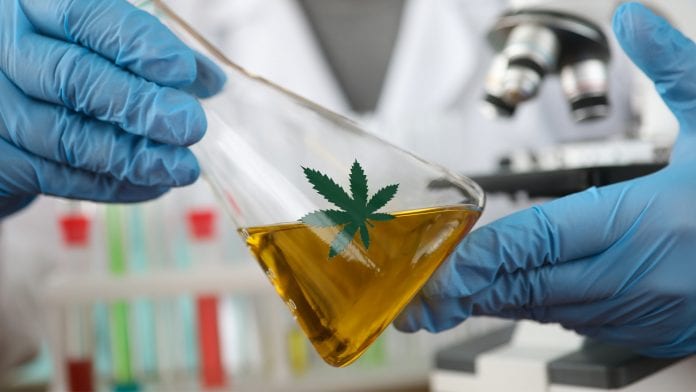 The UK's leading oncologist has joined Block Commodities Ltd to unlock opportunities in the CBD wellness and medical cannabis market.
Block Commodities, a commodity-focussed trading company aiming to maximise value in African agriculture through the deployment of blockchain technologies, recently announced the appointments of Professor Justin Stebbing and Professor Andrew Garner to its Scientific Advisory Team (SAT) earlier this week to play a central role in helping the Board to identify and unlock suitable investment opportunities in the CBD wellness and medical cannabis market.
Together with the existing members, Dr Frank D'Ambrosio and Dr Olusola Idowu, the SAT is working with partners to develop pilot studies to establish the efficacy of proprietary compounds treating a number of conditions.
Leading specialists
Professor Stebbing is a Professor of Cancer Medicine and Oncology and Consultant Oncologist at Imperial College London, specialising in the treatment of cancer by immunotherapy.
Stebbing brings to the position relevant board experience from his current roles as Chair of the World Vaccine Congress and the Irish Cancer Society oversight committee. He is also a Fellow of the Royal College of Physicians, the American Board of Internal Medicine and the Royal College of Pathologists.
Furthermore, he is a published author of world leading medicine and cancer journals, such as The Journal of Clinical Oncology and The Lancet Oncology. He was awarded the Silvia Lawler prize for excellence in oncology in 2015 and has extensive clinical practice experience, including translational research studies and immunotherapy trials, most recently undertaking biosimilar studies. In 2016, he was internationally recognised with his appointment as Editor-in-Chief of Oncogene (Springer Nature's foremost cancer journal) and election to the American Society for Clinical Investigation.
Professor Andrew Garner has held senior positions at universities in the United Kingdom, Europe, USA and the Middle East, as well as executive posts in the National Health Service and the pharmaceutical industry. In 2007, he was appointed as Dean and PVC at Keele University to develop and lead the Faculty of Medicine & Health Sciences including new schools of Medicine and Pharmacy together with Research Institutes focussed on Primary Care, Secondary Care and Laboratory Medicine.
As a pharmacologist, he joins the SAT with extensive research and consultancy experience in drug development including nine years as Company Senior Scientist with AstraZeneca.
He was previously NHS R&D Director for Greater Manchester, Head of Manchester Medical School and a member of the Boards of the University Hospital of North Midlands and West Midlands Academic Health Science Network.
A market leader in CBD research and cultivation
With the addition of Professors Stebbing and Garner, Block Commodities' management is confident that it has assembled a world-class team of experts in evaluation and development of medicines and the application of cannabis for health and wellness.
Block Commodities aims to be a market leader in CBD research and cultivation, as well as a manufacturer of efficacious products of the highest consistency and quality.
Ian Tordoff, Chief Executive Officer of Block Commodities, commented: "Following the Company's General Meeting on 27 December 2019, the shareholders approved a new investment strategy to operate in the medicinal cannabis, CBD wellness and hemp sectors.
"I am delighted to welcome Professor Stebbing and Professor Garner to our Scientific Advisory Team to develop and drive Block's ambitions in these markets. We aim to create OTC products for consumers who want access to the highest quality CBD products appropriate to their circumstances."
The SAT is essential to the business in the shaping of research and product development, which underpin our commercial goals. We are all looking forward to working closely together in the coming months."