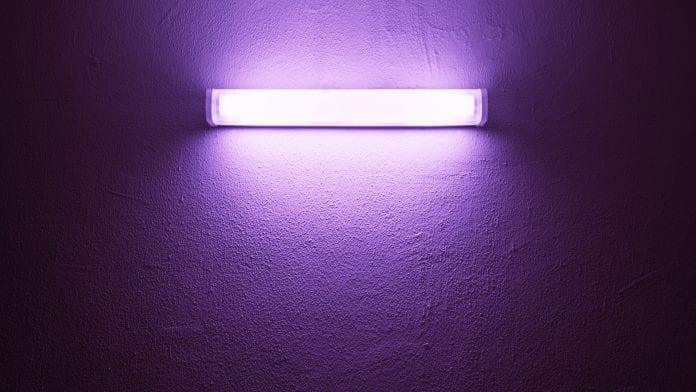 With England now in a second national lockdown in order to alleviate the risk of its hospitals becoming overwhelmed under a second wave of COVID-19, UK-based specialist lighting business LED Direct is showcasing its innovative infection control solution.
UVC radiation has been hailed as a sustainable, safe solution to decontamination of rooms, surfaces and air; and has been adopted for the disinfection of public spaces by bodies including Transport for London (TfL) and regional NHS trusts.
UVC disinfection to control COVID-19
UVC luminaires are one of the most effective methods of air and surface disinfection. Research from Boston University's National Emerging Infectious Diseases Laboratories (NEIDL) has confirmed that UVC light sources are effective methods in the inactivation of SARS-CoV-2, the virus causing COVID- 19. Their tests showed that the UVC light reduced 99% of the SARS-CoV-2 in 6 seconds when applying a 5mJ/cm2 dose.
In a recent report designed to investigate the potential benefits of light-based technology as an adjunct form of disinfection in healthcare environments, Health Facilities Scotland, a division of NHS National Services Scotland, concluded that ultraviolet-C (UVC) radiation was broadly effective in a number of applications.
However, the report cautioned that UV surface decontamination should only be carried out in an unoccupied room; and that safety features, such as movement sensors or automatic switches, must be incorporated into the design to prevent people from being accidentally exposed to the UV light.
LED Direct
LED Direct, which is based in South Yorkshire and whose team of lighting professionals collectively boast more than 60 years' industry experience, has partnered with professional lighting manufacturer LUG Light Factory to bring UVC lighting solutions to the UK.
LED Direct's groundbreaking Purelight Flow UVC luminaires provide effective room disinfection by combining a flow luminaire and an external radiator, delivering smooth, uninterrupted operation. In line with the device's carbon filter, they can eliminate bacteria, mites, viruses, fungi and other microorganisms. They ensure the cleanest and freshest air by putting safety first.
Speaking about its goals and mission, the company said: 'We are a small business with big ambitions. We work hard to make lives easier – be that via smart home automation, dream gamer lighting or COVID-19 prevention technology, we put our customers first. We have all been affected by this horrific virus. Anything we can do to help and support businesses we will.'
LED Direct is committed to leveraging UVC radiation in the global fight against COVID-19. Click here to learn more.
Recommended Related Articles