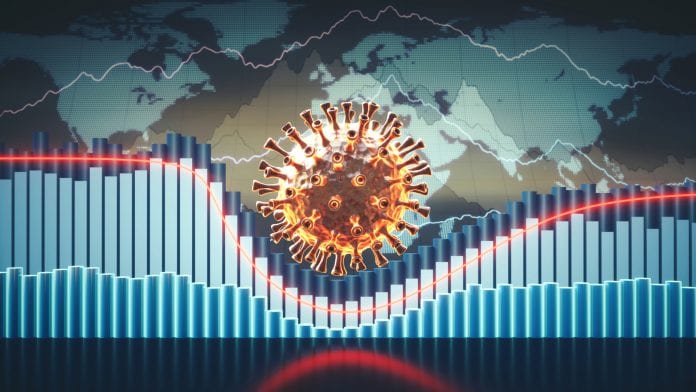 Tableau Software Senior Director Andy Cotgreave explores issues around data analysis and transparency during the COVID-19 pandemic.
Throughout the last 12 months, people have been constantly exposed to health data. Governments, healthcare organisations and the media are using graphs, maps and statistics to track and report the spread of the COVID-19 virus and subsequently the rollout of the vaccines. Across Europe, political and business leaders are relying on this data to make critical decisions about lockdowns and restrictions that are necessary to save lives and reduce transmission.
In the UK, Boris Johnson's timeline for lifting lockdown was presented with caution – citing a 'data, not dates' approach. Restrictions could only be lifted if cases were low enough and if reports suggested that the vaccine rollout was proving effective. The UK government also launched its new Central Digital and Data Office (CDDO) specifically to enhance data capabilities across government departments, cementing the need for data-driven approaches in the future.
Two things have been made very clear. Firstly, without data recording the number of cases, the R rate in different regions and the kinds of patients more likely to experience serious conditions, it would have been almost impossible to know how to go about tackling the spread to save lives. Secondly, communicating the severity of the situation and therefore the importance of following restrictions to the general public is crucial, and can only be achieved by presenting this data in an accessible way.
These are lessons that must be taken forward in healthcare and pharma to tackle other health crises and epidemics, be it mental health, chronic illness, hereditary or infectious diseases. And, for a data-driven approach to be helpful to both decision-makers and the general population, the data that is being relied upon must be properly applied, contextualised and understood.
Contextualising data
Some golden rules must be followed for data-driven decision making. Firstly, decisions can only be informed by data. While data tells us what has happened and can model what might happen, this is the starting point of decisions, not the endpoint. It is vital to contextualise data, especially when related to healthcare. This is partly due to an ageing population and rising levels of comorbidity, as well as increased awareness of the importance of mental health factors when treating patients. Environmental factors such as pollution can also affect health data, and this will differ significantly between geographies.
It is also important to make data-informed decisions that involve looking at myriad values, at multiple levels of aggregation. This is to tease out nuances that are hidden by highly aggregated values, because chasing a single measure or using data to lean towards one 'magic number', can mean different population groups are affected in different ways. In the past, healthcare has sometimes taken a one-size-fits-all approach to treatments, but an increase in data-informed decision-making is gradually empowering doctors to tailor treatments to the individual. For example, the Body Mass Index (BMI) that has previously been used to suggest what the ideal body weight is based on gender and height is now widely discredited. This is because it does not account for healthy tissue or muscle mass.
Sharing data
The pandemic has also taught us how important it is to collect and centralise data from many sources and have the ability to reuse that data in the future. Sharing data between hospitals and research centres efficiently and in an accessible way can lead to faster discoveries of effective treatments and a quicker understanding of new diseases.
One example of the importance of data sharing that has come out of the pandemic is the COVID-19 Predict study in the Netherlands. Clinical data platform Castor made its Electronic Data Capture (EDC) platform available for free for any non-profit research associated with COVID-19.
Just one of the many studies that benefited was COVID-19 Predict, a collaboration between doctors and researchers in the Netherlands to better understand and predict which COVID-19 patients should receive which treatment and which type of care. The EDC system helped the doctors and researchers involved to easily capture data from multiple sources – and currently contains more than five million data points. Algorithms for predicting disease outcomes are being created and tested with data retrieved in real time through Castor's application programming interface (API), enabling integration with a range of other platforms. These algorithms help to predict the probability that a patient will require intensive care, and if so, what the likely outcome will be.
This is a great example of how collaboration through data sharing can create a centralised and single version of the truth. Health data can be highly siloed between hospitals, surgeries and research organisations, leading to a fragmented understanding of diseases and slowing down potential progress in innovation. There may be challenges involved in data sharing when it comes to General Data Protection Regulation (GDPR) compliance across Europe, but many of these can be mitigated by anonymising data within secure platforms.
Understanding data
Our new familiarity with graphs and charts illustrating COVID-19 data is no accident. Using data to make a decision is one thing, but sharing the insight and persuading others is hard. Most audiences are unlikely to understand an underlying dataset, which makes communicating data-informed decisions really difficult. Visualising data can help people of all levels of data literacy to understand and act upon data to maximise its impact. Designing charts that can be easily interpreted is a skill as nuanced as writing because charts can be used to convey opinions, not just facts. It is paramount when communicating with data to focus on clarity and simplicity.
The UK's National Health Service Improvement (NHSI) is responsible for collating and analysing millions of data points from over 250 UK health trusts, to identify where operational improvements can be made and patient care improved. The NHSI's National Accident and Emergency (A&E) dashboard is a great example of how data visualisation can aid quick decision making. Hospital employees with little training can easily interact with the dashboard and quickly understand via the data visualisations which hospital A&E departments are performing best in the hardest-hit areas.
This has led to more conversations between UK health trusts about why that might be, sharing best practice and leading to a higher quality of care for A&E patients. The same dashboards can also be used to anticipate future hospital performance by correlating weather or seasonal data with historical performance in the same circumstances. This allows NHSI to identify potential issues and take preventative action where needed.
Another example of how visualisation can help people see and understand data is how it was introduced by Region Midtjylland, a public organisation responsible for healthcare in the central region of Denmark, providing medical services for over 1.3 million people across six hospitals. Region Midtjylland consolidated all of the siloed data that it had stored in data warehouses, spreadsheets and other systems into one platform. Introducing new data analytics that could produce clear and user-friendly data visualisations helped to reduce the time between patients being referred by their doctor to a hospital and the actual appointment. Previously, only 60% of patients were seen within 30 days of their referral.
The new data platform enabled them to connect with the relevant patient data, visualise the problem and find answers. Now, 90% of patients have their meeting within 30 days.
Looking ahead
COVID-19 has brought to light the importance of increasing data literacy in the healthcare sector, and this need not be a complex task. Visualising and contextualising data appropriately makes it easier to understand, speeding up healthcare processes and helping doctors and researchers to treat patients effectively and reduce the spread of disease. But this must be built upon a solid bedrock of data, collated from disparate sources and shared in real time between organisations to create a single version of the truth. Once healthcare professionals have these tools, they can begin to cultivate a data-informed culture that will revolutionise treatment and catalyse innovation to build a new future for healthcare.
Andy Cotgreave
Technical Evangelist, Senior Director
Tableau Software
www.tableau.com/en-gb
This article is from issue 17 of Health Europa. Click here to get your free subscription today.