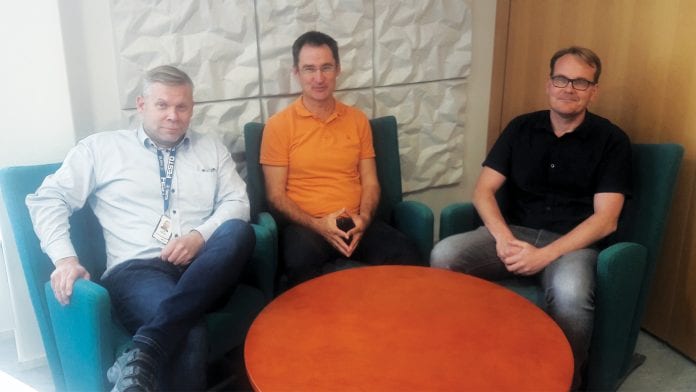 What do you know about the unique multidiscipline collaboration combining high level academic knowledge with drug discovery and development?
In 2018, Orion Corporation, together with selected university research groups and other companies, assembled a New Modalities Ecosystem supported by funding from Business Finland. The new Ecosystem embodies a unique multidiscipline collaboration combining high level academic knowledge with drug discovery and development.
The aim of this New Modalities Ecosystem is to enable the improved understanding of disease pathology related to the symptoms and disease progression, and better treatments by applying large molecular drugs and diagnostic tools as well as digital wearable patient tools for disease symptom recording. This Ecosystem uniquely combines high-level academic research with industrial drug research and development. The Ecosystem participants not only includes Orion Pharma, but also University of Turku, University of Helsinki, University of Eastern Finland, Folkhälsan as well as the companies PerkinElmer, Syrinx Bioanalytics, AdmeScope, Petsofi, Forendo Pharma and InMe.
Here, Health Europa Quarterly caught up with Jyrki Lehtimäki, Senior Manager of Strategic Development, Biologics, Biomarkers and New Modalities, of Orion Corporation, Tim Holmström, Head of Biologics at Orion Pharma, and Professor Pasi Virta, Organic chemistry, University of Turku, Finland, to talk about a different aspect of the New Modalities Ecosystem, and that is: therapeutic interventions.
Therapeutic interventions
Health Europa Quarterly spoke to Orion Pharma in early 2019 about the creation of the New Modalities Ecosystem, and although this concept sets the scene, within the Ecosystem Orion carry out research for better understanding of disease pathways and patient sub-populations related to the disease progression in selected rare diseases. This enables the researchers involved to discover where and how to intervene, i.e. novel target proteins, clear patient stratification and related biomarkers. However, this new biological information about the disease will not help the patients and society if researchers are not able to be agnostic with regards to the Modality of intervention. Therefore, it is important to develop new treatment technologies and this Ecosystem includes initiatives for those.
Holmström explains why the Ecosystem is completely different from what he and his team do at Orion: "Setting up the Ecosystem is much more different from what we do. We are now a fully functional team looking specifically at biologic drug development."
"What we focus on are novel therapeutic interventions. Orion has a 100-year history focusing on small molecule therapeutics on different kinds of diseases or indications. Now we are expanding our capabilities so that we can select the best mode of treatments for our patients. We have established biologics function that is up and running. Currently, we are extending that part for sure, and aim to build upon this in the coming years. And in addition to that part, we are also introducing more novel technologies such as therapeutic nucleotides and gene therapy."
Delving further into the therapeutic intervention aspect of their research, Lehtimäki provides a further overview of what that entails: "Regarding the New Modalities System, this mostly covers different kinds of therapeutic oligonucleotides, like siRNA, or ASO's.
These, in summary, are nucleotides that are targeted inside the cells to modify the gene transcription and translation to the proteins. In addition to those technologies, we [at Orion Pharma] are also evaluating gene therapies that might be a really important part of our treatment Modalities. However, these new models are currently in the early phases and we are simply evaluating how to best proceed with such technologies."
Talking more about gene therapy, along with the current research and new research aspects for Orion Pharma, Lehtimäki explains: "Regarding the gene therapy, as mentioned beforehand, we are just evaluating how to go forward and trying to identify partners which we could collaborate with. When we are talking about this new treatment Modalities, monogenic rare diseases are a less heterogenic disease field to apply these new technologies, by gaining a deeper understanding about the technologies in the diseases which pathologies are more understandable."
Challenges of the Ecosystem
Although Orion extends its biopharmaceutical capabilities towards biologics (therapeutic proteins) and in conjunction systematically evaluates other advanced treatment Modalities. Potential target proteins of some diseases are unreachable for traditional small molecular drugs, which is shifting the pharmaceutical interest also towards large biologics aimed at affecting the protein expression already in preliminary states. This is done in collaboration with the Ecosystem technology partners from the University of Turku. Here, Virta describes the challenges from the university aspect of the New Modalities System.
"I understand much better regarding how all of these institutions and pieces of information support one another in the same Ecosystem. For example, I have seen more specifically what kind of academic research and training aspects are needed to support the Ecosystem.
We need to train specific scientists who can transfer information smoothly not only between academy and industry, but also between different research fields (e.g. protein engineering, bio-organic chemistry and cell biology). The current doctoral programmes in universities often train scientists of too narrow expertise. Proper research and training together is the ground for the Ecosystem."
Virta added the emphasis of how important the collaboration is when transferring and sharing information from different research groups: "For example, if we [at the University of Turku] are talking about antibodies, and oligonucleotides, and we are sharing our expertise, it is important to understand what industry is doing, and how they are conducting and implementing research. On the other hand, the industry needs to understand what we are doing and how we are conducting research. It is completely different when taking the academic aspect to the industry aspect, as they understandably operate in different manners."
What novel medicines will eventually be available?
Lehtimäki adds: "Oligonucleotides of course, are very well-known treatment Modality. But the major problem here is how we can provide targeted delivery of them to specific tissues. We do not have this biological expertise in-house, therefore this knowledge will come from other partners.
"This three-year public-private project is a too short period of time to develop new treatments, but we are now building up competencies and capabilities for the future. We will have different types of Modalities, including biologics, for the implementation of this targeted delivery, exploring different treatments and so on is an important part of this collaboration, as we need to ensure we can get the right medicines to the right place at the right time.
"Rare disease is one of our research areas, the other two are CNS (central nervous system) and oncology. Ultimately, we aim at delivering new treatment therapies for all of Orion's therapy areas, but we are starting with the rare diseases therapy area."
Virta adds: "For targeting delivery, the goal from our part is to identify how we can identify, prepare and apply antibodies for the targeted delivery."
"I believe the interesting part is making it possible to combine New Modalities with more established biologics and also combining the differing knowledge from the involved institutions all of which complement one another nicely." Holmström concludes.
Antti Haapalinna
Orion Corporation
+358 10 4261
antti.haapalinna@orionpharma.com
This article has also appeared in Health Europa Quarterly Issue 11, which is available to read now.