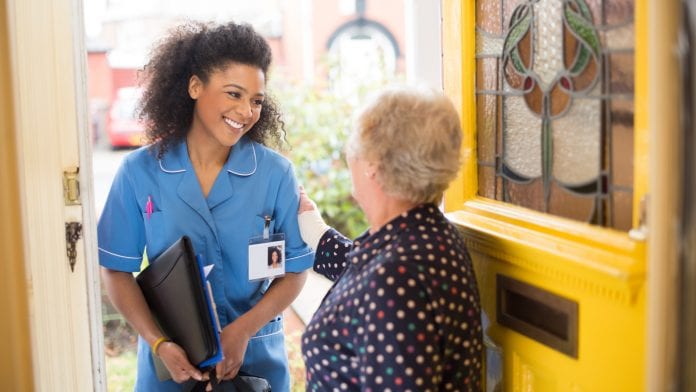 Peter Markham of the Immigration Advice Service details the limits of technology in healthcare and why Artificial Intelligence (AI) is not an 'oven ready' fix for the country's needs.
The World Health Organization projects a global healthcare workforce shortfall of about 14.5 million by 2030. In the UK, social care already faces huge recruitment challenges; and it is thought staff shortages could reach almost half a million, in large part due to the government's new immigration policies. Restrictions due to come into force in December 2020 will mean that the government will no longer be able to rely on EU nationals to fill workforce gaps. The result will be that very soon no migrant care workers at all will qualify for a Tier 2 Work Visa, unlike doctors and nurses who will be able to apply for an NHS Visa. So how can technology in healthcare help, and what are its limits?
Is technology a viable solution for healthcare?
The UK government is looking to Artificial Intelligence (AI) to plug the gap. It wants to develop so-called 'care robots' which can do things like help an elderly person up after a fall, deliver food, and ensure adherence to crucial medication.
These are ideas worthy of consideration, but current investment is a drop in the ocean and time is not on the government's side. The plans are also fraught with ethical and social questions which need thinking through: if algorithms can become corrupt with human biases, as shown though the Home Office's own visa scanner, there are clear concerns over how patient care and treatment might be affected.
However, throw in the coronavirus pandemic and soon it becomes clear that the cash required to develop all the technology needed is woefully lacking – and the debate becomes even more challenging and complicated. Our characteristic instinct for human contact is being challenged as never before. It is understandable that doctors, nurses and care workers may well long for more automation and robotic aides which could eliminate the need for human workers to be close to the infected, thereby obviating health risks.
At the same time, there is now a steady flow of examples showing how technology helps prevent the spread of the virus and save countless lives: medical staff can now make diagnoses via a video call; drones have been warning residents to stay indoors; while machines are busy disinfecting streets. Video conferencing and online communication has enabled the UK government, among many others, to operate largely remotely. Millions are participating in physical exercise together through the power of YouTube. Tracking mobile phone apps are even helping authorities worldwide to understand how and where the virus is spreading.
As Orwellian as such measures may seem, technology is undoubtedly playing its part in flattening the curve and protecting public health. Technology which can test for the virus might well prove the key to many of us all living lives that resemble something akin to normality, at least until a vaccine is available.
Challenges and risks of healthcare technology
Governments need to get the balance right so that AI and automation always play a positive role in our health and social care needs – yet there are plenty of pitfalls. It is true that there are already surgical robots and robotic 'pets': these can perform intricate medical procedures or ease feelings of depression and social isolation which are experienced by elderly patients and those with dementia, for example. Such technological advancements can have an array of positive effects, fulfilling the mundane tasks and eliminating the arduous paperwork load which staff are often burdened with. But for every problem AI claims to solve there are bound to be consequences, some of which may not always be beneficial.
There is a danger that robots might just be too convenient for those who have to manage the complexities of social care governance. After all, robots have no need for a visa; and they are not very demanding when it comes to workers' rights. A robot's annual appraisal is the stuff many managers might dream of.
It is worth bearing in mind that robots still lack human empathy. Technology lags behind when it comes to tasks that need the nuances of emotional intelligence. Perhaps a 'care worker visa' might be a better fit to meet specific kinds of healthcare demands in the immediate future, but that raises another issue to consider: there is concern that AI used in the public service could discriminate against some people, notably regarding nationality and gender. This is partly due to a lack of transparency into the algorithms used to weed out and filter visa and job applications. If these processes go unchecked, then it is possible all sorts of disturbing biases could ensue.
Addressing complex needs
When it comes to health and social care, the metrics related to AI focus matter. These need to focus on the outcomes for individuals, families and the wider community rather than just on cost and processes. And even so, the cash pledged is just a drop in the ocean (nowhere near enough) to develop all the technology UK hospitals and care homes need in just a handful of months. Often, there is no 'one size fits all' when it comes to solving care needs. It is the random complexity of the human condition that is perhaps the biggest challenge for AI. It takes the skill and experience of a person to help in certain situations. Humans can evaluate with kindness the subtleties and challenges that face those with the most intricate needs, in a way that machines still cannot.
Older and disabled people may experience feelings of exclusion in part because they are not familiar with technology in the same way as the majority. They need technological solutions which are appropriate for their own skill set, goals and experiences.
If we took technology to its extreme in the entire healthcare sector, there might be very few medical and care professionals left – but it is through human interaction and creativity that we can evaluate what the needs and successes are of a caring society. With the right balance, technology can support the UK's care workers. The aim should be to add value to care rather than to simply reduce the number of carers.
Nobody has yet invented technology that can fill all the gaps, however much governments might wish they had. To that end, the care sector should be able to draw on the skills of as many qualified workers as possible. Closing the door on a reliable source of skilled staff through draconian immigration rules is not a long term solution, and unsettles public confidence. The fear that the frail could end up neglected is underscored by the pressing threat of COVID-19.
Peter Markham
Features Writer
Immigration Advice Service
https://iasservices.org.uk/
This article is from issue 13 of Health Europa. Click here to get your free subscription today.