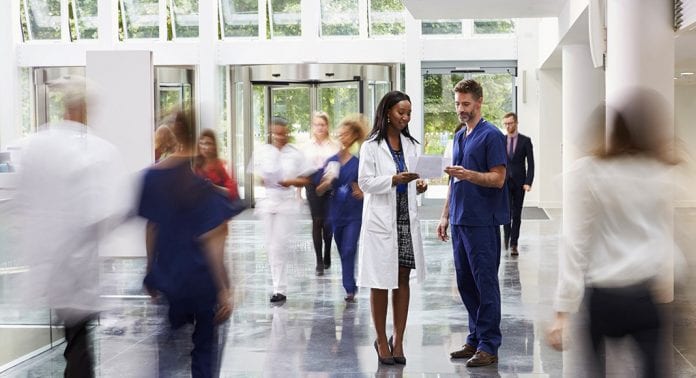 Real Time Location Services provider Quuppa explores the potential impact of adopting location tracking technologies in clinical settings.
COVID-19 has placed global healthcare systems under a huge amount of pressure. Hospitals have had to deal with an influx of patients far beyond capacity, putting significant strain on both staff and resources. In addition, the shutdown of most non-COVID-19 services during the first wave, combined with drastic changes in patient behaviour, has meant that the NHS is still coping with a large backlog of non-COVID-19 care cases, accumulating greater problems for the future.
As if that were not enough of a challenge, before the pandemic, hospitals were being pushed to their limits. Demographic changes were already placing an increasing burden on them. An ageing population and an increase in both chronic disease and behaviours that are detrimental to health all contribute to an increasing demand for healthcare services. Despite this, in the UK, it was found that staff within the NHS have to log in up to 15 different systems to do their jobs properly. This is a huge waste of time, resulting in reduced patient care as well as loss of revenue. Despite the potential benefits of new technologies, it is generally acknowledged that their adoption within the healthcare sector is slow.
Outdated stems are also vulnerable to cyberattacks. A study by Palo Alto Networks checked 1.2 million Internet of Things (IoT) devices in thousands of locations across enterprise IT and healthcare organisations in the United States – and found that 83% of those devices were running outdated software, making them vulnerable to attacks. It is no surprise, then, that according to recent research from cybersecurity firm Check Point, cyber-attacks in the healthcare industry have increased by 45% since November 2020. Essentially, health and care services are an easy target.
Digital transformation
Perhaps the only silver lining of COVID-19 and overwhelmed systems has been the renewed spotlight on digital transformation. Prior to the pandemic, telemedicine, Artificial Intelligence (AI)-enabled medical devices, and blockchain electronic health records were just a few of the concrete examples of digital transformation in healthcare. These technologies were completely reshaping how patients interact with health professionals, how data is shared among providers and how decisions are made about treatment plans and health outcomes. However, recently in the UK, a new report by NHS Providers highlighted the key role that technology and digital solutions played as part of the organisation's response to the COVID-19 pandemic. The rollout of virtual consultations, use of AI to diagnose potential COVID-19 patients and deployment of Attend Anywhere and Microsoft Teams at scale across the NHS are key examples of these innovations in action during a troubled time.
Crucially, the pandemic has shown that technology can increase efficiency, streamline processes, support staff and above all, help healthcare teams pivot in response to a crisis. Digital transformation has been on the agenda of many healthcare providers, but has remained only a long-term goal, despite healthcare systems and governments committing to investing more in the technology. In fact, COVID-19 has forced many governments to act and commit to widespread digitalisation within healthcare sectors.
One technology set to transform the healthcare sector is Real Time Locating Systems (RTLS). Location-Based Services (LBS) providers use real-time location insights and location of people, assets and mobile devices in both indoor and outdoor environments. Location-Based Services help organisations turn the data into actionable insights that enable informed decision-making and optimal care, which can improve overall efficiency and increase profitability of facilities.
Stopping the spread of infection
In terms of RTLS benefits, a good example is monitoring hand hygiene compliance within hospitals to stop the spread of infections between patients and staff. As shocking as it may seem, research has shown that some healthcare professionals clean their hands less than half of the times they should. Ensuring hands are kept clean is one of the most important measures healthcare staff can take to avoid spreading infections across throughout hospitals.
Location technology can be used to track the usage of soap dispensers, including when staff approach the hand hygiene station, whether they use the soap dispenser, and the amount of time they spend in the zone surrounding the dispenser. By combining both hand hygiene data and staff positioning, the technology can notify staff if they have been exposed to infectious diseases such as COVID-19 or other influenza-based viruses in locations where they have been. This ensures that vulnerable and elderly patients are protected from diseases that can be prevented with simple hygiene measures.
As an example, the University of Fukui Hospital implemented a hand hygiene monitoring system using location-based technologies to improve the hand sanitising habits of medical staff. The hand hygiene practices were automatically monitored, without interrupting normal work by health care staff. After implementation, the number of times medical staff performed hand hygiene measures while attending to a patient increased by more than 300% as a result of visualising the presence and timing of hand hygiene practices.
Monitoring assets
Another benefit of RTLS is the potential it offers in terms of monitoring assets. Healthcare equipment is expensive to replace, and this technology can prevent equipment from going missing in the first place. Healthcare workers can keep track of where everything is in real time. If a piece of equipment has been moved from a certain area, hospital staff will be able to locate exactly where it is and send someone to retrieve it. Furthermore, placing RTLS on hospital assets means that healthcare professionals can track equipment immediately when time-critical medical emergencies occur instead of having to search manually for it, potentially saving lives in the process.
Taking this one step further, during the COVID-19 pandemic we have seen how hospitals have had to borrow equipment, such as personal protective equipment (PPE), when they do not have enough in stock or have run out. With RTLS, hospitals can see if other facilities in close proximity have enough of the equipment they need. Collaborating with other healthcare facilities in this way means that staff will not necessarily need to order more equipment, but instead can borrow from hospitals nearby.
Automation
As well as this, implementing RTLS enables hospitals to automate inventory counts, freeing staff up to help with patient care. As stated earlier, today's healthcare facilities are facing increased patient volumes as well as higher expectations for patient experience and satisfaction. To meet these growing demands, they need to eliminate wasted steps and create more streamlined workflows. RTLS can also alert staff of upcoming medication expiry dates, as well as monitoring and maintaining optimal temperatures of the medication.
Increasing security
Beyond the above use cases, RTLS can also help hospitals and healthcare facilities to increase their security. Many hospitals house vulnerable patients or those in mental distress, as well as volatile or intoxicated patients. Tags can be placed on room doors which trigger an alert to staff if these patients start wandering around the facility or go outside allocated areas. Having this knowledge means healthcare workers do not have to monitor these patients day and night, freeing up time for them to spend with other patients.
Future-proofing hospitals
Similarly, the technology can help to future-proof hospitals against crises like COVID-19. For social distancing purposes, the tags can be placed on healthcare workers' badges and send out an alert if they get too close to others. With this in mind, if we are required as a nation to socially distance again at some point in the future, RTLS technology ensures hospital settings will be ready. Meanwhile, if staff or patients have been exposed to an infectious disease like COVID-19, RTLS can provide an audit trial of where they have been. Managers can then go back and trace who has been in contact with infectious person(s) and tell them to isolate.
More hospitals are now using RTLS for efficient management of hospital settings. The technology can improve patient care by increasing the time clinical staff are able to spend with patients, reduce costs and increase resources and security of facilities, which increases overall profitability. The data can also be used to track and report key metrics, such as door-to-doctor time in the emergency room, patient throughput and wait times. Hospitals can keep track of this data and alleviate any inefficiencies or problems straight away. For hospitals of the future, RTLS-powered mobile application will be used to direct visitors to patients on their mobile device or on digital signs.
As seen above, location-based technology has the potential to transform healthcare systems. We expect to see RTLS and LBS to become the 'new normal' in hospital settings as their benefits become common knowledge. Moving forward, as we emerge from the pandemic, industry leaders need to adopt the technology to transform healthcare sectors and future-proof them against infectious diseases.
This article is from issue 18 of Health Europa. Click here to get your free subscription today.
Contributor Details