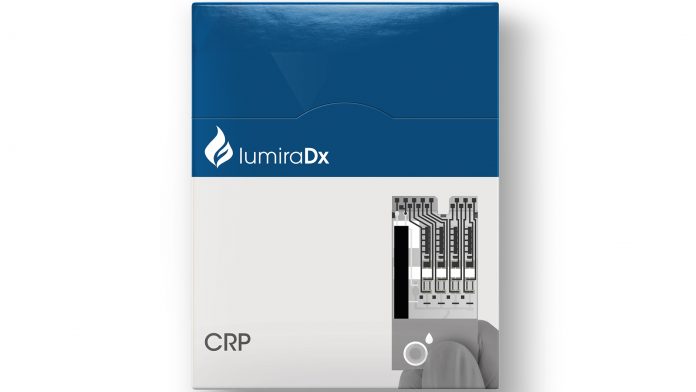 A cutting-edge, novel C-reactive protein test has successfully achieved CE Marking, a significant advancement in infection diagnostics.
Developed by LumiraDx, pioneering experts in the field of next-generation point of care diagnostics, the new C-reactive protein (CRP) test has the potential to change the landscape of diagnostics in the healthcare sector, boasting exceptional performance.
The LumiraDx C-reactive protein test is a small, portable, fully-automated microfluidic immunoassay test employed for the quantitative determination of C-reactive protein, achieving results in a mere four minutes.
How does the C-reactive protein test work?
Analysing C-reactive protein is essential for gaining crucial information for detecting infection and inflammation. For patients with respiratory symptoms – especially suspected pneumonia – elevated C-reactive protein indicates that antibiotic treatment is required. In contrast, normal or low CRP levels suggest that the patient has a viral or self-limiting infection that does not need antibiotics.
The LumiraDx C-reactive protein test expertly examines direct fingerstick, venous whole blood, and plasma samples within a range of 5.0 – 250.0 mg/L. The assay is run on the state-of-the-art LumiraDx Platform that can be utilised at the patient side in primary and community care, patients' homes, and hospital emergency care settings, enabling rapid, reliable test results to facilitate efficient decision making.
Combatting antimicrobial resistance
Clinicians can employ the LumiraDx C-reactive protein test to assess infection, tissue injury, and inflammatory conditions. Additionally, the test can also provide insights on how to reduce the prescribing of antibiotics when not necessary, aiding in fighting antimicrobial resistance.
Despite the use of antibiotics declining in England during the COVID-19 pandemic, studies have illuminated high rates of antibiotic prescribing among COVID-19 patients, highlighting the unnecessary use of antibiotics and that antibiotic-resistant infections may return to pre-pandemic levels.
"Antimicrobial resistance is a growing concern across the globe, and if left unaddressed, will lead to a serious public health crisis. While the causes of antimicrobial resistance are complex, growing evidence suggests that improving the clinical diagnosis of respiratory infections in patients is a key component in tackling unnecessary antibiotic prescribing rates," said Professor Jonathan Cooke, visiting Professor in the Department of Surgery and Cancer, Faculty of Medicine at Imperial College London. "Having access to rapid CRP-POCT diagnostic tools has been shown to support healthcare providers when making prescribing decisions and helps improve the management of respiratory infections."
Ron Zwanziger, LumiraDx Chairman and CEO, explained, "The addition of CRP onto the LumiraDx Platform will be critical this respiratory season to provide clinicians with a variety of tools to aid in the assessment of patients and their need for antibiotic treatment. Including the assay on the LumiraDx platform along with our COVID-19 and Flu A/B tests will enable clinicians to make important treatment decisions at the point of care."
The LumiraDx C-reactive protein test will start being shipped imminently. Furthermore, the company recently announced their CE Mark for the LumiraDx SARS-CoV-2 & Flu A/B Antigen Test just last month.
Recommended Related Articles