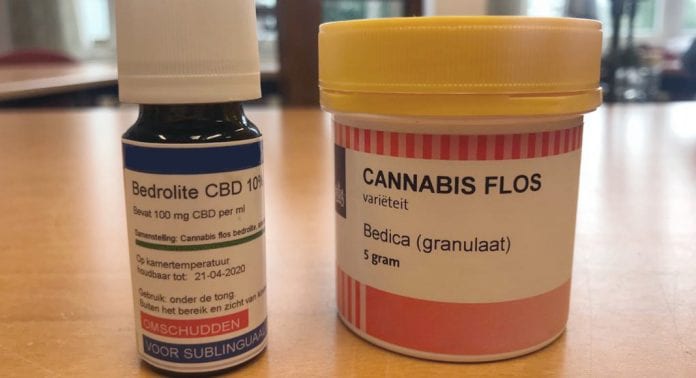 Medical Cannabis Network brings you an exclusive insight into the journey of a UK pharmacist travelling to import medical cannabis prescriptions back to the UK.
Desperate families are travelling overseas to pick up medical cannabis prescriptions themselves, only to be stopped at UK customs and have their prescriptions taken away.
A cannabis company called LYPHE Group does not want this to happen, and has decided to collect the medicines via its import distribution and pharmacy business.
Chris Ashton, Chief Pharmacist for LYPHE Group sees the suffering of patients who need medical cannabis on a daily basis, and believes that patient experience and access in the UK is not good enough. LYPHE Group is Europe's first end-to-end solution for medical cannabis, and one of its companies, Astral Health, facilitated the first bulk import of medical cannabis in the UK earlier this year.
Since the legalisation of medical cannabis in the UK in November 2018, only a handful of patients have been able to access the medicine. However, getting that access is not easy.
Current regulations require medical cannabis prescriptions to be ordered on a named patient basis and are only accessible through a private clinic by a doctor on the GMC's specialist register. These medicines can be difficult to access as most manufacturers are based overseas. This means that despite however quickly a prescription might be turned around, it can still take weeks or months to get the medicine into the country.
A journey to the Netherlands
For Chris, this is not the usual Monday morning at the office. Flying out to Amsterdam to meet a supplier of cannabis medicine – Chris is one of the first UK pharmacists that has made the journey abroad to collect a prescription.
Chris has all the necessary licences in place – but families who are taking the risk to get it themselves do not necessarily have all the right paperwork.
We are travelling with the first UK pharmacist to pick up medical cannabis. How easy will the process of getting these prescriptions be compared to the UK?#MedicalCannabis | #CannabisNews

— Medical Cannabis Network (@MCN_Global) October 28, 2019
The Office of Medicinal Cannabis (OMC) is the Netherland's government office which is responsible for the production of cannabis flower for medical and scientific purposes. The pharmacy acquires its flower from the OMC and manufactures its own oil on site.
The brand of oil is not routinely manufactured so is only available from this particular site. These prescriptions will last anywhere between one and three months depending on the dosage needed by the patient.
Chris said: "This oil does not have a licence to be exported by normal means into the UK – meaning many families are travelling out to get it themselves and having it taken off them once they return to the UK.
"We are able to collect these prescriptions this time – but it is logistically impossible for us to go out and collect it on a daily basis as is required. Many doctors are waiting on the NHS and the regulatory bodies to catch up with patient demand. We have gotten close, but still not managed to get the regulation we need to get these prescriptions into the UK much easier than it is now.
"The NICE guidance needs a price point that is considerably cheaper than what patients are currently paying. For instance, patients face paying licence fees of up to £155 in total before they have even considered the cost of the medicine."
The pharmacist in the Netherlands says it is a 24 hour turn around for medical cannabis prescriptions here. In the UK it can take anywhere between two weeks to three months. Is this good enough for suffering patients?#MedicalCannabis | #CannabisNews

— Medical Cannabis Network (@MCN_Global) October 28, 2019
Patients in the Netherlands have had access to medical cannabis since 2003 and prescriptions are turned around in 24 hours. For the pharmacy here prescribing cannabis is a normality, and for patients, so is collecting it over the counter. This is a world apart from the UK where the word "cannabis" has so many negative connotations, and where the plant is not yet fully accepted as a medicine in many people's minds.
It was a brief and informed process to acquire the prescriptions once all checks were in place. This is the front line of service in the Netherlands where medical cannabis prescriptions are a commonly accepted medicine.#MedicalCannabis | #CannabisNews

— Medical Cannabis Network (@MCN_Global) October 28, 2019
At the pharmacy, all prescriptions were checked along with the paperwork with no issues, leaving Chris to make his way back to the airport and prepare for UK customs.
Importing into the UK
Two licences are needed to get medical cannabis prescriptions into the UK – an import licence from the Medicines and Healthcare products Regulatory Agency (MHRA) and a controlled substances licence from the Home Office. Getting the licence can take up to 28 days – which, for patients with complex needs is sometimes too long.
With all correct documents in place from the Home Office will customs be a problem?#MedicalCannabis | #CannabisNews

— Medical Cannabis Network (@MCN_Global) October 28, 2019
Chris said: "Getting the documents takes up to 28 days, however, because of the tight timelines I went to collect the paperwork this time to help speed up the process. You have to pay for a new licence each time you import the medicine – all at the cost of the patient, which for most people is just too expensive.
"For imported cannabis from Canada there is a currently a nine-week backlog, so in theory it could take 28 days, but the import is taking much longer, and prescriptions are only valid for 28 days meaning by the time we receive the goods the prescription has expired.
"The MHRA and Home Office want to move quicker, but if prescriptions are on a named patient basis as the policy states, we can't bring it into the country in bulk which is what is needed."
Many parents take this risk to get medicine for their children, only to have their medicines confiscated when they get to the airport.#MedicalCannabis | #CannabisNews

— Medical Cannabis Network (@MCN_Global) October 28, 2019
Getting through customs in the Netherlands was a straightforward process – an obviously familiar sight in this airport. After a check of the documents Chris was waved through, ready to face UK customs.
In London, security was less familiar with the process of bringing back medical cannabis prescriptions, and Chris was pointed in the direction of "items to declare". Here there was a thorough check of all the documents and prescriptions.
One staff member noted she had dealt with some cases of parents bringing back cannabis for their children, the majority of the time not having the correct documentation. If there is not the proper paperwork, then it cannot be let through.
Paperwork is not the only obstacle for parents. For those who need to care for their children round the clock, travelling to another country to pick up medicine is neither logistically nor financially feasible.
With all checks completed and documents accounted for the prescriptions made it through! A win for the patients. #MedicalCannabis | #CannabisNews

— Medical Cannabis Network (@MCN_Global) October 28, 2019
Chris said: "Prescribers are asking me why it is such a ridiculous wait for the prescriptions to be imported – they are seeing the desperate people, but I have no answer.
"We can turn the necessary licences around in 48 hours here, but then there is potentially a nine week wait if the product is coming from Canada. Doctors want to help – so that message is not a nice message to deliver to patients.
"The flower used to make this oil can be exported but the oil itself can't – the difference with this particular oil is that it has a high content of CBD and low content of THC, which is very hard to access.
"Patients were given this prescription two weeks ago – ideally it would be ready the next day but is not always possible.
"There is also a lot of paperwork and expense, and ultimately – it is the patients that matter. This is about trying to open up imports and help patients out while making the government see the value of cannabis."
Medical cannabis prescriptions: the evidence
Tens of thousands of studies have been carried out on medical cannabis, however, only a handful have been accepted by UK bodies. This is a huge hold back for patients, but Chris notes that it is a slow process for a reason.
Chris said: "There is a lack of evidence in the format that NICE wants to see. The UK has a gold standard of evidence that is world renowned.
"Currently, there are 22,000 data points out there of which NICE have accepted only a handful. This is because they were not in the correct format. There has been no budge on what kind of evidence they would accept, even though the industry has been screaming that other medical markets have had years and years of conducting trials.
"The NHS and NICE won't look at research from countries that don't meet the UK's standards. However, the positive news is that recently there have been a number of politicians saying we should look at what Israel, Canada, the US and Germany have been doing.
"As a nation we are quite reserved in the way that we approve medicine, and I think that there is merit to the way we do it. In the US they reschedule drugs pretty frequently. They accept a drug then, half a year later, those drugs are no more.
"Here in the UK we have a more long-winded approach, but this means the drugs we do accept are safe for patients.
"On this occasion, however, there is clear as day observational studies that prove validity of cannabis as a medical product that benefits specific conditions, which they are not taking note of. There is a certain degree of prejudice – but the standards we set are so high."
Changing hearts and minds
Cannabis has a lot of ground to cover in the UK before it becomes an accepted medication, is more easily accessible and is accepted the way it is in the Netherlands and countries such as Canada.
Decades of news reports of the dangers of recreational cannabis have created a huge prejudice against the plant.
Chris said: "If you say 'cannabis' people automatically think 'CBD'. You can buy 'CBD oil' in the petrol station and your local corner shop, and people think that this is a medical product, but it is not.
"It is the THC active ingredient strength not the CBD side of the plant that makes it graded as medical. However, it needs to be made clear that CBD oils sold in shops are not of medical grade – they are novelty products.
"Doctors and pharmacists have only been educated about cannabis in the last year or so – meaning they are not yet overly comfortable prescribing the medicine. There needs to be education now, which our other business, The Academy of Medical Cannabis, takes care of. Medical practitioners need to learn about cannabis, how to prescribe it, how to titrate, and so do patients.
"Until both patient access and education about cannabis are improved – patients will still find getting a prescription a lengthy, difficult and expensive process."