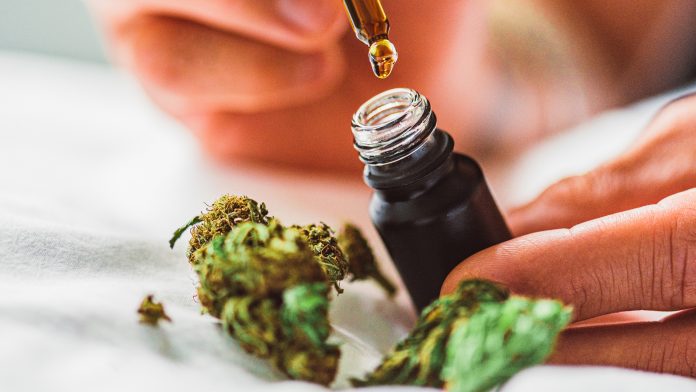 BRITISH CANNABIS™ has successfully launched a major media campaign for CBD in the UK, a significant milestone for spreading awareness and changing perceptions about the products.
The new advertising endeavour for CBD in the UK is part of a £500,000 awareness and recruitment campaign for 2022/23 and features a target demographic of people aged over 45, who are health-conscious UK consumers. The advert features the company's range of 100% cannabis CBD oils, full-plant oral capsules, CBD Dermal Patches and CBD Rescue Cream®.
This is the second effort from BRITISH CANNABIS™ into mainstream TV advertising, the first coming in 2020, showing its affordable low-price CBD range, Access CBD™. The new venture is designed and distributed by The TV Agency, an independent and one of the fastest-growing advertising agencies in the UK.
What is included in the advertisement?
The BRITISH CANNABIS™ campaign follows the style of classic health and beauty adverts, aiming to change the attitudes towards cannabis products like CBD in the UK. The products featured have won a range of magazine industry awards, including the P3 Pharmacy Magazine 2021 Most Valuable Product Award, the Independent Community Pharmacist 2022 CBD Product of The Year and Your Healthy Living magazine's 2022 Silver Award for Best CBD Product.
The TV advert will also boast the company's Trustpilot Rated Excellency status, with over 1,250 customers giving the brand a five-star review over multiple years of business. It will be broadcast across a plethora of TV stations covering a range of genres, such as entertainment, documentary, sports, film and news channels across the SKY and Channel 5 networks. It will mark the first time that SKY network has broadcast an advert for CBD in the UK since 2019 on their linear stations.
BRITISH CANNABIS™ Managing Director, David Ralson, commented: "This is a monumental moment for our industry, as this is the first fully-approved TV advert to use 'cannabis industry' terminology, including iconography of the industrial Cannabis sativa L. plant itself, reference to our 100% Cannabis-based formulas and real-life consumers using our products.
"We are tremendously proud to have achieved this, not just for our customers and stakeholders, but also to open doors for the wider cannabis sector by breaking barriers and bringing cannabis consumer products ever closer to the mainstream."
The company successfully started to sell its CDB products on eBay UK earlier this month, one of the first companies to trade CBD in the UK on the platform, providing consumers an outlet to purchase tested, trusted, and effective CBD supplements and cosmetics.
BRITISH CANNABIS™ Marketing Director, Steve Batchelor, added: "Whilst the CBD consumer base has grown steadily for the last half-decade and with a lot of market hype in recent years, it has by contrast been very difficult to talk frankly about CBD products in traditional advertising mediums, due to obvious issues. Thousands of people come into the CBD food supplements category with a variety of health issues and health-related questions, but the responsible companies in the industry have needed to steer clear of health clams. Thus, discussion of cannabis-based products in advertising to date has needed to stay necessarily vague – most companies have needed to advertise without actually saying much about the products themselves.
"What is new here though is that CBD by BRITISH CANNABIS™ has been able to take its 6-plus years of industry experience and showcase tested, trusted and compliant products in ways that humanise and normalise cannabis-derived consumer brands, whilst keeping a premium, lifestyle brand identity, to match the new look and feel of our revamped flagship brand."
BRITISH CANNABIS™ CEO, Tom Whettem, concluded: "It has been quite a break-through by the team, to say the least, to be able to even mention the word 'cannabis' and topics like our THC Free status on UK television. Consumers old and new are encouraged to place trust in CBD products by our THC Free assurances and the BRITISH CANNABIS™ dedication to accurate products. Having 100% Cannabis, all-natural product formulas with upcoming FSA Novel Foods validation, advertising in UK homes is something we hope is good for everyone in the long run."
About BRITISH CANNABIS™
BRITISH CANNABIS™is the largest producer, manufacturer, and distributor of legal cannabis-derived products, such as CBD in the UK. The company has a unique extraction and purification facility based in England, where it performs analytical testing, creating bulk extracts, and white label products to the UK market leading brands.