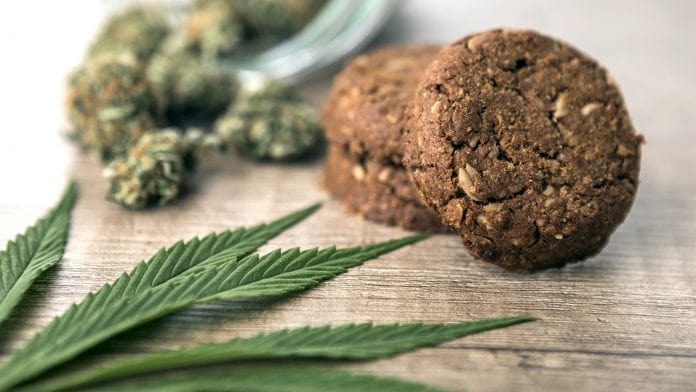 PURE5 Extraction provides innovative technology for your cannabis infused products at a fraction of the cost compared to running CO2, butane, propane, or ethanol extraction methods. Here, PURE5 explores the manufacture of quality cannabis infused products.
PURE5 offers a complete process for creating unique raw materials for your cannabis infused product business within 24 hours so you can fulfil your pre orders with minimum Time to Market. Due the extremely safe and low cost three in one process of PURE5 Extraction, you can setup your extraction lab which needs very little to start making six raw products including isolated terpenes, high-terpene Live Resin, high-terpene Full Spectrum Oil, Broad Spectrum oil, high-terpene Distillate, and high-terpene Dab Wax (diamonds).
Along with PURE5's machines and extraction technology, such as it modified hydrocarbon extraction known as R134a, the company offers complete Standard Operating Procedures (SOPs) and consulting for making strain specific cannabis infused products.
So, what is a cannabis infused product?
A cannabis infused product is any product that contains levels of cannabinoids, from smokable vapour products, edibles, and beverages, to tinctures, oils, and alcohol, to name a few. Concentrates are mainly from the cannabis plant, and can be anything from full spectrum oils, kief, pressed rosin, live resin, to terpenes or distillates obtained from properly processing the cannabis plant.
Edibles are the most common form of infused products, and, if not carefully controlled, could easily result in consumption beyond the normal levels. Infused products are also called marijuana infused products (MIPs) for short. All MIPs are subject to different labelling requirements such as a list of ingredients, cannabinoid and terpene profiles, directions for use, and a disclaimer showing that the product has been analysed or approved by the US Food and Drug Administration (FDA).
The purity of infused products
Purity is a vital factor when it comes to cannabis infused products to create cleaner, safer, and better tasting products. A prime example of the importance of purity in an infused product is kief.
Kief is a powdery substance that is gathered from the cannabis flower trichomes – small hairs on the cannabis flowers that contain cannabinoids, terpenes, and flavonoids. To infuse kief into a product, it is mixed with coconut oil and then added into the product. This concentrate mix is often called "peanut butter." In its peanut butter form, the concentrate is difficult to which is why it is infused into various end products, such as tinctures or edibles, that help the concentrate to be dosed properly.
Even very concentrated kief, due the high level of chlorophyll and wax in it, does not necessarily provide the best experience when used in infused products, which is why the cannabis oil must be processed and refined to a high level of purity before used for infusion.
In order to get to the next level of purity, is the next step is to use a rosin press. The rosin press is a solventless, mechanical extraction that applies heat and pressure, minimising the amount of plant matter which still contains high volumes of waxes and lipids that are giving a tint to the taste of the product, into a purer oil.
The purity of all infused products is different because the concentrate base used for the infusion is obtained via a different processing path. Various extraction technologies deliver different values from the cannabis plant, so it is important to pick the right infusion best for the best quality infused product. For example, a hydrocarbon extraction will provide a waxy, high terpene base, CO2 and ethanol extraction will provide a good base for a distillate, and R134a will bring the full terpene and strain specific profile.
The process of starting your own extraction lab is a strategic business that can bring you to the market very quickly. To do this it is vital to select the right extraction methods for you, and how that will impact your plan of action.
Compliance
When you build an extraction lab, always be ready to scaleup, and there are a few things you should consider when you build a lab. For example, the hydrocarbon process due its flammability requires special C1D1 construction, licensing, and permits, and it is difficult to scale due the same reasons – however, it produces quality waxes and resins that are currently established on the market.
The CO2 has is revered as a solventless method due the fact that nobody tests for the presence of CO2 in the end products. You will not need C1D1 rooms for this, but you must provide heavy ventilation and CO2 testing since the CO2 is dangerous at concentration levels over 8%. Although the extracts obtained have high wax content, they need to go through ethanol dewaxing so both solvents need pressurised, ventilated, and controlled environments for their creation.
Using ethanol, you will not need the C1D1 facility rating but it is a class IB flammable liquid and requires certain 29 CFT OSHA, NFPA 30, and IBC guidelines to be met in order to be safe. Also, a handling registration from your local state liquor commission will be required.
The last of the four extraction technologies developed by PURE5 for cannabis infused products is the modified hydrocarbon or R134a. This uses a non-flammable, non-pressurised, and non-toxic extraction process that does not require any of the above registrations and provides ready to use live resin and concentrate products that are ready for market in 24 hours – even in their concentrated form as isolated cannabis terpenes and distillates.
Internal controls
There are multiple methods and results to outsource raw materials and make good products, which is why starting with a plan and correct internal controls are very important for a successful venture. A good example is with the restrictions of banking, traceability, and quality control in the cannabis industry.
Complete vertical integration is also a good position to be in, however, the challenges are bigger. That is why starting small, understanding the restrictions of the industry, and growing organically is the most risk free approach in this industry which is developing its regulations as it grows.
Another key point to creating an efficient process is to make it when it is ordered. Be sure you have guaranteed access to all raw materials and that you are already prequalified. Customers want repeatability and consistency, fixed costs, and good results. Conserve cash by keeping a low inventory and easy tracking system for regulatory and SOP for all products and mixes you have. Lab and testing requirements should be in place as well. The use of external labs affects the turn time, there are low cost first cut testing solutions that may be available to make the process more agile.
Resources
Selecting your facility is a key. The ideal site would have to have a big kitchen/lab that will make your infused products, plan for expansion from the beginning so that later, when integrating other verticals, there are no restrictions. Consider the 3 P's when you start: Power, Product, and People, to be available.
Selecting your products is not difficult either. Find a brand that you like and look for some background on it. Go to the industry sires and read the articles, contact the authors, ask questions. Even people do not tell you what exactly they do, ask. Find the people that created the products, talk to them and learn. The cannabis industry is uncharted territory for the most part, and you may find a lot of untested ground that you can explore and create new products.
Conclusion
There is a lot you can pick up from the history of cannabis. The industry is young and it is constantly changing while is still little undefined. So, watch your clients, regulations, and performance. If we are determined to make cutting edge products, we need to get there by improving our commitment to the people following us.
Combining various herbal remedies with cannabis is one innovative way to go. Making cannabis infused products is like preparing gourmet food and high-end cosmetics. There are many worldwide developed cannabis infused products that are different in various regions of the world, so learning internationally and bringing those lessons home, whilst also adapting them for our customer base, is very important.
Special thanks to MITA Arizona for their support!
Dr George Stantchev
CEO
COMERG LLC
george@comerg.com
+1 (602) 992-0744
www.thepure5.com
Recommended Related Articles