Introducing Marodyne LiV, an innovative osteoporosis treatment that expertly inhibits and mitigates the condition, significantly boosting bone health.
Low-intensity vibration (LiV) is a clinically proven osteoporosis treatment that naturally prevents and combats osteoporosis while improving movement, flexibility, and freedom. Marodyne LiV is the world's first medical device that is safe, scientifically proven, and certified to prevent the condition and naturally improve bone health.
How LiV works
Bone responds to both large low-frequency and small high-frequency forces that encourage bone growth and maintain bone health. Marodyne LiV delivers an exact low-level vibration (0.4g) transmitted at a high frequency (30Hz) to the person standing on the device. The low-intensity vibration stimulates osteoblast (bone-building) activity while inhibiting osteoclast (bone resorption) activity.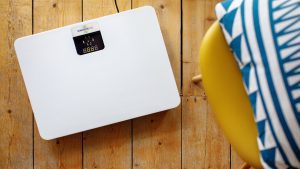 Studies have established that just 10 minutes of low-intensity vibration a day can help to keep bones strong and healthy. A study involving young adult females with low Bone Mineral Density (BMD) found that short bouts of LiV increased bone and muscle mass in the weight-bearing skeleton.
Furthermore, in peer-reviewed research involving frail elderly participants, women who used low-intensity vibration for 24 months demonstrated a 10% greater femoral BMD compared to women in the placebo group.
Valuable non-drug intervention for osteoporosis
Marodyne LiV has excellent potential as a non-drug intervention for osteoporosis. Unlike bisphosphonates, which are commonly used as an osteoporosis treatment, low-intensity vibration has no side effects or contraindications. Easy to use, compliance with this therapy is high, and it may be used indefinitely with confidence.
Preventative approach
Low-intensity vibration plays a valuable role in preventing osteoporosis for those at risk of developing the condition, particularly pre-and post-menopausal women. The female hormone oestrogen helps to maintain bone density to keep bones strong. As levels of this hormone drop at menopause, bone resorption increases, leading to an acceleration in bone loss.
Benefits of Marodyne  LiV
Clinically-approved
Maintains and increases bone mineral density
Prevents osteopenia and osteoporosis
Drug-free treatment
No contraindications
No side effects
Straightforward and pleasant to use
10 minutes a day
The Marodyne LiV device is available from:
MyBones
www.mybones.health
+44 (0)117 253 0400
Recommended Related Articles