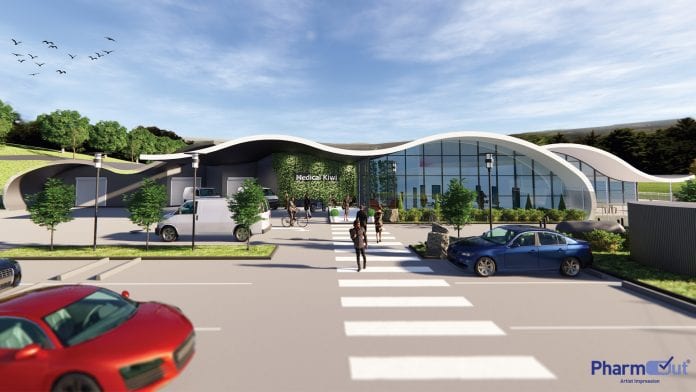 Medical Kiwi are at the forefront of pioneering medical cannabis in New Zealand, here we learn all about their plans in this exciting industry.
New Zealand is currently amid a 'green rush' following the government's decision to pass legislation last year paving the way for domestic, commercial cultivation and manufacture of medicinal cannabis. So, with this newly established legislation allowing the use of medical cannabis in New Zealand, many New Zealand based companies are now racing to be in line to capitalise on the legislative change and Medical Kiwi is well positioned for first advantage.
Far from being a spur-of-the-moment decision, Medical Kiwi co-founder Aldo Miccio's venture into medical cannabis has been considered and well-researched. "The benefit of New Zealand being one of the most recent countries to change legislation is that we've been able to watch what has been happening in the global industry, read the research and listen to the success stories," Miccio says.
"Medicinal and nutraceutical cannabis products had been on my radar for years, but it was the opportunity to meet with a large Canadian company that really helped me to understand the business model and potential of the market. We were just waiting for an opportunity to present itself in New Zealand."
That opportunity came in December 2018 with legislation in New Zealand moving down a path to fully commercialise a medicinal and nutraceutical cannabis industry. The details that will govern the industry are still being finalised with New Zealand's Ministry of Health leading work to develop a medicinal cannabis scheme. The Ministry of Health's public consultation on the proposals for the medicinal cannabis regulations took place in July 2019 with regulations to be made in December and the medicinal cannabis scheme operational in the first quarter of 2020.
According to Miccio, the perception around medicinal cannabis in New Zealand is still in its infancy but is changing as more evidence comes out for its efficacy. "With people's experiences being supported by medical research which continues to identify the therapeutic effects of medicinal cannabis for a range of ailments and conditions, society's views about medicinal cannabis is evolving," he says. A poll commissioned by the New Zealand Drug Foundation in 2018 found that 87% of New Zealanders now support medicinal cannabis for the treatment of pain and 89% support the use of medicinal cannabis as terminal pain relief.
Medical Kiwi is in a unique position being one of a handful of companies in New Zealand with licences to be able to fully commercialise the opportunities that exist in this fast and exciting growth industry.
It is understandable why so many Kiwi companies are keen to break into the market. There are several factors that will contribute to New Zealand holding a strong global position within the medicinal cannabis industry including leveraging its natural strengths of climate and fertile soil, reputation for innovation, sustainable agricultural and farming practices and world leading agronomic research and cropping expertise.
A company with a clear strategy and social purpose
Established in December 2018, Medical Kiwi is an early stage medicinal and wellbeing cannabis research and manufacture company created to take advantage of the emerging medicinal cannabis industry in New Zealand and the global opportunities that it represents.
"We have a clear strategy for research, manufacturing, product, marketing, sales and distribution with an experienced board of Directors who bring to the table vast skills, knowledge and expertise and a proven track record of corporate governance," says Miccio.
The company intends to handle cultivation right through to the production of rapidly evolving consumer goods. "The seed to sale vertical integration approach will set Medical Kiwi apart from the bulk of other companies operating in New Zealand, which might focus solely on cultivation or research," he says.
The plan is for Medical Kiwi to develop safe, high-quality, accessible medicinal and nutraceutical products including oils, balms, tinctures, sprays and creams. Miccio sees potential in anything that can be consumed or applied to the skin for a CBD range. "I was recently invited to a luxury goods conference in New York focusing on cannabis in luxury beauty goods and all the big brands were there."
While there is a strong commercial drive behind the company, the vision is that everyone who could benefit from medicinal and nutraceutical cannabis can access safe, effective high-quality products and afford them. "We have seen how medicinal cannabis can improve the lives of people and believe the products we will produce will effect real change in people's lives and health outcomes," added Miccio.
Life-changing results in fibromyalgia patients
One person to have seen first-hand the significant – in some cases life-altering – improvements to patients health and wellbeing is Medical Kiwi Director and Rheumatology specialist, Dr David Porter.
"Porter's knowledge and experience in this area is invaluable, not only to Medical Kiwi's progress to becoming one of New Zealand's leading cultivators and producers of high-grade medicinal and nutraceutical cannabis products, but also being at the forefront of helping the New Zealand community develop a greater understanding of the medical benefits of cannabis products," says Miccio.
Porter has over 27 years' experience in the medical profession. As a Consultant Rheumatologist, he provides specialist medical and nursing care to people with autoimmune and inflammatory disorders, as well as fibromyalgia patients. Porter is passionate about providing the highest quality medicinal and nutraceutical cannabis products with the considerable benefits they bring to patients.
"About three years ago patients started telling me they had been looking locally to find a producer of CBD, which was at that time illegal in New Zealand," says Porter. "They reported that not only was it the best, most effective treatment they had ever used, it didn't cause any side effects. That feedback came back again and again and again."
Porter has been prescribing imported medicinal cannabis to over 100 fibromyalgia patients for the last 18 months since it became legal in New Zealand. Their treatment and response have been documented with a standardised questionnaire.
"The lack of side effects is the most common feedback patients report and it is what stands medicinal cannabis in complete contrast to all other conventional drugs I have used to treat chronic pain," says Porter. His work in the health service treating and working with patients with chronic pain will be vital to informing Medical Kiwi's research and development of medicinal cannabis and wellbeing products.
Research and development: central to advancing the medicinal cannabis industry
In August, Medical Kiwi was granted a licence to cultivate medicinal cannabis from the Ministry of Health – only the eighth company in New Zealand to receive the licence – which will allow them to establish a cannabis breeding programme for research and development. "This was a significant milestone for Medical Kiwi and confirmation that in just eight months our experienced board of Directors has developed a clear strategy that is already on track," commented Miccio.
Research and development are central to advancing the medicinal cannabis industry and to Medical Kiwi with advanced research supporting the development of safe, high quality medicinal cannabis products. Ongoing research and development, with swift adoption of relevant global technological advancements, will mean the company can be agile in its response to market needs and set an elevated benchmark as pioneers and leaders in the industry.
Medical Kiwi Director, Dr Michael Packer is a natural products biochemist with 28 years' experience. He joined the Medical Kiwi team to help guide the rigorous evidence-based development of natural products to benefit human health.
Over the last 15 years he has been focused on biotechnology from plants, especially algae, an aquatic plant. "Natural products are often complex mixtures and there is huge potential to tailor the constituents of these extracts from plants to benefit human health," says Packer.
"This can occur through processes such as extraction and formulation, but especially through the growth conditions of the source material. The product potential of plants is tremendously affected by their growth conditions, especially the lighting." Packer has extensive experience investigating the effects of lighting conditions on plant secondary metabolite production and the development of industrial processes from this. As a Senior Research Scientist at the Cawthron Institute in Nelson, New Zealand, he manages an indoor algal growth facility and has been involved in establishing commercial algal farms for the biotechnology industry.
He also has extensive experience using custom-built bespoke photobioreactors, enabling algal growth experiments under controlled conditions. A powerful technique he uses in combination is pulsed amplitude modulation (PAM) fluorescence to probe several photosynthetic parameters indicating the 'health' of the plants affecting how well they produce the desired natural products. In recent years a focus has been the extraction and formulation of these, and his work has focused on products with antioxidant and anti-inflammatory properties, then their rigorous testing for beneficial effect. These same approaches can be directly applied to the development of products from cannabis.
"Dr Packer's practical experience and successes give us a great platform to further research and develop solutions for health care issues that are controlled by the endocannabinoid system that cannabis has such a direct influence over," says Miccio.
Medical Kiwi's research schedule is to form collaborations with leading academics and practitioners in the field based on understanding the bioactive components contained in cannabis. "We will seek to research the effects of growth lighting conditions on cannabinoid outcomes, in a replicable way with the goal of establishing protectable proprietary products for different human conditions. Medical Kiwi will develop, or contribute to, certification of standardisation of the beneficial bioactive properties of cannabis extracts," says Packer.
Building international partnerships and collaborations
Strong offshore partnerships and collaborations are opening doors to international opportunities for Medical Kiwi. While Miccio was in the United Kingdom, he had the opportunity to meet with two companies and gain some insight into their operations. One of the companies was Vitality CBD.
As a result of that meeting and further discussion, Medical Kiwi and Vitality CBD have recently signed an exclusive distribution agreement which will enable Medical Kiwi to import and sell Vitality CBD products as soon as the medicinal cannabis scheme is operational in the first quarter of 2020.
This agreement is an exciting step towards our strategy to import and distribute our overseas partner's branded medicinal and nutraceutical products on an ongoing basis to provide New Zealanders with access to safe, high-quality, affordable products while our own locally cultivated Medical Kiwi products are being developed," says Miccio.
Medical Kiwi open for investment
The successful completion of stage one seed funding earlier this year raised NZ $1m (~€575,000), enabling Medical Kiwi to secure an eight-hectare greenfield site, complete design plans for a state-of-the-art facility and apply for licences. The eight – ten thousand square metre complexes has been specifically designed and engineered to align environmental responsibility with commercial objectives, including technology to ensure agricultural and commercial practices are sustainable and harnessing solar energy to power the high-yield grow facility.
"If you want to power a facility using the sun's energy, then Nelson in the South Island of New Zealand is the place to do it, boasting over 2,200 hours of sunshine each year earning the reputation as New Zealand's sunshine capital," says Miccio.
Nelson also has several commercial factors that contributed to the decision to base Medical Kiwi in the region. It's well known as an agricultural hub for the South Island and is at the cutting edge of science.
Medical Kiwi's facility will also incorporate sophisticated security systems, world class growing facilities, growth specific apparatus such as climate control irrigation, lighting bench and extraction systems. The facility will be strategically located for operational logistics and distribution of product.
"We expect our facility to reach full capacity in four years, with staged build costs over this period," says Miccio. When in full production, estimated to be early 2024, the facility is designed to produce 30 – 35 thousand tonnes of dried product per annum, valued today at between NZD $100 – $110 million.
Miccio has recently returned from a successful visit to London, Singapore and Hong Kong where he launched stage two of Medical Kiwi's investment offer; presenting to sophisticated investors and wholesale private investor networks interested in investing in the future of Medical Kiwi.
The stage two, Series A Pre-IPO share offer seeks to raise a further NZ $7.5 million of investment capital to assist with establishing an Asian distribution entity based in Singapore to licence global distribution agreements for Medical Kiwi branded products, as well as setting up a New Zealand based distribution to progress the strategy, brand and sales channel development.
Medical Kiwi's Information Memorandum, available on the website www.medicalkiwi.com and outlines the company's planned business model and strategic intent.
Medical Kiwi at a glance
A medicinal cannabis research and nutraceutical company based in New Zealand;
Established in December 2018 to take advantage of the rising demand and legislative changes creating first mover advantage;
Successfully raised NZ $1 million in seed funding, now seeking to raise $7.5 million through a Series A Pre-IPO share offer;
Plans for an eight to ten thousand square metre, state of the art facility. When at full production it is designed to produce 30 -35 thousand tonnes of dried product, valued today at NZD $100 – $110 million;
Defined strategy and roadmap, with clear milestones being achieved and partnerships established;
Strong governance with relevant skills in research and medical fields;
Positioned to develop a proprietary intellectual property.
Aldo Miccio
Chairman
Medical Kiwi
+61 4 21 497 138
invest@medicalkiwi.com
www.facebook.com/MedicalKiwiNZ
www.medicalkiwi.com
This article will appear in Health Europa Quarterly Issue 11, which is available to read now.