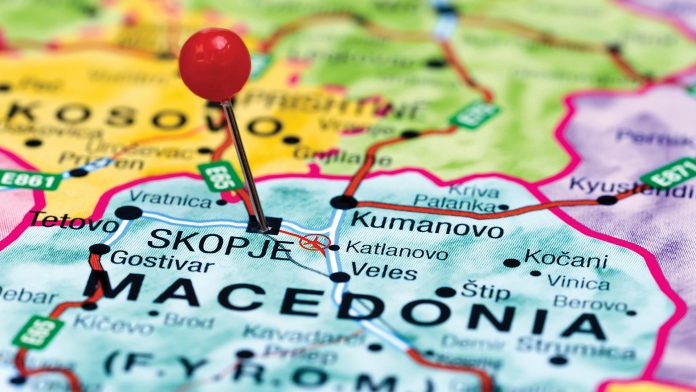 The Republic of North Macedonia is one of the few places in the world that allows for the cultivation and exportation of medical cannabis.
Back in 2016 the Republic of North Macedonia amended its Law on Control of Opioid Drugs and Psychotropic Substances policy to make medical cannabis available for those who need it. This makes North Macedonia one of the few countries in the world that allow for cultivation and export of the plant – opening its doors to entrepreneurs and investors. The Macedonian pharmaceutical market is currently valued at over $165m (~€145.6m) per annum and Macedonia imports over 50% of its medical products; however, the country has no interest in cannabis imports as it aims to become a contender as a leading exporter of cannabis.
Currently, only doctors are able to prescribe the drug for specific cancers, epilepsy, multiple sclerosis and HIV. Cannabis oil, with a THC content of more than 0.2%, will only be available through prescription. However, the country is now utilising the sale of the plant for economic purposes to reduce unemployment and to help industry. This means cannabis medicines that have a THC content of less than 0.2% are now available and can be acquired in pharmacies.
Cannabis cultivation is a historical part of North Macedonia
A massive 70% of Macedonians supported the legalisation of the drug for medical purposes. Despite public knowledge of the drug's medicinal benefits being poor prior to the legislation change, public opinion regarding the plant's legalisation for medical use changed following a number of events and public campaigns co-ordinated by cannabis activists.
Although industrial cultivation and exportation is legal in Macedonia, cultivation and selling the plant for recreational purposes can land you ten years in prison, and healthcare professionals working in private institutions are unable to prescribe cannabis.
Historically, the Republic of North Macedonia has been a transit country for arms, human and drug trafficking and has been a passing country for the sale of high-grade hashish from Turkey. Cannabis has been grown in North Macedonia as far back as ancient Greece; however, it is not well known as a cultivator of the plant as it has struggled to compete with the outdoor-grown cannabis that is grown in neighbouring Albania. Tall sativa strains, such as Sour Diesel, are typical grown in the lands of Macedonia and used for their ability to treat chronic pain, reduce anxiety and depression, and increase serotonin.
Obtaining a licence for cultivation, however, is not easy, despite the new legislation. Prospective cultivators must enter a rigorous process to acquire a licence which involves having a registered entity in the country, then submit a request for a licence whilst adhering to certain conditions in order to cultivate.
Once approved the applicant must also submit a request to the Ministry of Agriculture, Forestry and Water Economy to obtain approval for sowing cannabis seeds and must also adhere to strict standards for the production of medical products. Toughest of all – companies that are successful in their application are required to employ at least four people; one must be an agriculturalist with a degree in agronomy and the other must be a pharmacist – both having a minimum of three years of experience.
A free market approach to cultivation and exportation
The country has decided to take a free market approach to cannabis cultivation, distribution and sale, mirroring Canada's approach to these – allowing for private companies to cultivate and distribute the plant in their country – and the government is urging people to invest, with Prime Minister Zoran Zaev highlighting its profitability.
International Cannabis Corp. (ICC) is now working on a cross-country project for the cultivation, extraction, formulation and distribution of the plant on a global scale with a number of countries including the Republic of North Macedonia, which will be focusing on licences for medical cannabis cultivation as well as licences for extraction, formulation and export.
The ICC announced in December last year that it has entered into a definitive agreement to acquire 100% of Balkan Cannabis Corp, which controls Macedonian medical cannabis cultivation and extraction licences, as well as Bulgarian medical cannabis and hemp cultivation licences.
Through a subsidiary in Macedonia, Balkan Cannabis has been granted an exclusive agreement with an existing licensed facility which permits the cultivation, manufacturing and export of medical cannabis. The licensed facility is located on a 30-hectare land parcel in Valandovo, Macedonia. Valandovo is a region with a storied agricultural history, access to a skilled agronomical workforce, as well as arable land and soil conditions. As a result of its proximity to neighbouring European countries, the licenced facility provides a significant revenue opportunity for ICC.
Earlier this year, an Israeli company, Medivie Therapeutic, signed an agreement to buy 51% of shares of a company (not yet named) that has the rights to both grow and export cannabis in Macedonia.
These companies' investments in North Macedonia are just the beginning seeds of growth that Macedonia hopes will lead to a fruitful medical cannabis industry in the country.
North Macedonia as a leader for cannabis research in Europe
Now that cultivation and exportation of cannabis is legal in North Macedonia, the country is positioning itself to be a leader in the field of cannabis research within the Balkans and the whole of Europe. This will give researchers, scientists and academics the freedom and space to get the knowledge and expertise that can be garnered from the study of the cannabis plant and therefore find more answers regarding cannabis' medicinal properties.
One company in particular, NYSK Holdings, has recently set up a state-of-the-art facility in North Macedonia to not only cultivate the plant but also to conduct world-class research into its medicinal properties as they look to expand the number of diseases that can be treated with medical cannabis. The company has said that a portion of the proceeds gained from selling their products will be invested into such research.
Please note, this article will appear in issue 9 of Health Europa Quarterly, which will be available to read in April 2019.