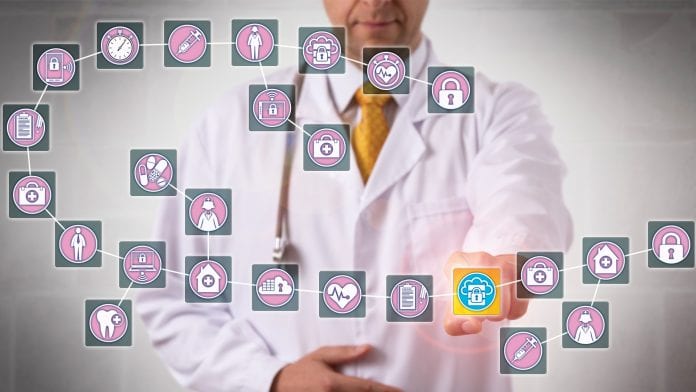 Could blockchain technology be the answer to the challenges facing the medical cannabis industry? Discover more with Global Cannabis Applications.
With cannabis and blockchain currently reigning among the most popular topics in the global economy, it's only fitting to explore how these two forces work together. In examining the current state of the medical cannabis market, it's clear that implementing this new technology wouldn't just be a quaint appeal to contemporary jargon, but rather an opportunity to create necessary solutions to pressing problems in the industry.
Many of these issues arise due to both old and new governmental regulations on the cannabis market. Some of these include problems paying taxes, regulating medications, and conducting research.
Here are four ways blockchain technology can ameliorate these problem areas:
Supply chain management
With many new state and federal laws creating strict regulations on new cannabis markets, it's paramount that the entire supply chain – from growing, to transportation, to dispensary, to consumer – is up to code. Some organisations1 are already using blockchain technology to create secure records that track cannabis from seed to sale to create trust of origin, quality, and safety, in order to streamline compliance with regulations. The transparency created in this process will ensure top-quality products by decreasing black market involvement.
Blockchain technology can assist licensed producers and growers can maintain compliance in quality assurance, supply chain, privacy, immutability, transparency, and other regulatory requirements.
A supply blockchain, as offered by Global Cannabis Applications Corp. ((GCAC) CSE:APP, OTCQB:FUAPF, FRA:2FA), is a fully digital supply chain platform that aims to help licensed growers, producers and manufacturers to manage and maintain their supply chain, enforce and comply with regulations, identify new business opportunities, and drive more revenues by tapping on the distribution chain.
Clinical trials
By 2025, the global market for clinical trials is expected to hit $65.2bn (~€56.5bn),2 and the global medical cannabis market could reach $31.4bn.3 As countless new products flood the market, clinicians must engage in the incredibly time-consuming process of ensuring that new combinations of cannabinoids and their delivery methods are safe and effective for hundreds of diseases.
However, researchers currently face issues with data provenance, data reproducibility, data sharing, personal data privacy, and patient enrolment.4 To address these issues, blockchain ledgers can be used to increase the security, shareability, and integrity of data, thus increasing the efficiency of clinical studies.
Electronic medical records (EMRs)
Creating standardised, easily accessible EMRs has long been a problem in the healthcare industry in general. To solve this problem, the Mayo Clinic recently implemented a blockchain system to act as an affordable, centralised, and secure place to store patient records.5
There are organisations currently working on blockchain EMR solutions specifically for the medical cannabis industry.6 These will increase regulatory compliance and improve patient outcomes as physicians use systems with automated compliance reporting and ledgers that securely store patient information.
Cannabis transactions
In the United States, because cannabis remains illegal on a federal level, financial institutions are forbidden from facilitating transactions in the industry.7 For that reason, many dispensaries are unable to accept credit cards, debit cards, or cheques, forcing them to handle hundreds of thousands or even millions of dollars in cash. This inevitably leads to inaccurate financial statements and taxation hurdles.
Thankfully, cryptocurrency-based tokens, and specifically utility tokens – representing a real-world value and exchanged using blockchain technology for transaction validation – can streamline this process by enabling fast, peer-to-peer digital transactions. Additionally, they provide an accurate payment history to ensure for much easier audits.
Conclusion
Blockchain technology can make an impact simply by companies standing up and choosing to embrace it, and it doesn't take co-operation amongst the industry in order to see the effects.
Companies such as GCAC – creator of Citizen Green, a platform that leverages AI and blockchain to improve patient health, cannabis businesses' success, and the seed-to-sale-to-seed (seed2seed) solutions – are addressing all of the above elements of medical cannabis and blockchain technology in revolutionary ways.
By implementing tokenised rewards into their system, creating a secure repository of patient treatment data in order to share information and generate better product recommendations, tracking the length of the supply chain from seed to sale to seed, and enabling access to clinical-grade information in an industry where data is scattered (at best) and researchers and doctors struggle to obtain it, solutions such as the Citizen Green Community bring a well-rounded approach to the hurdles this industry faces.
Why blockchain?
Blockchain technology produces a great benefit – immutability, meaning that the data and metadata stored are unchangeable.
This contributes to creating a trusted environment with no precondition to trust the participants.
These characteristics create efficient and lean systems that maintain a high level of security, integrity, privacy, and trust.
About GCAC
Global Cannabis Application Corp. is a leading developer of innovative data technologies for the emerging cannabis industry.
Starting with a proprietary database of over ten years of medical cannabis field research, the company set out to build a machine learning solution that would ultimately connect patients, dispensaries, medical professionals, growers, and licensed producers. The platform brings together five core technologies into one single data solution: desktop and mobile applications, artificial intelligence, proprietary datasets, blockchain, and a utility tokens-based reward programme.
The Citizen Green Community seed2seed solution extends and closes the seed-to-sale loop by tracking patient experiences after the product is sold and applying data insights to new products, indeed closing a full circle from seed to sale to seed. Not only does this process answer questions like 'what strains are working?', but, more importantly, it also maps the user treatment experience and journey to determine future strains and product development.
References
1 www.greenmarketreport.com/emerald-health-dmg-blockchain-solutions-develop-blockchain-platform/
2 www.grandviewresearch.com/press-release/clinical-trials-market
3 www.forbes.com/sites/monazhang/2017/11/07/global-marijuana-market-31-billion-investors-cautious/#20de96597297
4 https://investingnews.com/innspired/blockchain-for-medical-cannabis-and-legalization-in-the-clinical-trial-space/
5 www.healthcareitnews.com/news/mayo-clinic-exploring-blockchain-ehr-use-cases-uk-startup
6 www.greenmarketreport.com/alternate-health-launches-cannabis-focused-blockchain-platform-in-new-york/
7 www.economist.com/the-economist-explains/2018/01/22/why-marijuana-retailers-cant-use-banks
Global Cannabis Applications Corp.
info@cannappscorp.com
Tweet @GlobalCannApp
https://cannappscorp.com/
Please note, this article will appear in issue 8 of Health Europa Quarterly, which is available to read now.