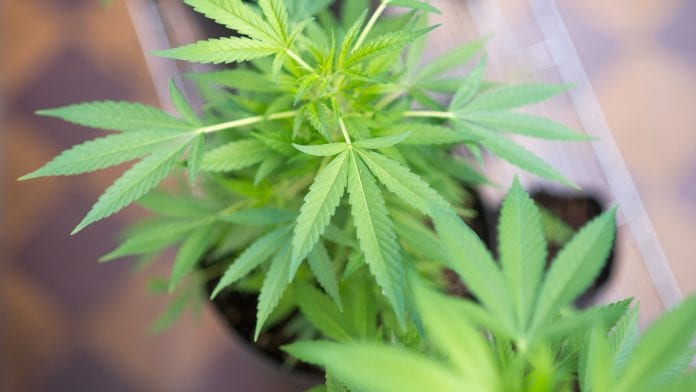 How a Canadian company is meeting the demand for pharmaceutical cannabis products in Latin America.
The primary goal of Canadian supplier VerdeMed is to deliver high quality, affordable existing and prospective cannabinoid products to all Latin Americans, in all countries, in all jurisdictions legally authorised to sell medical cannabis; with an initial focus on product formulations of cannabinoid pharmaceuticals currently available in Canada, Europe, and the USA.
Manager Director LATAM of VerdeMed Fabio Lampugnani speaks with HEQ about the company's mission and achievements.
Can you tell us more about VerdeMed and its presence in Latin America?
VerdeMed is organised in two business units, VerdeMed Care (www.verdemedcare.com), the branded medicinal cannabis division, and VerdeMed Pharma (www.verdemed.com), the pharmaceutical division. We have running operations in Canada (Headquarters and Product Development), in the USA (Production) and in Brazil, Chile, Colombia, Mexico, and Peru (Sales).
The international footprint allows us to access advanced knowhow and technology for product development, a cost effective supply for production, and a deep understanding of Latin America's uneven and quickly changing regulatory landscape.
We are a licensed pharmaceutical company in Brazil, Mexico and Peru.
What do you consider to be the main challenges to operating in Latin America today?
For an almost wholly regulated market, it is of fundamental importance to understand the regulatory framework of each country and to anticipate future changes, co-operating closely with the national regulatory agencies and legislators.
This allows VerdeMed to design and continuously adapt the corporate strategy, doing business with cannabis products that are adequately regulated in each country. VerdeMed is always positioned for what is coming next; and each new regulatory change presents opportunities.
Staying in touch with the medical communities and understanding the needs of patients and the factors unique to each country are all essential for defining the product portfolio and carrying on a successful market strategy. Finally, it is crucial to have an organisation able to solve daily operational issues, such as international logistics.
What are you excited about with regard to VerdeMed's presence in the region, particularly in Brazil?
We are finally at a stage where we can make substantial steps toward achieving VerdeMed's mission: bringing affordable cannabinoid-based products to doctors and patients in Latin America.
The present phase is importing products from the US and Canada with the Named Patient business model, which has allowed us to sell CBD products in Brazil and Chile and recently to launch the first high THC product.
We are now very close to starting a second phase with pharmaceutical products registered in Brazil and Peru (where we have already submitted two dossiers) and topical products registered in Colombia. This will mean a broader availability of products for patients and doctors; and opens the way for the third phase – local production – which will reduce prices for the patients, an important variable to be considered in Brazil and Latin America overall.
With growing attention being paid to sustainability, particularly amid COVID-19, how does VerdeMed keep sustainability concerns at the forefront of its operations?
We always try to keep in mind an important question: why do we do what we do? And we try to answer considering the value we create not only for our shareholders, who, of course, must be repaid for the trust they put in us, but also for all stakeholders, understanding that profit is the consequence of such value creation. Defining our purpose in this way clarifies that businesses exist to serve society and not the other way around; and the link to sustainability becomes clear.
For a company operating in pharmaceutical cannabis in Latin America, it is essential to have the financial resources for funding investments. What is VerdeMed's strategy on this front?
For increasing sales in the branded medicinal product division, we must count on financial resources for working capital and marketing, while for the pharmaceutical division, investment in research and development and clinical trials is fundamental.
We already went through a seed round and a Series A equity round, and we are now going through a series B ($6m) that will lead us to the initial public offering, which is expected for early 2022. We are working daily with this goal in mind.
What is the actual product portfolio and how will it evolve moving forward?
VerdeMed Care at the moment counts on a product portfolio of seven stock-keeping units, consisting of oral solutions, softgels, and oral sprays, divided into three lines (isolate CBD, full-spectrum, and high-THC). We are completing the portfolio with a new line of topical products containing cannabinoids other than CBD.
VerdeMed Pharma is registering its first two products, a CBD oral tincture and a CBD/THC oral spray. We already developed the formulation of a pill for insomnia treatment; and we are developing formulations for the other four products.
Three reasons why Latin America is an interesting market for cannabis companies
VerdeMed is a Canadian pharmaceutical cannabis company which is basing its operations in Latin America. VerdeMed's mission is to make cannabinoid-based medicinal products accessible to this region. VerdeMed has operations in Brazil, Chile, Colombia, Mexico, and Peru.
"These are exciting times for companies operating in Latin America. It's an interesting market," said Fabio Lampugnani, Managing Director of VerdeMed. Lampugnani, alongside VerdeMed President and CEO José Bacellar, outlines four reasons why Latin America is an exciting market for cannabis companies:
Change
The Latin American market is changing as we speak. In December 2019, Brazil put forward a newly approved regulation that helped speed up the registration process for pharmaceutical cannabis-based products; and now there is the possibility of a new cannabis bill that, if approved, will create an entirely new industry in a couple of years. Regulations in Peru also changed towards the end of 2019; while in Mexico, recent regulation approval is expected to come in the next few months.
Regulatory market
As we can see, cannabis regulations in Latin America vary widely from country to country. "You need to have a deep understanding of what is going on in each country. In Latin America, all countries are moving in one direction but at different speeds," said Lampugnani.
VerdeMed invested and spent time building a strategy that made sense, given Latin America's regulatory framework. Lampugnani notes that both countries' processes are smoother and faster than in other countries, so the company chose to start selling there. All the Brazilian and Chilean application processes are entirely online, and regulatory agencies' answer times are substantially shorter than in many other countries.
The 'uns'
"When you have uneven, unstable, and unsynced markets, the company has to design one strategy per country," Bacellar explained, "making this natural disadvantage as something that is a competitive advantage of the company that has feet on the ground. We have Colombians in Colombia, Chileans in Chile, and that's how it works in Latin America."
In Peru, VerdeMed is also awaiting registration of two drugs, under the trade names Sativyl and CBD 100, to commence commercialisation. Next year, the company anticipates sanitary authorisation requests for three more products derived from cannabis in Brazil and three cannabinoid-based dermo-cosmetics in Colombia.
Opportunity
There is currently a lot of action in the cannabis industry, both in Europe and the US – and while many have their eye on these two regions, the opportunity available in Latin America may be better suited for some investors and cannabis companies. "If we believe that cannabis is here to stay and cannabis will prevail eventually, then the sooner you get in, the better you perform," said Bacellar.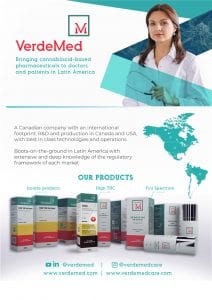 José Bacellar
Verdemed Holdings Inc.
verdemed.com

This article is from issue 16 of Health Europa. Click here to get your free subscription today.