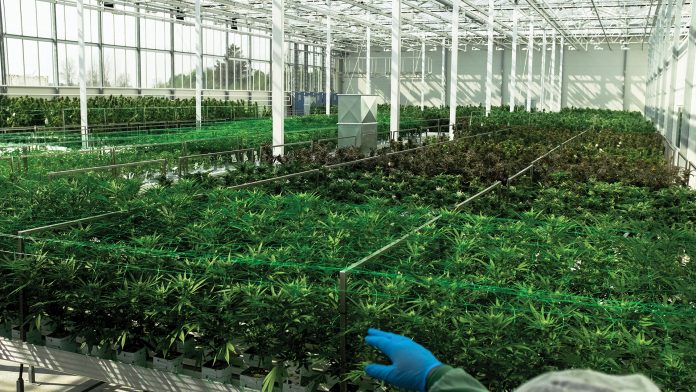 Introducing Mads Pedersen, CEO of Denmark's Aurora Nordic, who will soon oversee Europe's largest medical cannabis production facility.
Four years ago, Mads Pedersen was attending a conference in the US when he heard the story of a 10-year-old boy who was finally able manage his severe epilepsy with the help of medical cannabis. "That was really a moving story for me," Pedersen told Health Europa from Odense, Denmark: a city approximately two hours southwest of the Danish capital, Copenhagen. "Then I thought, with my family's 70 years of experience growing vegetables in enclosed environments in controlled greenhouses, we could grow medical cannabis – and help people too."
At the time, the family business, Alfred Pedersen & Søn, was already one of Europe's largest growers of greenhouse tomatoes and other produce, operating 360,000 square metres of production space in Denmark and Sweden and shipping up to 100,000 kg of fresh fruits and vegetables per day. In the industry and media alike, Pedersen has been known as Denmark's Tomat-konge – or 'Tomato King' in English for decades. Now the CEO of the Danish medical cannabis production company Aurora Nordic A/S, Pedersen oversees an operation that is projected to be the largest of its kind in Europe this August as more than 9,200 square metres of production space goes live, capable of producing 20,000 kg of high-quality medical cannabis per annum for the Danish and European markets.
In May 2020, phase one of a nearly 50,000 square metre facility that will be able to produce some 100,000 kg per year is also expected to clear regulatory approvals and become operational – another incredible milestone for a company that has not yet had its second birthday on a continent that is only just beginning to embrace cannabis as a safe and efficacious medicine. "It's a completely blue ocean: it's all new legislation; it's all new market," Pedersen said of working in Europe's changing medical cannabis landscape. "It's a lot of excitement too. Every day you go to work and it's always fun. And the good thing is, if we succeed in building everything up – as we're sure we will – that will give us a competitive advantage by being one of the first in the market, of course, and also by being able to set the bar for quality at a very high volume."
Aurora Nordic was formed in early 2018 – the year Denmark authorised domestic medical cannabis production – as a joint-venture between Pedersen's Danish family business and Aurora Cannabis Inc: a Canadian titan in the emerging global cannabis industry. Pedersen had been introduced to Aurora via renowned engineer Thomas Larssen, the President of Aurora Larssen Projects, an Aurora subsidiary that designs and constructs hybrid greenhouses.
With Pedersen's vast scale and exceptional yields, the attraction with Aurora was mutual. After just one meeting with Aurora CEO Terry Booth – a former electrician turned entrepreneur who has guided Aurora to its present heights – Pedersen says he had a "gut feeling" that partnering with Aurora was the right move. "Terry and I sat down for 40 minutes and we pretty much agreed to work together," Pedersen recalled. "There was just mutual trust and I very much liked the vision and the nerve I felt."
Aurora Cannabis INC. In Europe
Terry Booth co-founded Aurora in Western Canada in 2013 with a mission to provide access to high-quality medical cannabis. Only six years later, Aurora is at the forefront of the growing global medical cannabis industry, with operations and sales throughout Canada and in 24 countries across five continents, including more than a dozen in Europe, such as the United Kingdom, Denmark, Lithuania, Luxembourg and Portugal. Based in Germany, subsidiary Aurora Europe GmbH is already the largest authorised importer, exporter and distributor of EU-GMP (European Union Good Manufacturing Practices) certified medical cannabis in the European Union.
In Europe, Aurora has been an early mover, bringing leading expertise from Canada's comparatively mature cannabis market – from plant science to clinical research to facility design, Aurora operates in all aspects of the cannabis industry – as well as high-quality medical cannabis products such dried flower and oils from its advanced EU-GMP certified production facilities.
"Aurora began out of a commitment to expand patient access to medical cannabis, and we have remained dedicated to furthering the international movement ever since," Aurora Chief Corporate Officer Cam Battley said. "With three purpose-built global production facilities in Canada already EU-GMP certified and an intent to certify production at facilities in Portugal, Denmark and Germany as well, we are well-positioned to continue to lead in the growing European market."
In Portugal, construction is currently underway on a 3,530 square metre hybrid greenhouse. Set to open in the spring of 2020, it will be able to produce 4,000 kg per year of high-quality medical cannabis. In Germany, where Aurora Deutschland has been providing patients high-quality imported Canadian medicine since 2015, Aurora continues to grow, winning one of three public tenders in April of this year that will allow it to cultivate at least 4,000 kg over a four-year period in the country as well as distribute in Europe's largest medical cannabis market, estimated at more than 30,000 patients and growing. Construction of the facility began in May and is expected to be complete in June 2020.
"We are thrilled with the positive outcome of the tender process," Neil Belot, Aurora's Chief Global Business Development Officer, said. "It's a strong validation of our production and distribution standards to have been recognised as having the highest-rated overall concept out of 79 tender applications, and we look forward to continuing to increase availability of medical cannabis in this important market."
In Lithuania, Aurora subsidiaries Agropro and Borela have become Europe's largest organic hemp producer and processor, creating a host of products, including hemp-based medicines. This year, Aurora also became one of the first Canadian cannabis companies to commercially supply cannabis-based medicines to the UK, which only began allowing access in 2018. Aurora has also made medical cannabis distribution deals in countries such as Italy, Malta, Luxembourg, Poland and the Czech Republic. In Denmark, home to one of the world's most advanced greenhouse industries, Aurora saw the opportunity to plant the roots that would support the vast bulk of its European operation.
"In addition to Aurora's deep store of cannabis sector expertise, from growing to distribution, we are utilising the operational capacity of one of the largest greenhouse vegetable growers in Europe," Aurora CEO Terry Booth said. "We are very excited about this venture and are working closely with the Alfred Pedersen & Søn team on establishing Aurora Nordic as the dominant cannabis company in the European market."
Medical cannabis production in Denmark
In 2018, Denmark began a four-year pilot programme that allows the country's doctors to prescribe medical cannabis and cannabis-based medicines. "The purpose of the pilot programme is to help some of those patients who have tried every possible treatment without effect," Danish Health Minister Ellen Trane Nørby previously told Health Europa Quarterly.
Such patients include those with multiple sclerosis, spinal cord damage, neuropathic pain and chemotherapy-induced nausea.
"If we can help this group of patients – if these people find that their lives are just a bit better with the use of medical cannabis – that will measure the success," Nørby explained.
And if in fact the pilot programme is deemed successful, it will also lead to permanent medical cannabis legalisation at the end of the four-year trial period.
Rikke Jakobsen is the CEO of Cannabis Danmark: a Danish NGO with a self-described mission "to make Denmark a leading country in the development and use of cannabis for medicinal use."
Denmark's medical cannabis pilot programme, Jakobsen explains, was drafted with an eye toward similar legislation in Canada, the Netherlands and Israel. "They took the best of the laws and put it into a Danish context," Jakobsen previously told Health Europa.
In Denmark, authorised cannabis producers must meet strict requirements, such as producing to the European Medicines Agency's Guidelines for Good Agricultural Practices (GAP), such as not using pesticides and following the European Union's Good Manufacturing Guidelines (EU-GMP) for active drug substances. While Danish medical cannabis production rules remain "some of the highest standards in the world to live up to," Jakobsen explains that the "standards are set so high in order to meet the requirements that are usually for medicines."
In the years to come, it is widely hoped that the piecemeal country-by-country approach to medical cannabis legalisation that we have seen in Europe is replaced by EU-wide regulations to ensure that high production standards, such as those in Denmark, are harmonised across the continent.
"We will need common rules in Europe within the next few years to ensure we have a mature and reputable market where patient safety is of the highest priority," Aurora Nordic's Mads Pedersen opined. "But at the moment, it's like the Wild West – and that won't lead to anything good."
At present, Denmark – along with the Netherlands, Germany and Portugal – is one of only very few European countries that permits domestic medical cannabis production. Most of the medical cannabis being used in Denmark is currently being shipped from places like Canada, with Aurora being one of the first to do so. But that is about to change as more Danish producers – and Aurora Nordic chief among them – will begin selling domestically-grown medical cannabis this year.
A look inside Aurora Nordic
At Aurora Nordic's medical cannabis production facility in Odense, thousands of cannabis plants bask in sunlight in long and ordered rows, their sweet and leafy aroma filling a greenhouse that is all crisp and clean glass, steel and white panelling. The juxtaposition between the vast laboratory-like operation and its lush plant life never fails to impress first-time visitors.
Aurora Nordic, which already boasts around 40 employees, has a dedicated team that cares for the facility's plants. Dressed in lab coats, hairnets and shoe covers to avoid contamination, these highly trained technicians reach into the foliage with gloved hands to ensure that the plants are growing tall, even and strong. Each plant lives in a grow box which is placed on tracks. From water to nutrients to sunlight hours, everything is regimented in the plants' lives until they are harvested, dried, packaged and sold, or further processed by proprietary extraction methods to create cannabis oils and other cannabis-based medicines.
"With this facility, and the second one that is in the works, we will be able to help as many Europeans as possible get access to high-quality medical cannabis," Aurora Nordic Chief Commercial Officer and Medical Director Marianne Hundtofte Nielsen told Health Europa.
Hundtofte Nielsen joined Aurora Nordic earlier this year after spending more than 15 years in the pharmaceutical industry, where she most recently developed oncological biomarkers. Hundtofte Nielsen said she was inspired to enter the world of medical cannabis after seeing how it allowed a close and ailing relative to have 'some good last weeks' when nothing else would help.
"I have seen what it can do for patients in terms of comfort and quality of life," Hundtofte Nielsen said of medical cannabis. "And after a very short discussion with Aurora Nordic CEO Mads Pedersen, I thought I could use all the things I have learned in the pharmaceutical industry to help people and change the perception of this product."
Each of the cannabis plants at Aurora Nordic is a clone from Aurora Mountain: Aurora's first purpose-built production facility in the Western Canadian town of Cremona, Alberta. In industrial-scale cannabis cultivation, plants are seldom grown from seed. Rather, clippings are taken from large 'mother' plants and rooted. Aurora has nearly 200 different cannabis cultivars in its roster, each distinguished by its size and shape as well as its cannabinoid and terpene content – and thus its medicinal applications. At Aurora, dedicated research teams are always working to unlock more of cannabis' secrets and develop new cultivars and medicines. To get things rolling in Denmark, Aurora flew over numerous mother plants in 2018, representing a range of cultivars. The plants growing today in Odense are literal copies of the high-quality medicinal cannabis that Aurora built its reputation on and has been growing for years.
Soon, Aurora Nordic will be authorised to import and distribute medical cannabis products from Canada in advance of its own products hitting the European market later this year. Because of Denmark's comparatively small patient base, the vast bulk of what Aurora Nordic will produce will be destined for export within the European Union, chiefly to neighbouring Germany.
Leveraging Aurora's experience and expertise, Aurora Nordic's Mads Pedersen describes his business partnership with the Canadian cannabis giant as "a perfect marriage." "Aurora is always there when needed, and if not needed, there's a lot of trust that we actually are moving the right direction," he said. "I'm proud and very happy to be a member of the Aurora family."
Health Europa had to ask Pedersen, a fourth-generation grower, what his father and family business predecessors would have thought about him growing such a historically stigmatised plant.
"I'm sure they would have liked it," Pedersen said after a moment's reflection. "Whether it be quality, technology or production techniques, we've always tried to be innovators. My father was the same way. So, for us, growing medical cannabis feels very natural. Plus, we're very happy knowing that we're helping make people's lives better."
Medical cannabis terms you need to know
Cannabis: a genus of Asian flowering plant that has been cultivated for millennia. Also commonly referred to as 'marijuana.'
Cannabinoids: a class of more than 100 known chemical compounds that are responsible for many of cannabis' therapeutic and psychoactive effects.
THC: short for tetrahydrocannabinol, THC is the main psychoactive cannabinoid. It is also used medicinally.
CBD: short for cannabidiol, CBD is the cannabinoid most often associated with therapeutic use.
Oils: A product in which cannabinoids are extracted from dried cannabis flowers and prepared in liquid form. Cannabis oils and products made from them, such as gel caps and oral sprays, are commonly used for medical treatments.
Aurora Cannabis Inc. at a glance
Founded in 2013 with a mission to help people access high-quality medical cannabis
Headquartered in Edmonton, the capital of the Western Canadian province of Alberta
Sales and operations throughout Canada and in 24 countries across five continents, including The United Kingdom, Portugal, Germany and Denmark in Europe
15 global production facilities, three of which are already EU-GMP certified
Committed to creating purpose-built, technologically advanced production facilities that are replicable and scalable globally
Annual funded capacity of more than 625,000 kg of dried cannabis
Horizontally diversified and vertically integrated, Aurora works in all segments of the cannabis sector, including plant science, clinical research, product development and facility design
Common Shares traded on the TSX and NYSE under the symbol "ACB" and are part of the S&P/TSX Index.
Aurora Nordic A/S at a glance
Established in 2018: the year domestic cannabis production was first authorised in Denmark
A joint-venture between Canada's Aurora Cannabis Inc. (51 per cent ownership) and long-time Danish greenhouse growers Alfred Pedersen & Søn (49 per cent)
Headquartered in the city of Odense, Denmark
Alfred Pedersen & Søn – Aurora Nordic CEO Mads Pedersen's family business – has been growing fresh produce in Danish greenhouses for seven decades
4,500 square metres of EU-GMP cannabis production space already operational in Odense with another 4,700 square metres going live in August, together capable of producing 20,000 kg of dried cannabis per year
Construction underway on a second 50,000 square metre production facility in Odense, which is being built to EU-GMP standards and will be capable of producing 100,000 kg per year
Poised to become Europe's largest producer of medical cannabis in 2019.
Heather MacGregor
Director, Communications
Aurora Cannabis
+1 844 928 7672
heather.macgregor@auroramj.com
Tweet @Aurora_MMJ
https://www.auroramj.com/
Please note, this article will appear in issue 10 of Health Europa Quarterly, which will be available to read in July 2019.