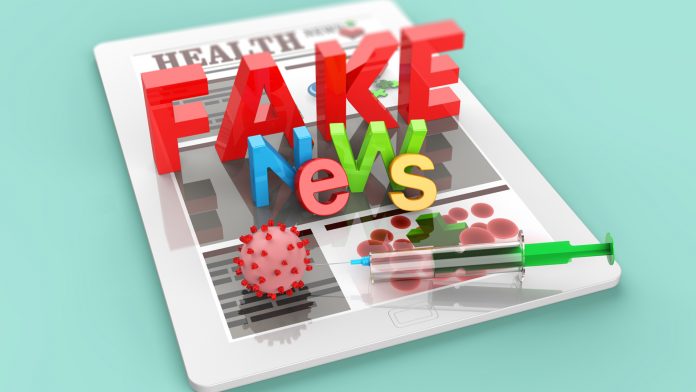 Daniel Ghinn, CEO and Founder of digital insights consultancy CREATION.co, outlines new techniques for governments and public health organisations to adopt in their struggle against online medical misinformation.
Research has shown the inescapable influence of social media and the need for a coordinated governmental response to combat fake health news. It's also shown that doctors and other medical professionals are pioneers and well ahead of governments and health bodies in the fight against medical misinformation, including around COVID-19.
Throughout the pandemic, our work has seen us track and analyse COVID-19 information across the internet. Using a database of some three million social media profiles belonging to healthcare professionals (HCPs), we have monitored discussions on misinformation across platforms. Combining this database with advanced analytics techniques, we've seen the development of new ways to help rapidly identify emerging fake news.
Addressing the dangers of medical misinformation has been a critical theme of our work and spans more than a decade. Our research has shown the importance of HCPs and pharmaceutical companies actively engaging with social media platforms, as well as sites like Wikipedia, to tackle misinformation and amplify truth.
From 2014 to 2016, we worked with the World Health Organization (WHO) during the Ebola crisis in a range of areas, including misinformation. Our work saw the development of a communications toolkit for use in health emergencies, while our live feed of HCP conversations surrounding Ebola provided powerful insights from the front lines of healthcare and health communications.
Our work has offered insights into effective strategies for governments and public health bodies in combating medical misinformation online.
Doctors' fight against fake news spreads far and wide
HCPs have been well ahead of the major social media platforms in fighting misinformation and have been some of the most ardent proponents for change to help flag misinformation. Seen as a significant validation of work undertaken by HCPs, last August, Twitter announced it would be introducing a new feature to allow users in the US, South Korea, and Australia to report tweets that 'seem misleading'.
This move was welcomed by experts who had been advocating for such a feature to flag false information surrounding vaccines. Previously, their only recourse to highlight erroneous information would be through replying to the tweet.
New platforms help HCPs amplify the truth
The outbreak of the COVID-19 pandemic saw a diverse range of voices and messages being shared regarding the disease by healthcare organisations and professionals.
Doctors and other health workers were innovative and often the first to embrace new platforms to reach different audiences. A prime example of this is the way doctors have embraced TikTok, with its next-generation short-form video format and algorithm (built on views, shares, likes and video completion), which allows content to be shown on any user's "For You" page.
NHS general surgeon and clinical lecturer at the Imperial College London, Dr Karan Rajan, has become a leading voice in tackling social media medical misinformation. At the latest count, he has amassed some 4.6m TikTok followers, 300k Instagram followers, and 215k YouTube subscribers. A large proportion of his TikTok content is devoted to dispelling common myths and misinformation relating to health and medicine. A recent video on his page – with nearly a million views – dealt with a video about a "new COVID-19 strain 'Deltacron'" which he assured his followers does not exist.
Many HCPs, ranging from the newly qualified to leading consultants, have established significant followings on TikTok, receiving thousands of views daily as well as millions of followers.
As misinformation spreads across a wide variety of social media platforms, HCPs are often the first responders in highlighting medical misinformation.
What governments are doing already
 Despite this, some public bodies have taken active steps to combat medical misinformation: the WHO's warning of an "infodemic" and the commitment by 132 United Nations members to tackle fake news about the virus were important and much-needed milestones.
The UN members were right to warn that the infodemic "can be as dangerous to human health and security as the pandemic itself".
WhatsApp and Facebook have partnered with the UN in an example of social media companies taking action on misinformation. Through the partnership, WHO launched a COVID-19 Health Alert service: WhatsApp users can join a conversation to engage with the service and receive resources, including messages, audio files and links to videos. The WHO also successfully leverages its TikTok platform, often with expert HCP collaborations, to educate on a variety of pertinent health issues.
But health bodies cannot defend against misinformation on their own and need to make use of the existing expertise which is out there to coordinate the necessary global response. This must include HCPs amplifying truthful information as part of a network of influential voices.
The healthcare sector ought to be encouraged by the steps government, and health organisations are taking, especially as they seem to be following the example doctors and healthcare staff have laid out for them. But now is the time for leaders to pick up the baton and continue the response to medical misinformation, which does so much to undermine confidence in public health initiatives.
Daniel Ghinn
CEO and Founder
CREATION.co
https://creation.co/
https://www.linkedin.com/company/creationco/
https://www.facebook.com/creationpinpoint
https://twitter.com/creation