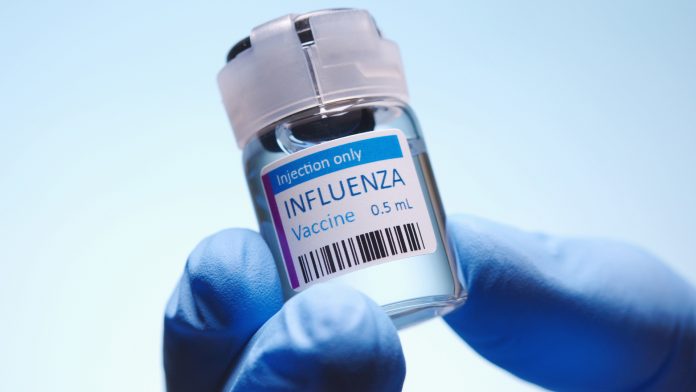 A plethora of critical care and pulmonary societies are advising the public to receive the influenza vaccine as we edge closer to the flu season.
Members from the Critical Care Societies Collaborative, which comprises the American Association of Critical-Care Nurses (AACN), American College of Chest Physicians (CHEST), American Thoracic Society (ATS), and Society of Critical Care Medicine (SCCM), have expressed their concerns over people not getting their influenza vaccine. The medical professionals explain that people being vaccinated against COVID-19 and the flu will be critical for safeguarding life during what is predicted to be a challenging winter.
Experts recommend that everyone over the age of six months get the influenza vaccine annually due to the flu mutating each year, causing numerous stains of the virus. The best time to get the shot is in the Autumn, well ahead of the dreaded flu season.
Challenging months ahead
Traditionally, the common flu is a widespread cause of critical illness, respiratory failure, and in severe cases, death. However, last winter was an exception to this trend, which experts believe was due to infection control protocols taken to mitigate the spreading of the SARS CoV-2 virus also being effective at mitigating the spread of flu. Now, experts believe that with mask wearing and social distancing declining, we risk returning to previous years' rates of infection.
The Centers for Disease Control (CDC) have stated that, between 2019 and 2020, there were 380,000 hospitalisations and 20,000 deaths caused by flu. Current forecasts for the upcoming flu season estimate a substantial loss of life and stress on healthcare services that are already stretched far beyond their resource capacity.
Importance of influenza vaccine
The flu impacts adults with COPD, asthma, and pulmonary fibrosis far worse than the general population, meaning that the influenza vaccine is vital to patients who suffer from lung conditions. Adults over 65 and people who have impaired immunity are also at a higher risk of death.
The flu can also be fatal in young children, of which the mortality rate can be higher than in healthy adults. Children who are too young to receive the influenza vaccine – under the age of six months – rely on adults to be vaccinated to protect them. Therefore, it is strikingly apparent how crucial both the COVID-19 and influenza vaccine are for protecting these people, providing personal and community protection against severe illness and death.
Beth Wathen, the AACN president, said: "Influenza and the COVID-19 vaccinations help individuals protect themselves and their communities. For those who are eligible, vaccination supports the best health outcomes for everyone. Flu vaccination can reduce the number of patients who need hospitalisation and lessen their impact on a healthcare system already overburdened by caring for those with COVID-19."
Lynn Schnapp, the ATS president, commented: "COVID has not made influenza disappear. Getting vaccinated against the flu is the best thing that everyone can do right now to protect ourselves, our loved ones, and our communities, especially as we head into the holiday season and hope to gather with friends and family."
"Both the flu and COVID-19 can be incredibly dangerous for people with chronic health problems. The absolute best way to provide protection for yourself and those around you is to get vaccinated," said CHEST President, Steven Q. Simpson. "The vaccinations for COVID-19 and the flu are proven to be safe for all eligible individuals, are readily available, and can be given at the same time. There is no reason not to receive your vaccinations before this flu season."
Greg Martin, the president of SCCM, said: "Influenza vaccination is the safest and effective way to avoid severe forms of influenza and to save lives. Influenza hospitalises hundreds of thousands each year, all too often leading to critical illness and the need for prolonged ICU care. Influenza vaccination can prevent the 50,000 or more people who die of influenza each year in the United States alone."
Recommended Related Articles