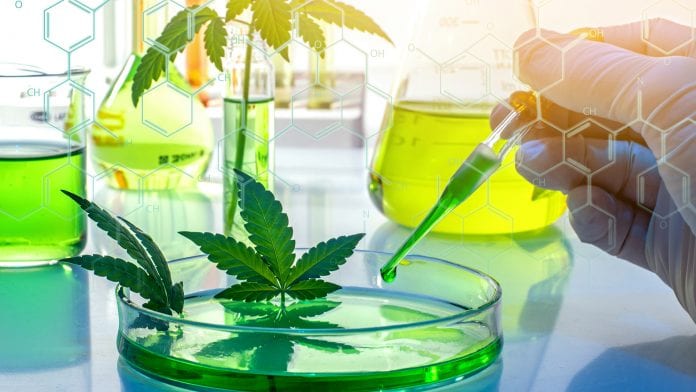 HEQ speaks with Medicinal Cannabis Europe about the European medical cannabis landscape.
The European medical cannabis space is evolving, with more and more EU Member States taking an increasingly favourable view of the clinical benefits of cannabis and its derivatives. Medicinal Cannabis Europe was launched in 2018, with the remit of ensuring fair, equal access to medical cannabis products for patients and establishing a harmonised policy framework at the EU level.
Medicinal Cannabis Europe Secretary General Stuart Lambie and Deputy Secretary Quentin Galland speak with HEQ about medical cannabis policy, research, and education in Europe.
What role does Medicinal Cannabis Europe play in the European cannabis landscape? What are your key goals?
SL: We are a multi-stakeholder non-profit association based in Brussels; we represent the whole medicinal cannabis value chain, all the way from patient communities through to companies involved in the production of cannabis-based medicines. We actively engage with policymakers in Brussels, both with members of the European Parliament and the regulators in the European Commission. Our objectives are to make safe, regulated cannabis-based medicinal cannabis products available to European citizens in all Member States; to attract European funding for research and innovation into medicinal cannabis applications and products; and we also want to have an educational role, so that we can remove the stigma attached to medicinal cannabis. We want to educate the public, and also policymakers, about the therapeutic benefits of medicinal cannabis and the clear differentiation between the old, stigmatised recreational use of cannabis and its use as a medicine.
In late 2020, within the space of a few weeks, the Court of Justice of the European Union ruled that CBD is not a narcotic and the UN's Commission for Narcotic Drugs voted to reclassify cannabis from Schedule IV, where it was placed alongside drugs such as heroin, into a less harmful category. Are these positive steps an indication of a potential turnaround for cannabis policy?
SL: In general terms, it is a very positive development: to some extent, it opens the door for European regulators to address the issue of cannabis as a medical product, rather than as a narcotic. However, it will take time for national governments around Europe to adjust their own regulatory picture as a reaction to these changes.
CBD is relatively easy one for regulators to talk about it, because it has this wellness label attached to it and unlike THC, it has few to no psychotropic effects; but at some point further down the road, CBD alone will not be sufficient. When we talk about medicinal cannabis, we mean more than just CBD – and we also usually mean more than THC and CBD. This plant has hundreds of components in it, many of which have potential medicinal uses; and there needs to be a broader focus and a clear definition of what we mean by medicinal cannabis. We need that definition in order to start the process of regulation and standardisation.
Where do you see the future of cannabis research? Are there any particular fields or aspects where you would like to see more investigation conducted?
SL: We need to invest in research and innovation at European level to build an evidence base for the effectiveness of treatments derived from the cannabis plant, whether they include CBD, THC or other cannabinoids. This research base would also help to broaden the scope of cannabis-based medicines, as well as the extent and range of purposes for which medicinal cannabis can be used.
Currently, the lack of research and innovation on medicinal cannabis is hampering the development of regulatory solutions, so there is a clear need to facilitate that research: we have received confirmation that the European Commission will welcome applications for medical cannabis research funding through the Horizon research funding programme. Regulators have told us that they are in a difficult situation, because some of the provisions of the Herbal Medicines Directive, for instance, require at least 30 years of scientific evidence; and we don't have that for medicinal cannabis, because for at least the first 15 years of those 30, cannabis was not legal in Europe.
Cannabis has had very little real research conducted on it over the years, and because of its illegality we are essentially starting from scratch. What is important now is to define very clear research objectives – there are all kinds of illnesses which could be alleviated by the use of cannabis or cannabinoids, but where official research is currently lacking. Much of the research which has been conducted on cannabis has focused on legacy users, who have been using cannabis for recreational purposes – and that research is then held up as a gold standard for evaluating the impact of cannabis on certain conditions, even though that group of patients were not even patients; they were consumers. Their consumption of cannabis had nothing to do with any specific diseases or conditions, and the compounds that they received were not standardised for specific therapeutic effects. This has led to the creation of a base of data which we need to examine closely and question whether it is really thorough and useful for the purpose of medicinal cannabis research.
From a European standpoint, there would be a need to start from scratch, taking into account standardised compounds and cannabinoids which are produced based on Good Manufacturing Practice (GMP) or Good Clinical Practice (GCP). Being realistic, research at the European level will never address all the conditions at once: it will be one after the other, if possible, but it will start with baby steps. Implementing a multi-million-Euro research project looking at the effects on one or two conditions of different traits of the cannabis plant, in clinical trials over at least four years, will already provide some ground for identifying whether there is evidence to confirm that cannabis can be effective for certain conditions. That is where we have to start.
What changes would you like to see made to drug policy in Europe? Should the EU take a more standardised approach in setting and enforcing policy on medical cannabis?
SL: From a medicinal cannabis point of view, the existing systems which govern the registration of medicines are unsuited to something like medicinal cannabis. With this in mind, either those systems need to be adjusted to accommodate medicinal cannabis – once we have a clear definition of what we actually mean by medicinal cannabis – or there needs to be a separate and particular system, which would allow the registration of what we might call 'new generation' medicines.
QG: When we talk with stakeholders in the medicinal cannabis field, as patients, they would like things to start to speed up – they would really like to see access to medicinal cannabis being made available more or less immediately. However, we have to deal with the procedure, process and legislation that are in place, whether we like them or not. Small though it is right now, the medicinal cannabis sector has the potential to change or facilitate change within the wider healthcare sector, which has been led by the pharmaceutical industries for quite some time. The Herbal Medicines Directive allows for a degree of leeway within the market for medicinal cannabis, but producers still need to meet a wide range of criteria before they can make their product available on the European market. Meanwhile, we are working alongside policymakers to establish a workable definition of medicinal cannabis, but that is going to be tricky because cannabis has so many compounds – it may be better to tackle the compounds individually, rather than working towards a single definition which encompasses all medicinal cannabis.
Alongside that, what is just as important is to raise awareness within the policymaking space about patients' need for access to medicinal cannabis, because it has been working for them and some studies do confirm that. There remains a degree of stigma attached to patients who use medicinal cannabis; they are still prosecuted in some regions, so by engaging policymakers, we can start to build a sense of awareness of what medicinal cannabis entails, to differentiate ourselves from the recreation and adult-use cannabis field. Our objective is to establish an interest group within the European Parliament, in order to discuss with policymakers what the key issues are pertaining to medicinal cannabis throughout Europe, and what needs to be tackled at European level to facilitate patient access; while also enabling the development of a truly European cannabis industry – because otherwise we will see foreign companies entering into the European market with their own product, and we will lose that opportunity.
Stuart Lambie
Secretary General
Quentin Galland
Deputy Secretary General
Medicinal Cannabis Europe
www.medicinalcannabiseurope.org
This article is from issue 16 of Health Europa. Click here to get your free subscription today.