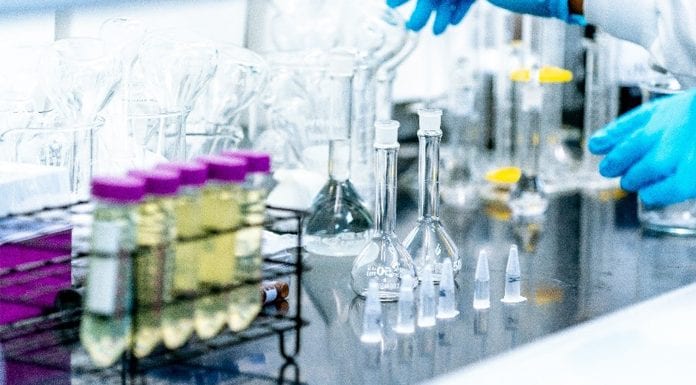 MediPharm Labs is leading the way in global cannabis extraction through pharmaceutical quality and compliance.
In the wake of Canadian cannabis legalisation 2.0 on October 17, 2019, domestic licence holders (LHs) sent 60-day notification packages to Health Canada to sell new branded/formulated cannabis products including vapes, cannabis edibles, beverages and topicals that will likely hit retail shelves starting from December 16, 2019.
Having already established themselves as global leaders in the primary extraction of crude resin for the manufacture of cannabis oil formulation and soft gel capsules, MediPharm Labs began advance preparations to produce this next wave of products starting early 2019 to produce this next wave of products.
In quarter two 2019, they commenced construction of 16,000 square feet of additional space, to accommodate significant automation to support filling, packaging, new product manufacturing, cannabinoid isolation activities and specialised R&D activities at the company's Barrie, Ontario headquarters.
Founded in 2015, MediPharm Labs has the distinction of being the first company in Canada to become a licensed producer for cannabis oil production under the Access to Cannabis for Medical Purposes Regulations (ACMPR) without first receiving a cannabis cultivation licence.
MediPharm Labs received Health Canada B2B sales authorisation on November 9 2018 and within months, MediPharm became a permanent fixture in the Canadian cannabis industry providing purified cannabis concentrates and full-service white label manufacturing of finished products to other licence holders and brand partners.
MediPharm Labs first-mover advantage in Canada has allowed the company to build expertise, leadership and scale ahead of the competition and enter into dozens of supply and wholesale agreements during its first year of operations. Today they are a global leader in specialised research driven cannabis extraction, distillation and purification. Through a highly scalable, wholesale and white label platform, the company formulates, processes, packages and distributes cannabis extracts to domestic and international markets.
International quality standards
Headquartered in a specialised, purpose-built facility in Barrie, Ontario, MediPharm Labs has received certification from the Australian Therapeutic Goods Administration (the "TGA") that its Canadian manufacturing facility meets the requirements for Good Manufacturing Practice ("GMP"), for Medicinal Products.
The company invested in an expert, research-driven team, including a scientific advisory committee of renowned scientists and healthcare professionals with a mandate to advise and assist in harnessing the potential of cannabis through innovation, best practices, thought leadership and strategic alliances.
MediPharm Labs' state of the art technology includes five primary extraction lines providing 300,000 kg of annual processing capacity. With a new customised large-scale extraction onsite awaiting final allocation to a licensed room, the company's annual capacity is expected to increase to approximately 500,000 kg.
Utilising supercritical CO2 extraction, the chosen method of extraction given its clean process of removing unwanted ingredients and impurities, MediPharm Labs strives to produce products of high quality and purity, which consumers demand. In addition, the facility recently received organic certification from Pro-Cert Organic Systems Ltd., one of North America's leading certifiers of organic products. Their downstream purification methodologies include short-path wiped-film distillation and chromatography.
MediPharm Labs prides itself in taking extra measures when it comes to choosing their partners and suppliers. Drawing from numerous licensed cultivation suppliers, all who have undergone a stringent and thorough vendor qualification process, the company maintains a reliable and flexible source of dried cannabis also creating a robust, high quality supply chain. Every input that flows through the facility is vetted and scrutinised.
All product (dried cannabis) that is received in the facility goes through an intake quality process. All other supplies that become part of the end product, such as medium chain triglycerides (MCT) oil and packaging materials, are carefully evaluated against pre-established specifications to meet MediPharm Labs' quality standards.
Furthermore, representative samples from every batch of cannabis concentrates produced by MediPharm Labs is sent to a third party testing lab, Eurofins Experchem, to test for microbial and chemical contaminants in accordance to the publications referred to in Schedule B of Canada's Food and Drugs Act.
Every batch must meet not only Health Canada's regulations, but also MediPharm Labs' additional quality standards before it is shipped. Purity and trust are paramount to MediPharm Labs, and the company ensures every measure is taken to deliver on this to their customers and end-product consumers.
MediPharm Labs expanded their research and development capabilities when in October 2019 they received their cannabis Research Licence from Health Canada. This licence permits them to conduct controlled human administration of cannabis extracts and concentrates, distillates, oil, edibles, topicals and terpenes following quality assurance testing for the purposes of product tasting. Cannabis companies without this licence cannot use sensory experiments to gauge human reactions to stimuli perceived through smell, sight, touch and taste thus limiting their understanding of the profile of the raw material, in-process material and finished products. This important licence gives MediPharm Labs and their white label customers a distinct competitive advantage.
As MediPharm Labs continues to grow, they have been recognised for their leadership in Canada and globally. Since 2018, the company and employees have won numerous industry awards: Entrepreneur of the Year at Canadian Cannabis Awards 2019; Manufacturer of Excellence at Barrie Business Awards 2019; Finalist of EY Entrepreneur of the Year Award Health & Life Sciences Category 2019; Innovation Award at Australian Cannabis Industry Awards 2019; and Startup of the Year at Canadian Cannabis Awards 2018.
Global aspirations and the future of MediPharm Labs
While Canada is home to their headquarters, MediPharm Labs has global aspirations, breaking ground in June 2018 for its subsidiary facility near Melbourne, Australia. The state of the art facility, now complete, was built to the same rigorous standards as the facility in Canada. The Australia facility includes multi-phase supercritical CO2 extraction equipment with capacity to process up to 75,000 kg of dried cannabis annually. There is also secondary processing equipment onsite to manufacture purified and high concentrate cannabis distillate.
With the company working to provide extraction services to multiple local cultivators, provide end products to the domestic Australian medical cannabis market and act as an import export hub to the Asia-Pacific region and beyond, this opportunity was an ideal transfer of knowledge into the global medical market. The facility is expected to be operational in the first half of 2020, subject to the receipt of final local authorisations and a GMP certification from the Australian Therapeutic Goods Administration.
Until then, MediPharm Labs' Canadian location will continue to export cannabis concentrates from Canada. In February 2019, MediPharm Labs entered its first definitive international sales agreement and became the first extraction-only LP to begin exporting to Australia. Its customer, AusCann Group Holdings Ltd., sourced MediPharm Labs' purified concentrates to manufacture hard shell cannabinoid capsules for chronic pain medical products and clinical trials.
In Europe, the German medical cannabis market has become one of the largest growing medical cannabis markets outside of North America. MediPharm Labs targeted this jurisdiction when the company signed its first private label sales agreement for export to Europe, with ADREXpharma® GmbH ('ADREXpharma'), a leading licensed wholesale distributor of controlled drugs and medical cannabis which can serve all the approximate 20,000 pharmacies across Germany.
"As international demand for purified cannabis concentrates continues to grow, we have focused on expanding our global supply chain and our international presence, including through our recently announced supply agreement for the German medical market. We have also focused on meeting diverse international regulatory and permitting requirements, including working towards our EU GMP certification, to grow export volumes of MediPharm Labs' private label concentrates." said Pat McCutcheon, Chief Executive Officer, MediPharm Labs.
Looking forward, MediPharm Labs has invested in R&D and strategic alliances to achieve one of a number of longer-term goals – becoming a trusted Active Pharmaceutical Ingredient provider for cannabis medicines upon completion of clinical research trials. MediPharm Labs has set its sights on new jurisdictions that have already approved medical cannabis use, actively seeking import/export opportunities.
Keith Strachan
President & Founder
MediPharm Labs
+1 705 719 7425
info@medipharmlabs.com
Tweet @MediPharmLabs
www.medipharmlabs.com
This article will appear in the first issue of Medical Cannabis Network which will be out in January. Click here to subscribe.