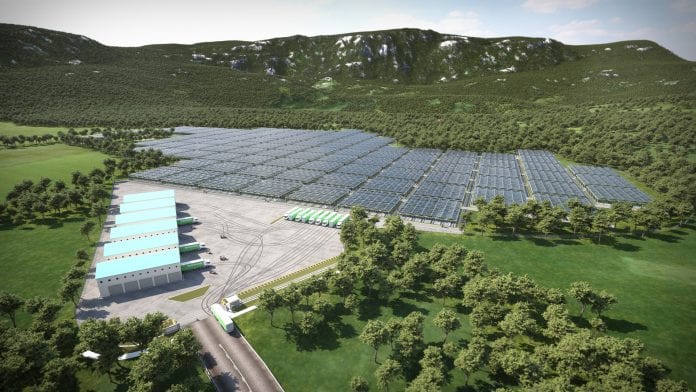 Meet MOTA, a global CBD brand cultivating non-psychoactive cannabis in Colombia for a fraction of the price.
As Cannabis legalisation expands and its healing properties become widely accepted among the medical community, so does the need for quality products and distribution. This is where Mota Ventures (MOTA) comes in. MOTA is a vertically integrated global cannabidiol (CBD) brand with a Colombian cannabis cultivation asset for non-psychoactive cannabis (CBD extraction).
Publicly traded on the Canadian Securities Exchange under the symbol 'MOTA', the company has a strong management team with a combination of financial market and industry experience.
MOTA's business plan consist of cultivating non- psychoactive cannabis in Colombia for a fraction of the price of its competitors in industrialised countries, and then extracting the biomass in CBD isolate. Once it is in this extracted form, it will then be further processed into value-added products (such as topicals, tinctures and capsules).
These products are then distributed both domestically and internationally. Value added products command significantly higher margins than raw materials and by having a distribution network that allows these products to be sold in large volumes, will make MOTA a very profitable company.
The long-term strategy for the company is to acquire existing brands that are profitable and already generate revenue, then integrate them into their existing supply chain. This will allow MOTA to control the supply chain from seed to sale and realise the highest amounts of profits.
MOTA completed an RTO (reverse takeover transaction) with Primary Energy Metals (PRIM), at a finance price of $0,30 (~€0.27) for one unit, with each unit consisting of one common share and one warrant exercisable at $0.50 for 24 months. The company raised approximately $3.7m in an oversubscribed financing and currently has around 80 million shares outstanding.
Treating epilepsy
While CBD is an essential component of medical marijuana, it is derived directly from the hemp plant which is a cousin of the marijuana plant.
According to a report from the World Health Organization, "in humans CBD exhibits no effects indicative of any abuse or dependence potential […]. To date, there is no evidence of public health related problems associated with the use of pure CBD."
CBD has been touted for a wide variety of health issues, but the strongest scientific evidence is for its effectiveness in treating some of the cruellest childhood epilepsy syndromes, such as Dravet syndrome and Lennox-Gastaut syndrome (LGS). CBD is commonly used to address anxiety, and for patients who suffer through the misery of insomnia. It may also offer an option for treating different types of chronic pain.
By 2022 it is expected that the global CBD market will be worth $22bn and the pain medication market will increase to $1.5 trillion, treating everything from chronic ailments to epileptic seizures and cancer.
Colombian acquisition
Careful consideration of location was key for MOTA and after suitable due diligence, Colombia was established as the right choice. The licensed asset sits on 2.5 hectares of land approximately two hours outside of Bogota. It is also close to an established free trade zone which allows for a 50% income tax savings, 19% tax savings on equipment purchased in the country, and no import duties for equipment and raw materials.
Close proximity to the equator gives the cultivation facility four seasons of direct sunlight and up to six cultivation opportunities, thus vastly increasing revenue potential. Good road access and low wages coupled with excellent soil quality and access to natural water reservoirs were all additional contributing factors in MOTAs choice. The company believes that due to Colombia's competitive advantages, it can bring the cost per gram of their flowers down to below $0.10 per gram, compared to over $3 per gram in industrialised countries.
"As we enter the next wave in the cannabis sector, I believe significant shareholder value will be created in the international markets," said Clifford Starke, the newest member of Mota Ventures' team.
"I feel confident in the Mota Ventures' team as they have previously demonstrated operational and execution ability in the sector, and I expect them to be very active in finding accretive international opportunities. I am pleased to join the Board and will advise, direct, and provide relationships where needed to ensure MOTA realises its vision and achieves success."
Another firm advantage is the local government mandate to become a world leader in cannabis exportation, and because of this, they are extremely cooperative with producers. The Colombian government have pushed for swift legislation and hold established agricultural infrastructure used for current exports such as flowers, sugarcane, coffee and tomatoes, making the country a superior choice on multiple levels.
Partnerships and future acquisitions
In Europe, 20% of the population suffer from chronic pain, and citizens spend $285bn annually on pain medication. That, in combination with higher median incomes and current product pricing, make the European market an obvious choice for MOTA's CBD products. It is expected that by 2023, the market will grow by 400% for a total value of $1.7bn.
In the interest of collaborating with industry leaders, MOTA has entered into agreements with the following entities:
First Class CBD
A monumental event, MOTA signed a binding term sheet with Unified Funding LLC to acquire First Class CBD offers a CBD hemp-oil formula intended to provide users with the therapeutic benefits that hemp may offer. The hemp oil used in the product is derived from hemp grown and cultivated in the United States.
The extraction process is designed to maintain all of the beneficial qualities that hemp may offer. First Class CBD has a compelling range of products; which includes CBD oil drops, CBD gummies, CBD pain relief cream and CBD skin serum. First Class CBD is a leader in online CBD sales in North America. In 2019, Unified generated revenue of approximately US$30,000,000 from the distribution of First Class CBD products.
Tropical Verde
A valuable addition to the company's portfolio, is that MOTA has entered into a letter of intent, this is essentially a binding letter of intent to acquire Tropical Verde, a Jamaican Tier 1 license cultivator. Jamaica has a long and rich history of producing high-quality marijuana products. Jamaica's outdoor growing conditions coupled with the availability of unique strains, position it to be a leader in the Caribbean region.
Tropical Verde is focused on cultivation and extraction of cannabis as well as distributing cannabis products in herb shops, dispensaries, and health and wellness retail locations across the Caribbean. Tropical Verde is currently finalising its irrigation systems, fencing, and security on five acres of leased property, and anticipates that growing will commence by late Q1 2020.
"Our flexibility as a new emerging CBD company has afforded us the benefit of targeting acquisitions, which will provide MOTA global distribution and achieve profitability quickly" said Joel Shacker.
Sativida
Sativida is a producer and online retailer of CBD and branded CBD products in various jurisdictions across Europe, including Spain, Portugal, Austria, Germany, France and the United Kingdom. They currently develop and retail a range of organic CBD oils and cosmetics across Europe and are expanding their distribution network internationally to include the United States. They have become one of the top searched and highly ranked online retailer in Spain and Mexico and intend to continue their expansion into Europe and Latin America.
As a result of Sativida's high quality formulations, they have won multiple awards for product quality in Europe. Known for minimal heavy metal content, and accurate CBD levels, Sativida is among the most well-respected CBD brands in the European market. Its unique approach to customer education has allowed them to replicate marketing strategies across multiple countries. Since their inception in 2016, Sativida have grown revenues month after month on average of 20% and is expecting to continue their significant growth in 2020.
Key MOTA team members
Joel Shacker: CEO and President
Shacker has worked extensively in the cannabis and finance space and has sat on the board of directors for the publicly traded cannabis lifestyle company Weekend Unlimited Inc. He leads the expansion of Mota Ventures into international markets, and also oversees the development and operations from the ground up. He holds an honours business degree from an Ivey Business school with a focus on finance.
Clifford Starke: Director
Starke is the Chairman of Hampstead Private Capital, a Bermuda based merchant bank focused on financing and advising small to mid-market, fast growth companies. Over the course of the last five years, Starke has focused on the cannabis sector and has acted as a founder, early stage shareholder, financier, advisor and director to multiple cannabis companies in sub-sectors ranging from genetics, cultivation, distribution, and e-commerce that have cumulatively generated over $3bn of market capitalisation.
Currently, Starke is the Chief Executive Officer of Franchise Cannabis Corp., a leading European focused pharmaceutical cannabis company with distribution networks across 18 countries and the current market leader in Germany. Starke holds a Bachelor of Arts Degree from Queen's University.
Chad Clelland: Director
Throughout a decade of involvement in the medical marijuana industry, Clelland and his team have helped thousands of Canadians find safe, legal medication. He cofounded Greenleaf Medical Clinic, which is now recognised as a training facility by the University of British Columbia and offers preceptorships to physicians, nurse practitioners and pharmacists. He also cofounded Folium Life Science in 2013, an approved, licensed producer of CBD.
Craig Marley: Master Grower
Marley has extensive experience cultivating cannabis for the medical market and has developed proprietary genetics of over 100 strains with over 350 strains lab tested. He served as head grower for one of Canada's first licensed producers, Cannafarms, where he was also the Quality Assurance Officer and was responsible for the design and construction of their large-scale operations as well as navigating compliance regulations of Health Canada.
Felipe Baptiste: Strategic Advisor
A recognised name in South America, Baptiste was CEO of a popular restaurant chain where he grew the company from 50 to 400 points nationally. He sits on several boards of directors offering his advice and guidance to numerous successful businesses as well as partnering in several of his own. He is currently CEO of international investment firm Balivel Group.
Mota Ventures' Vision
As pioneers in a rapidly expanding industry, MOTAs expertise, ambition and diligent execution, position them to be at the forefront of the future of CBD healthcare and recreational product creation and conveyance. The long-term strategy is to vertically integrate multiple existing brands with Colombian operations to produce low cost tinctures, topicals and capsules thereby realising significant profit margins.
References
1 https://www.health.harvard.edu/blog/cannabidiol-cbd-what-we-know-and-what-we-dont-2018082414476
Joel Shacker
Mota Ventures Corp
+1 604 423 4733
ir@motaventuresco.com
This article appeared in the first issue of Medical Cannabis Network which was out in January. Click here to subscribe.